Sandra Bullock And Her First Husband, Jesse James, Were Doomed From The Start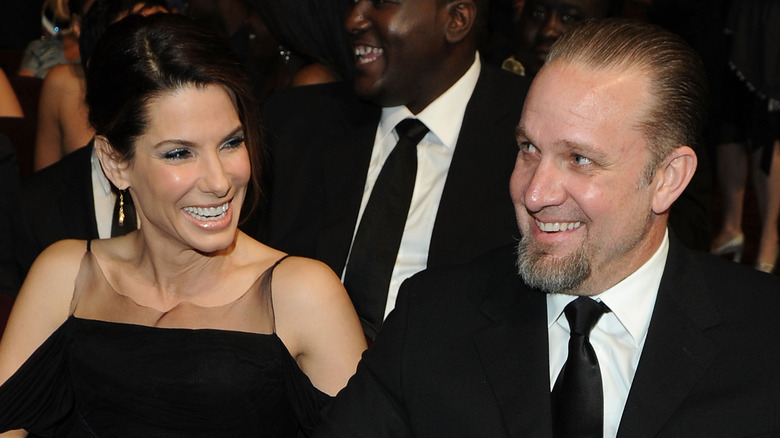 Jason Merritt/Getty Images
When award-winning actor Sandra Bullock took her godson on a tour of West Coast Choppers in 2003, she probably had no idea that she'd meet her future husband there. However, after encountering founder Jesse James during the visit to the Long Beach, California facility, the entrepreneur didn't take long to pursue her. He reached out to her office after the visit, though Bullock dodged his advances several times before finally giving him a chance. Two years later, in July 2005, the pair tied the knot in front of 270 attendees at San Ynez Valley ranch. Sadly, by April 2010, Bullock had enough of James.
Infidelity rocked the couple, with at least four women claiming to have slept with the businessman during his marriage. One of them was tattoo artist ​​Michelle "Bombshell" McGee, who told In Touch (via Daily Mail) that she had a nearly year-long affair with James. Shortly before Bullock filed for divorce, she had just adopted her son, Louis, which only made her decision more difficult. While his unfaithfulness came as a shocker to some, there were several signs that the duo was destined for separation.
Both made negative assumptions about one another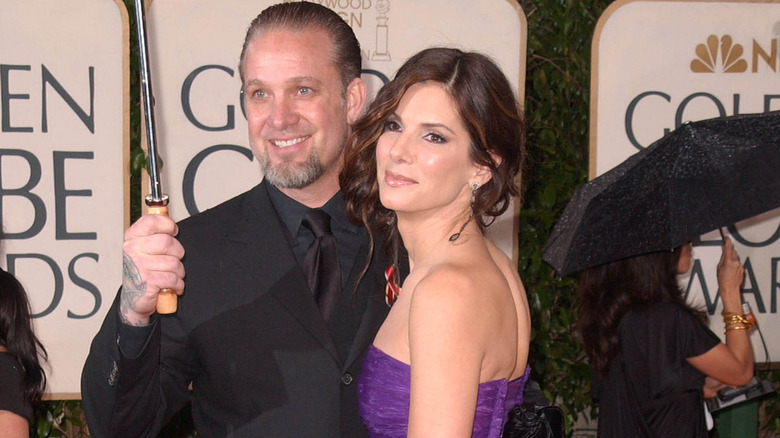 s_bukley/Shutterstock
Before "The Blind Side" star Sandra Bullock and "Monster Garage" host Jesse James even began dating, the two assumed the worst about one another. Bullock was not sold on an inked-up biker. She even told her staffers not to give him her phone number when he initially began reaching out. Despite some encounters with the police as a youngster, Bullock soon learned that he favored jazz and thrived into a successful motorcycle builder who shared many of the same interests and views as she did.
"I learned about a human being. It was not something I wanted, needed, or looked for, but because he was a stronger person than I was, spiritually and on a tolerance level, I was lucky enough that he educated me," she gushed over her former spouse during a July 2006 profile with Vanity Fair.
James also had his reservations about Bullock before getting to know her. During a 2010 chat with "Nightline," he admitted that he assumed she was a highbrow A-lister. After just a few short minutes of conversation, he soon realized that there was much more substance to the Hollywood performer.
Sandra Bullock isn't exactly Jesse James' usual type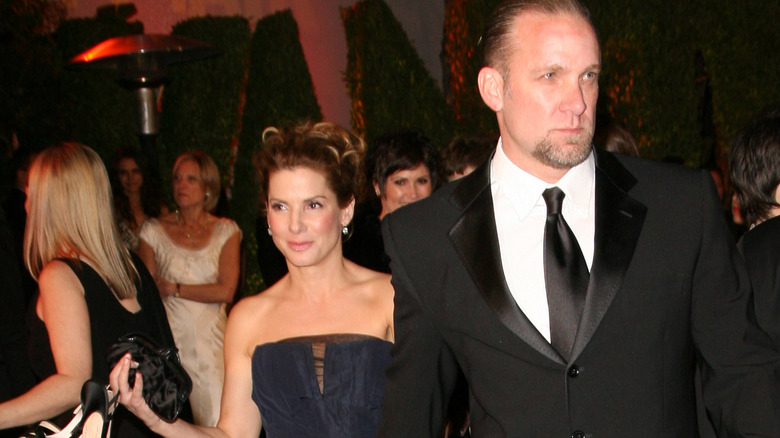 Jason Merritt/Getty Images
Sandra Bullock has earned a reputation as being a sweetheart in the movie industry, while Jesse James has attracted a bad boy title. Interestingly enough, the women he pursued outside of Bullock appear to be much different than the Oscar winner. While not much is known about his first wife, Karla James, his second wife, Janine Lindemulder, is another tattooed beauty. Lindemulder is an adult actress and exotic dancer who famously starred on the cover of Blink-182's "Enema Of The State" album as the naughty nurse. He married Bullock after they divorced, and once that union was shattered, Jesse James moved on to Kat Von D, the famed tattoo artist and cosmetic line founder who is also heavily covered in vibrant body art. He is now married to Bonnie Rotten, another adult actress who also works as a fetish model.
Bullock found love again with her partner Bryan Randall in 2015, whom she was with until his passing on August 5, 2023, from ALS. As for James, the two reportedly do not speak to one another. Judging by their horrid breakup, this may be for the best.