Tiffany Trump Was Once Embarrassed To Ask Big Sis Ivanka For Fashion Help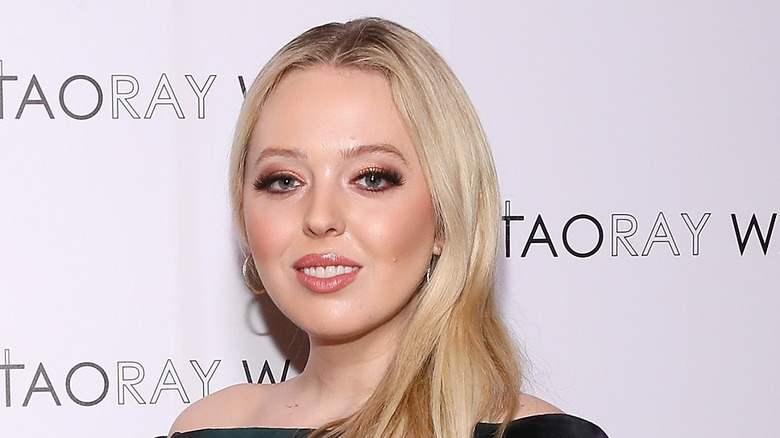 Astrid Stawiarz/Getty Images
Tiffany Trump may be the daughter of one of the most powerful men in the country, but this has its own set of challenges. The law graduate has been spotted sitting front row at fashion shows over the years, but it seems that once her father, Donald Trump, began pursuing politics, certain people in the fashion and even the beauty industry distanced themselves from her. 
This includes Tricia Kelly, who refused to do her hair for the inauguration after Tiffany's mom, Marla Maples, tried to negotiate a freebie for the two of them. Likewise, designer Michael Schmidt also declined to dress Tiffany for the Republican National Convention, describing her as "radioactive" according to the New York Post. While Tiffany usually looks regal with her classic blonde tresses and super glam makeup, she reportedly had issues finding high-fashion looks. 
The socialite refused to approach her big sister, Ivanka Trump, for assistance in finding a look before one of the family's biggest nights because she was too afraid that Ivanka might view her as less wealthy than the other Trump siblings. However, although Tiffany may have had this issue before, by the time her father's inauguration rolled around, she looked striking in a designer gown fit for the stars. 
Tiffany didn't want Ivanka to know she was strapped for cash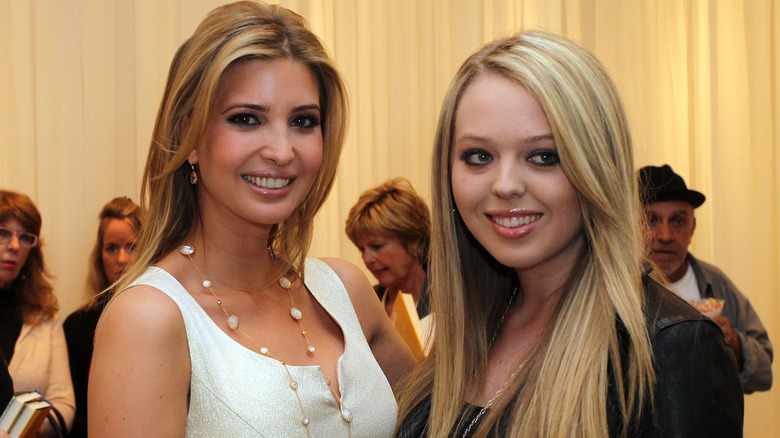 Frederick M. Brown/Getty Images
Donald Trump's presidency reportedly hurt his relationship with Tiffany Trump, his only child with ex-wife Marla Maples. She steered clear of the campaign trail, a stark contrast from siblings Ivanka, Eric, Donald Jr., and even Barron Trump, who all stood proudly alongside their father during his White House bid. With the controversy surrounding the Trumps, Tiffany found it challenging to locate someone to dress her for the RNC before Donald even won the election. 
According to acquaintance Scott Nathan, who worked closely with Tiffany during his 2015 "Confessional" project, she was seemingly excluded from her family's preparations for the event. "I suggested she ask Ivanka. I said, 'Ivanka has probably one of the great closets in Manhattan. Ask to borrow something.' She was reluctant and embarrassed to ask. She said, 'I don't want her to know I don't have any money,'" Nathan told the New York Post in 2019, revealing that Tiffany ultimately purchased a dress from Nordstrom Rack. 
Coming from such a prestigious lineage, Tiffany is far from poor, of course. Being raised on the West Coast while her siblings were all on the East Coast, Tiffany relied on the $100,000 annual child support her father paid and the $1 million settlement Maples got in the divorce. However, her net worth, compared to Ivanka, demonstrates the disparities between how they grew up. Per Celebrity Net Worth, Ivanka sits at roughly $800 million, while Tiffany is reportedly worth $10 million.
Tiffany Trump felt uncomfortable around her father both before and after his presidency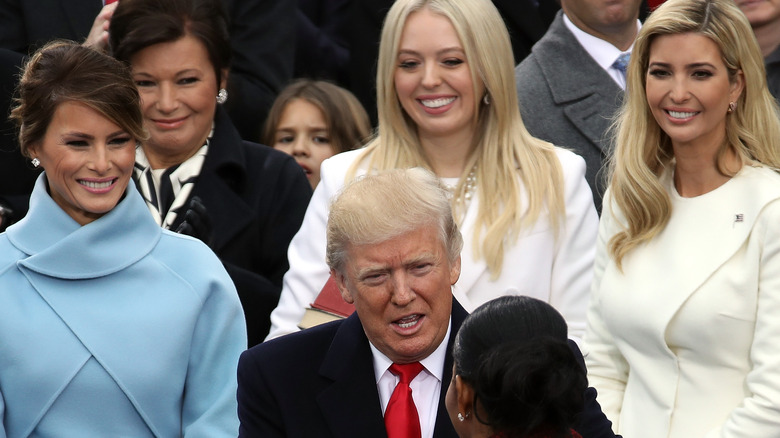 Drew Angerer/Getty Images
Even before politics came into play, Tiffany Trump had always felt awkward around her dad and half-siblings. Sadly, constant comparisons to Ivanka Trump have plagued Tiffany throughout her life. In addition, a long-distance father-daughter relationship did not help the former pop musician feel connected to her loved ones.
"Since the inauguration, Tiffany and her father have sometimes gone for months without speaking, and she went a very long time without seeing him. The last time she was at a family function with him, it was awkward for her, and she didn't feel totally welcome," an insider revealed to People in 2018. Thankfully, when the actual inauguration rolled around in 2017, Tiffany's look was considerably more elegant than her RNC ensemble, which hopefully helped her feel less slighted around her lavish relatives. 
Dressmaker Simin Taghdiri, of Simin Couture, rolled out the VIP treatment for Tiffany, flying to New York for the joyous occasion with several pieces for her to choose from. She ultimately settled on a pink and silver strapless mermaid gown. For her 2022 wedding, Tiffany was adorned in a stunning Elie Saab dress, another notable style moment for the former Vogue intern. Regardless of the shame she may have felt seeking fashion assistance from Ivanka, Tiffany doesn't appear to need her help anymore.