Have Baywatch Stars Yasmine Bleeth And Pamela Anderson Stayed In Touch?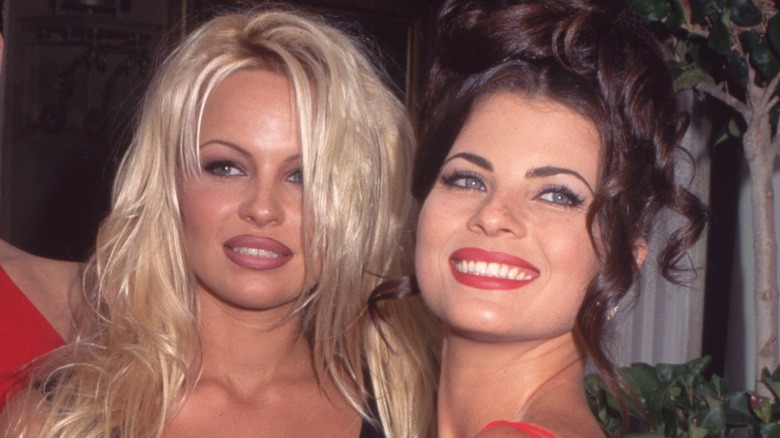 Darlene Hammond/Getty Images
With its iconic slow-motion running scenes and high-stakes plot lines, NBC's "Baywatch" instantly turned lifeguards into national heroes (and sex symbols). One of the show's biggest success stories was Pamela Anderson, who played blonde bombshell C.J. Parker. Anderson appeared on the show from 1992 until 1997 and experienced plenty of ups and down in her personal life along the way — at one point, a full-time security team even had to protect her from overzealous C.J. fans. "The producers of 'Baywatch' made a fortune," the actor told Variety, explaining that, in comparison, she made pennies (and sacrificed her safety).
Pamela Anderson's "Baywatch" co-star, Yasmine Bleeth also endured the highs and lows of global superstardom. Although the actors played onscreen besties and shared plenty of career milestones, Bleeth and Anderson didn't maintain a friendship after filming wrapped. In fact, as Anderson revealed on "Watch What Happens Live," she rarely speaks to her co-stars, if at all. "I'm not a social person. I like my kids, I like my close circle of friends. I don't really know; I don't really hang out with people," she shared. 
If she has to choose between dogs and people, she'd choose dogs every time — pretty relatable if you ask us. Still, there appears to be no ill will between Anderson and her former beachfront colleagues. "I see Pamela a lot at a lot of different functions and we have nothing but mutual respect for each other," David Hasselhoff told E! News on the red carpet in 2017. 
A lot of the Baywatch cast was more than just friends
The "Baywatch" cast may not be in close contact anymore but, at one point, their behind-the-scenes bonds involved more than just friendship. "Oh everybody was having sex everywhere," Pamela Anderson said candidly in the 2003 "Life After Baywatch" documentary (via Showbiz CheatSheet). "In the trailers, behind the trailers around the trailers. I think I slept with everybody at least once," she revealed. Other cast members have seemingly confirmed her story. Gena Lee Nolin, known as Neely Capshaw on the beach, explained an unspoken "Baywatch" rule on ITV's "Where are they now? The Reunions," per the Mirror. "I learned quickly because this was my first acting gig. If the trailer is a-rockin' don't come a-knockin," she joked. Meanwhile, David Chokachi (aka Cody Madison) explained that the sandy setting made on-set "activity" all the more irresistible.
In real life, Yasmine Bleeth dated Jaason Simmons, who played Logan Fowler. Erika Elnaiak and co-star Billy Warlock also entered into a serious off-screen relationship. They were even engaged at one point, although they didn't end up making it to the altar. Outside of off-screen love affairs, there were also (alleged) off-screen jealousies. "[Nicole Eggert] felt a little bit competitive with Pam," producer Michael Berk told The Hollywood Reporter, revealing that she underwent breast augmentation due to the physical pressures of the role.
Pamela Anderson thinks Baywatch adaptations don't do it justice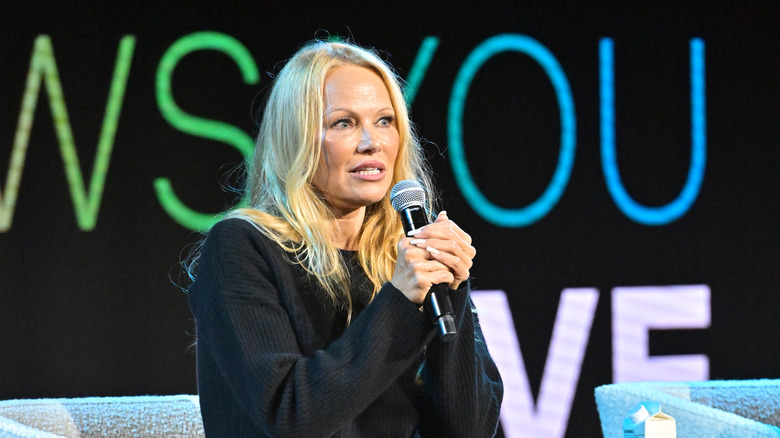 Charley Gallay/Getty Images
In 2017, "Baywatch" was revived for the big screen. This time, it starred Dwayne "The Rock" Johnson, Zach Efron, and Alexandra Daddario; after lots of pressure from Paramount studio executives, Pamela Anderson also agreed to make a cameo. "I didn't like it. Let's just keep the bad TV as bad TV," Anderson told Andy Cohen on "Watch What Happens Live," adding, "That's what's charming about 'Baywatch.' Trying to make these movies out of television, is just messing with it." Critics seemed to agree with Anderson, and the movie has a 17% rating on Rotten Tomatoes.
Over the past few years, Anderson's notoriety has only grown. After Hulu's fictionalized series "Pam and Tommy" premiered in 2022 (without the subject's consent), Anderson found herself at the forefront of national headlines yet again. She decided not to watch Lily James' portrayal of her. With Netflix's "Pamela, A Love Story" (as well as her bestselling memoir, "Love, Pamela") the former "Baywatch" icon is taking charge of her own story.
As for Yasmine Bleeth? She retired from acting in the early 2000s — allegedly, it was her reliance on cocaine that led her to be fired from "Baywatch." She's been on a recovery journey ever since. As Bleeth wrote for Glamour, "consciously trying to stay off drugs is now part of my life and always will be" (via the Daily Mail).
If you or anyone you know needs help with addiction issues, help is available. Visit the Substance Abuse and Mental Health Services Administration website or contact SAMHSA's National Helpline at 1-800-662-HELP (4357).