All Of The Royals In Line For The Throne In Monaco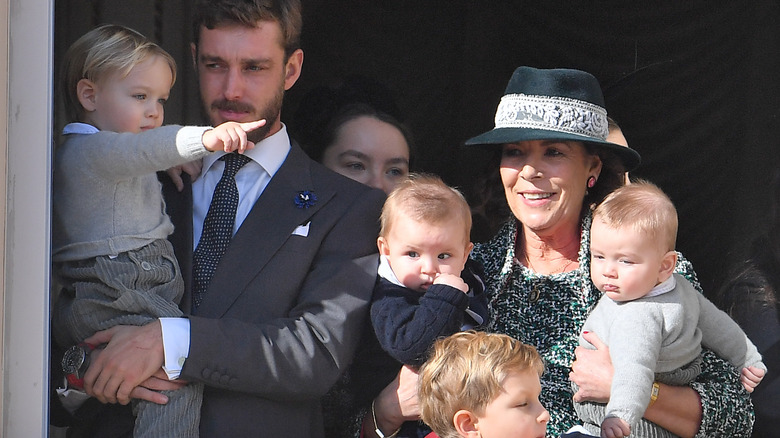 Stephane Cardinale - Corbis/Getty Images
We may receive a commission on purchases made from links.
Monaco may be one of the smallest countries in the world, but the Monegasque royal family has made quite a name for themselves on the international stage. Known for their fashion, beauty, and wealth, the royal Grimaldi family and the country they proudly represent have captivated the curiosity of onlookers for decades. Located on the French Riviera, Monaco is known as a playground for the rich and a haven for the wealthy — a glamour perfectly captured by the lavish lives of their royals. 
The Monegasque throne has been in the House of Grimaldi since the 15th century.  This constitutional monarchy is headed by the current ruler, Prince Albert II, who inherited the throne upon his father Prince Rainier III's death in 2005. Prince Albert II's mother was the American actress known for her beauty and poise: Grace Kelly. It is Prince Rainier III and Grace Kelly's descendants who hold the throne of Monaco. With a line of succession that may stand out as unique when compared with other European royals, the royal family of Monaco has not only established their own distinct royal lifestyle, but they have their own process of inheritance as well. 
Hereditary Prince Jacques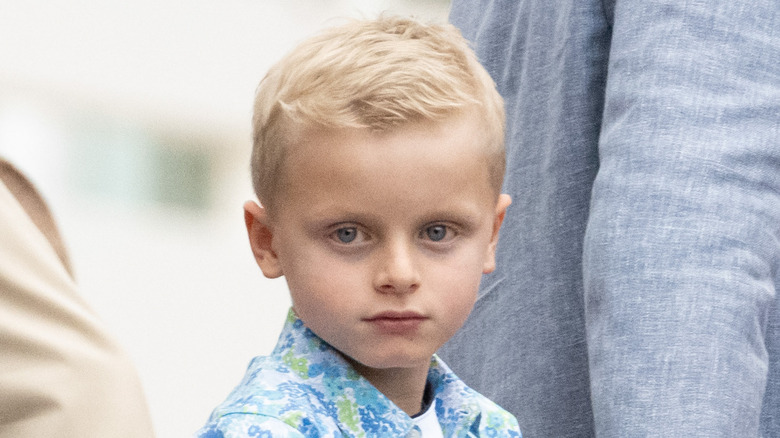 Sc Pool - Corbis/Getty Images
When the current leader of Monaco, Prince Albert II, concludes his reign, the throne will pass to his son, Hereditary Prince Jacques. The young prince was born to parents Prince Albert II and Princess Charlene on December 10, 2014 at Princess Grace Hospital — which is named after his grandmother, Grace Kelly. Although he was born two minutes after his older sister, Princess Gabriella, Hereditary Prince Jacques is the first in line for the throne according to the Monegasque law of succession which favors the firstborn male as the heir according to Royal Central. Upon the birth of Hereditary Prince Jacques, he was not only given the title of Hereditary Prince, but he became the Marquis of Baux as well.
The future leader of Monaco may be young, but the charisma he already shows fits his royal titles well. In an interview with People, Prince Albert II described how, in comparison with his sister, Hereditary Prince Jacques seemed to be more natural and at ease when engaging with the public. In addition to his observed comfort with big crowds, the young Monegasque prince is becoming increasingly accustomed to the luxurious lifestyle characteristic of the royals in Monaco. Twins Hereditary Prince Jacques and Princess Gabriella live rather lavish lives. From celebrating birthdays in style to spending a night at the circus with his father and sister, it's clear that Hereditary Prince Jacques is no stranger to the finer things in life.
Princess Gabriella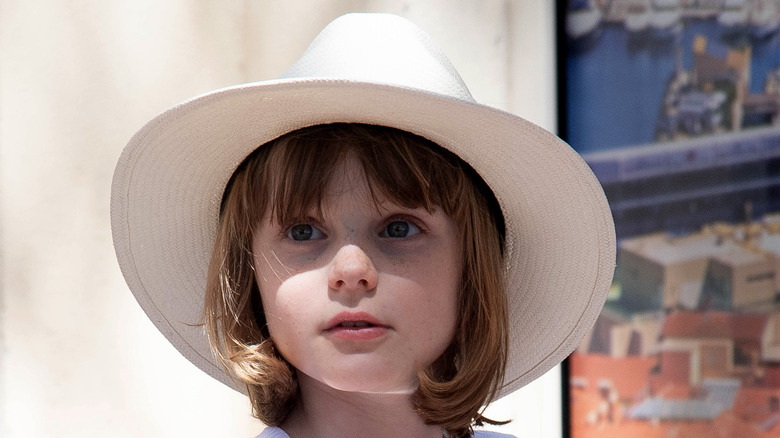 Sc Pool - Corbis/Getty Images
The firstborn of Prince Albert II and Princess Charlene's twins is Princess Gabriella, Countess of Carladès. Even though she was born two minutes before her brother Hereditary Prince Jacques, Princess Gabriella is behind her brother in line for their father's throne. Although she may sometimes be in the shadow of her brother, this young princess is anything but a wallflower. 
In 2020, Prince Albert II described his then-5-year-old daughter as a "pistol" before adding that "she's already got a great little sense of humor [and] sense of showmanship" (per People). But you don't just have to take her father's word for it. The sparkling personality of Princess Gabriella is evident in each public appearance she makes — whether she's attending the Grand Prix with her parents or participating in the boat-burning tradition that celebrates Monaco's patron saint. Princess Gabriella's bubbly personality was on full display in a photo her mother Princess Charlene shared on Instagram, which featured the young princess standing behind her father and mimicking him with a mischievous grin on her face. Though the second-in-line to the throne may have her shy moments when interacting with the public as Prince Albert II has observed, Princess Gabriella's effusive personality will surely continue to shine in the spotlight as she grows up. 
Princess Caroline of Hanover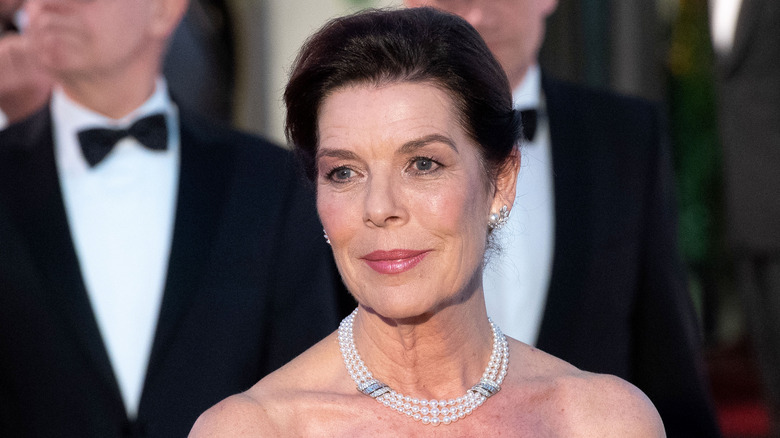 Pls Pool/Getty Images
The third in line for the throne in Monaco is Prince Albert II's older sister, Princess Caroline. Born in January 1957, Princess Caroline may be the eldest of the late Prince Rainier III and Grace Kelly's children, but the laws of male succession ensured that the throne would pass to her younger brother instead of her. However, this has not kept Princess Caroline from establishing herself as a significant royal figure. The stunning transformation of Princess Caroline from a young royal to a multilingual philanthropist and fashion icon is one full of glamour, success, and tragedy.
When her mother, Princess Grace, died in a car crash in 1982, Princess Caroline assumed the responsibilities left unfulfilled by her mother's tragic passing. At only 25 years old, Princess Caroline embraced the duties of Monaco's first lady, which included attending events and representing the royal family. In 1983, Princess Caroline married Stefano Casiraghi, an Italian boat racer and businessman. She had three children with Casiraghi before he tragically died in a boating accident in 1990. In 1999, Princess Caroline married Prince Ernst of Hanover, with whom she had her youngest child, Princess Alexandra of Hanover.
During all of this, Princess Caroline carried out her royal duties with ease and only stepped back when her brother Prince Albert II married Princess Charlene in 2011. Though rumors have since hinted at Princess Caroline's disappointment in losing her first lady responsibilities, the senior royal never made an official statement addressing the speculation.
Andrea Casiraghi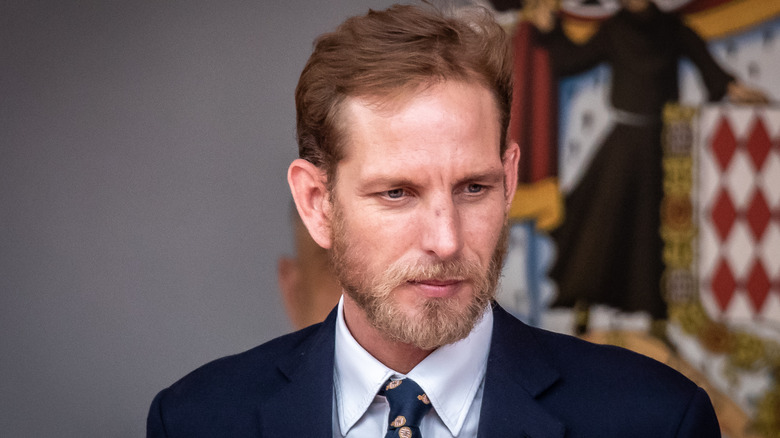 Atpimages/Getty Images
Andrea Casiraghi, who lands fourth in line to the throne, was born in June 1984 to his parents Princess Caroline and Stefano Casiraghi. Andrea Casiraghi is the oldest of Princess Caroline's four children. Growing up in France with his younger siblings, Andrea Casiraghi attended school in the French countryside as well as in Paris, where he demonstrated his knack for talents such as horseback riding, running, and learning languages. Later, Casiraghi attended the American University of Paris, where he graduated with a bachelor's degree in international politics and visual arts.
In 2013, Andrea Casiraghi married the American heiress and socialite Tatiana Santo Domingo. Santo Domingo is the granddaughter of the late Columbian businessman, Julio Mario Santo Domingo. During a ceremony that took place on palace grounds, Andrea Casiraghi and Tatiana Santo Domingo were wed after seven years of dating. Together, they have three children.
Not only is Andrea Casiraghi a husband and a father, but he is a philanthropist dedicated to supporting causes about which he is passionate. Through his patronage of the Motrice Foundation, Casiraghi supports research regarding cerebral palsy. Additionally, he is involved with a charity committed to supporting children, AMADE. Outside of his philanthropic work, Casiraghi is currently working with his brother and brother-in-law to produce a film franchise centered around the history of the House of Grimaldi in Monaco. The production of "Monaco: Part I – The Rock" will reportedly begin in 2024, according to Town & Country.
The children of Andrea Casiraghi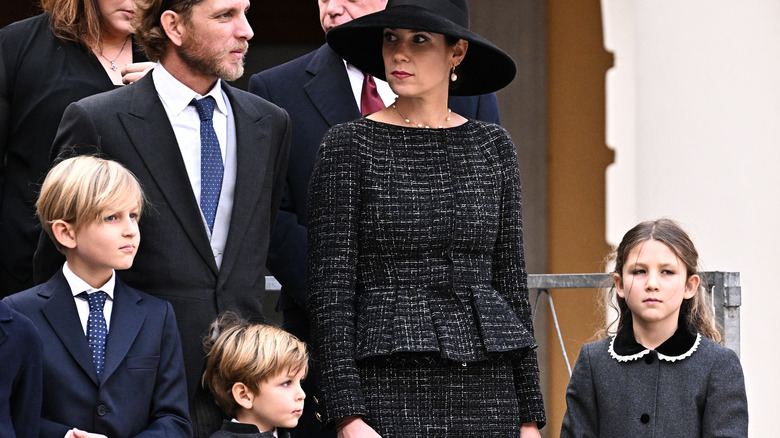 Sc Pool - Corbis/Getty Images
Occupying the fifth, sixth, and seventh spots in line for the succession of the Monegasque throne are the children of Andrea Casiraghi and Tatiana Santo Domingo. The oldest of Princess Caroline's grandchildren and Grace Kelly's great-grandchildren is Alexandre "Sacha" Casiraghi, who was born in March 2013 — just five months before his parents were married. Sacha made his global debut at a year and a half old when he and his parents celebrated Monaco's National Day (via Daily Mail).
Andrea Casiraghi and Tatiana Santo Domingo had their second child two years after welcoming Sacha when India Casiraghi was born in April 2015. Though these young Monegasque royals live a life rather shielded from the public eye, they occasionally steal the spotlight when attending royal events with their parents, such as the Monaco Grand Prix in May 2017 where they were photographed holding the hands of Andrea Casiraghi and Tatiana Santo Domingo as they wore adorable outfits and stylish sunglasses (per Hello!).
Maximilian Casiraghi, the third child of Andrea Casiraghi and Tatiana Santo Domingo, was born in April 2018. Like his older brother, Maximilian made his public debut at celebrations of Monaco's National Day. The public got their first glimpse of the new royal baby when his grandmother, Princess Caroline, held him in her arms (via People). Although he is the youngest of his siblings, Maximilian Casiraghi comes before his older sister India in line for the throne because of the Monegasque laws of succession.
Pierre Casiraghi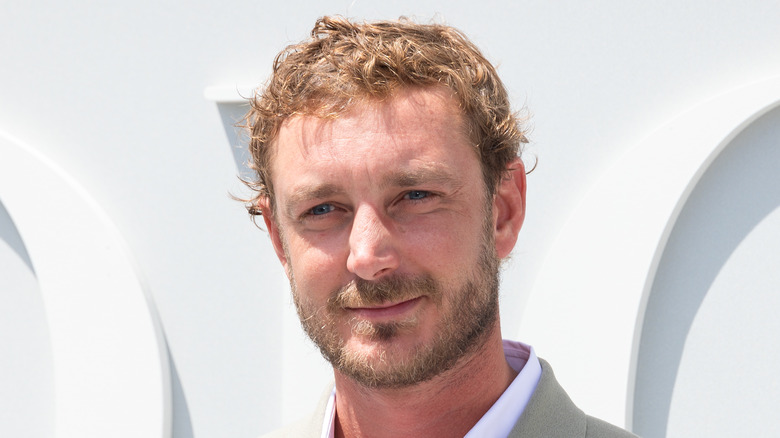 Marc Piasecki/Getty Images
The eighth spot in line for the Monegasque throne is held by Princess Caroline and Stefano Casiraghi's third child and youngest son, Pierre Casiraghi. Born in September 1987, Pierre Casiraghi grew up with his siblings in France before attending the prestigious Bocconi University in Milan, Italy, for his undergraduate education. There, he studied international economics and management. After receiving his education, he seemed to effortlessly establish the glamorous lifestyle he is known for today. Like his father, Stefano Casiraghi, Pierre Casiraghi spends a lot of his time sailing and racing. He has also raced cars, represented Dior as an ambassador, and even worked as a humanitarian, according to People.
In 2008, Pierre Casiraghi began dating Beatrice Borromeo, an Italian journalist, director, and model. Not only is she currently considered one of the most stylish and beautiful European royals, but Borromeo herself comes from a family of Italian aristocracy. Considering the luxury that both of their families are known for, Pierre Casiraghi and Beatrice Borromeo's wedding in July 2015 was nothing short of spectacular. Held at the Prince's Palace in Monaco, Borromeo looked stunning in multiple gowns designed by fashion icons such as Valentino and Armani. Together, the glamorous power couple have two sons. In February 2017, Pierre Casiraghi and Beatrice Borromeo welcomed their eldest son, who they named after Casiraghi's late father, Stefano Casiraghi. A year later in May 2018, their second son, Francesco Casiraghi, was born.
The children of Pierre Casiraghi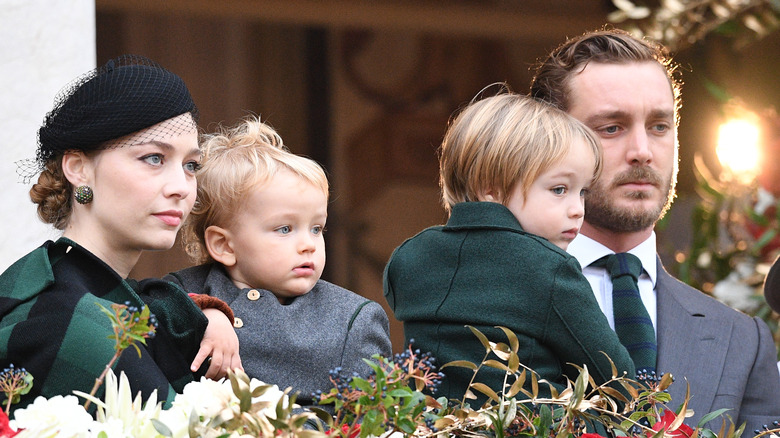 Sc Pool - Corbis/Getty Images
After their father, Pierre Casiraghi, you will find Stefano Casiraghi and Francesco Casiraghi, who represent the ninth and tenth in line for the throne, respectively. Becoming parents represented a significant step for Pierre Casiraghi and his wife, Beatrice Borromeo. When asked about whether or not she wanted a family of her own during an interview with Glamour in 2016, Borromeo said, "I come from a big family, and I want children of my own. But at the moment I'm thinking about putting my career in a place where it wouldn't get threatened by the presence of children." One year later, in February 2017, Borromeo gave birth to son Stefano at Princess Grace Hospital.
In May 2018, just 15 months after the birth of their first child, Pierre Casiraghi and Beatrice Borromeo welcomed their second child, Francesco Casiraghi. Born just one month after his cousin Maximilian, Francesco Casiraghi became the 10th in line for the Monegasque throne. Along with his cousins, Francesco Casiraghi made his public debut in the arms of grandmother Princess Caroline on a balcony overlooking the celebrations of Monaco's National Day in November 2018. Though the sons of Pierre Casiraghi and Beatrice Borromeo have not seen much of the spotlight yet, they will surely spend more time in the public eye as they get older.
Charlotte Casiraghi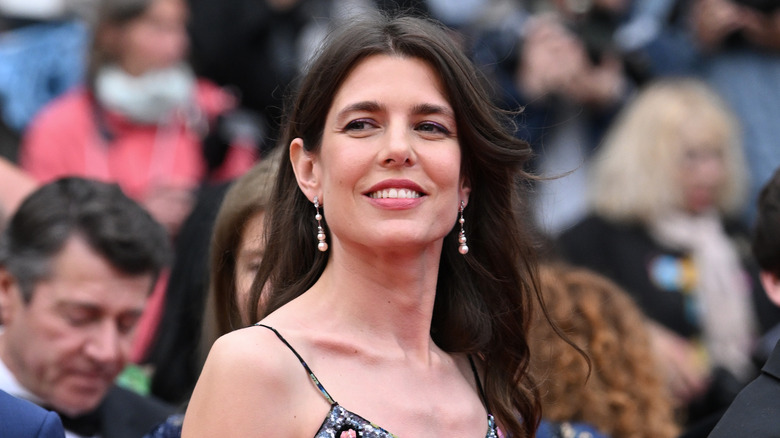 Lionel Hahn/Getty Images
Born in August 1986, Charlotte Casiraghi is the second child of Princess Caroline and Stefano Casiraghi. Casiraghi was only four years old when her father died in a tragic boating accident, prompting her mother and brothers to move to the French countryside. There, she took an interest in horseback riding and became an accomplished equestrian. After studying philosophy in Paris at Sorbonne University in pursuit of her bachelor's degree, Charlotte Casiraghi stepped onto the fashion scene where she has since shone brightly.
Like many members of the Monegasque royal family, Charlotte Casiraghi has earned the adoration of the fashion community. In 2010, the multilingual beauty became a model for Gucci Equestrian, and she later represented Gucci's new cosmetic line in 2014. She has also worked with names such as Saint Laurent, Montblanc, and Chanel — even opening Chanel's 2022 spring couture show by riding a horse down the runway. Casiraghi's longer list of accomplishments includes gracing the cover of Vogue Paris twice, working as a journalist, and co-authoring a book of philosophy entitled "Archipel des passions."
Charlotte Casiraghi has also received attention for her love life. In 2011, she began dating Morroccan-Canadian comedian Gad Elmaleh, and their son Raphaël Elmaleh was born in 2013. After the couple separated in 2015, Casiraghi met film producer Dimitri Rassam. Together, they had a son named Balthazar Rassam in 2018. A year later, in June 2019, Casiraghi married Dimitri Rassam in a glamorous wedding where she wore three different wedding dresses.
Balthazar Rassam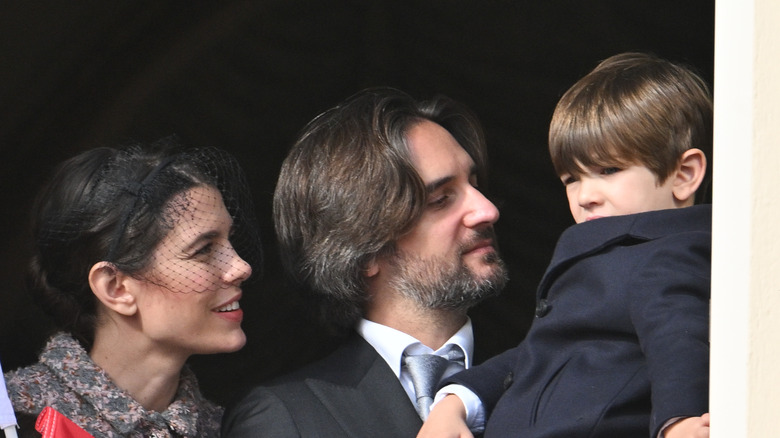 Stephane Cardinale - Corbis/Getty Images
Twelfth in line for the throne is Balthazar Rassam, the son of Charlotte Casiraghi and French film producer Dimitri Rassam. When Balthazar Rassam was born in October 2018, he became the third baby to be born into the Monegasque royal family that very year, along with his cousins Maximilian Casiraghi and Francesco Casiraghi. Because his parents were not married at the time of his birth, Balthazar Rassam did not receive a spot in the line of succession, and he was only able to take his current rank when Charlotte Casiraghi and Dimitri Rassam married almost a year later in June 2019.
Although Balthazar Rassam is not Charlotte Casiraghi's only child, he is the only one in the line of succession. His older half-brother is Raphaël Elmaleh, whom Charlotte Casiraghi had with comedian Gad Elmaleh five years before Balthazar's birth. Raphaël Elmaleh is not included in the line of succession because his parents never married. However, Balthazar Rassam's status as Charlotte Casiraghi's only child with Dimitri Rassam will change soon, because he has a younger sibling on the way! In January 2023, it was reported that Charlotte Casiraghi and Dimitri Rassam were expecting their second child to be delivered later in 2023.
Princess Alexandra of Hanover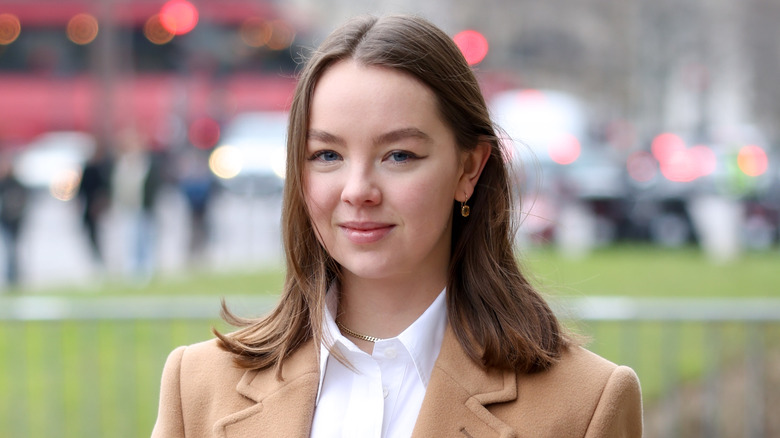 Arnold Jerocki/Getty Images
The line of succession for the Monegasque throne continues with Princess Alexandra of Hanover, the fourth and youngest child of Princess Caroline. She is unique from her half-siblings Andrea, Charlotte, and Pierre Casiraghi in several ways. First, she was born in Austria instead of Princess Grace Hospital in Monaco. Secondly, she holds the royal title of "princess," given to her because her father is Prince Ernst August of the royal House of Hanover. Princess Alexandra's parents were old friends who married in January 1999. A decade later, the couple separated. Though she was born in Austria, Princess Alexandra attended school in Monaco where her talent as a young figure skater became evident. She went on to represent Monaco at the 2015 European Youth Olympics.
Additionally, as is the case with most of her relatives, Princess Alexandra seems to be taking her place in the world of fashion. Following in the footsteps of her glamorous mother and grandmother, this young royal is perfectly capable of capturing the attention of photographers whenever she makes a public appearance. You can confidently assume to see Princess Alexandra's face in the front row at every Paris Fashion Week admiring the collections of family-favorite designer, Chanel. And you can't forget her fashionable appearances at the Rose Ball and the Monaco Grand Prix with her boyfriend, Ben Sylvester Strautmann. As she continues to find her way, Princess Alexandra of Hanover has established herself as a royal worth watching.
Princess Stephanie
Stephane Cardinale - Corbis/Getty Images
The youngest child of the late Prince Rainier III and Prince Grace is Princess Stephanie, who was born in February 1965 and is now fourteenth in line for the throne. In 1982, Princess Stephanie was in the car accident that ultimately killed her mother, Princess Grace. The trauma of the incident would continue to haunt her, as she had to repeatedly deny rumors which claimed Princess Stephanie was the one driving. However, Princess Stephanie was able to move past the pressure put on her by the press and pursues her passions of music, fashion, and humanitarian causes. She released a self-titled album and even recorded a song in 1991 with Michael Jackson. In addition, she was an intern at Dior and even designed her own swimsuit line. Beyond her music and fashion career, she was and continues to be involved with the humanitarian crisis around HIV/AIDS.
Princess Stephanie has also had several high-profile relationships during her life — including a short-lived romance with Rob Lowe. In 1991, the senior royal sparked a romance with her personal bodyguard, Daniel Ducruet, and they married in 1995. Together, they had two children: Louis and Pauline Ducruet. However, after a cheating scandal, Princess Stephanie and Ducruet divorced in 1996. Princess Stephanie later had her third child, Camille Gottlieb, with Jean-Raymond Gottlieb — a former bodyguard of Princess Stephanie's. In 2001, she and her children joined the circus when she fell in love with an elephant trainer.
The children and granddaughter of Princess Stephanie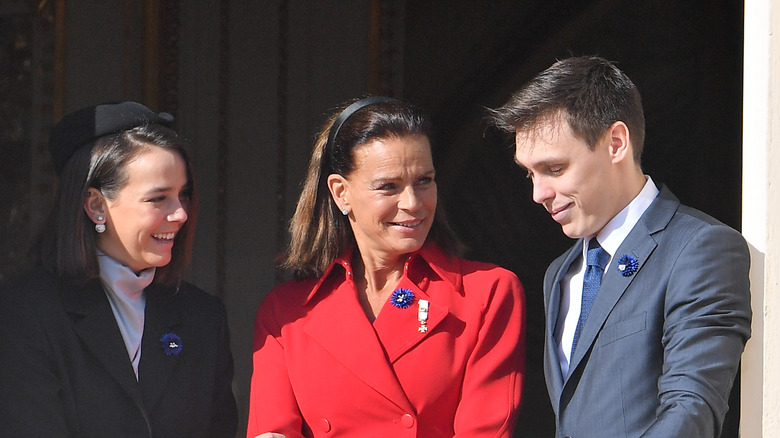 Stephane Cardinale - Corbis/Getty Images
Though Princess Stephanie's children, Louis Ducruet and Pauline Ducruet, were not born into the Monegasque line of succession, they took their spots in line for the throne when Princess Stephanie married their father, Daniel Ducruet, in 1995. Louis Ducruet is the oldest of Princess Stephanie's children and fifteenth in line for the throne. He was born in November 1992. Ducruet has lived and studied in France, Switzerland, and the United States. He met his future wife, who was Marie Chevallier at the time, during business school in 2011, and they got married in 2019 in a private and beautiful wedding. In April 2023, Louis Ducruet and his wife Marie welcomed their first daughter, Victoire, who is sixteenth in line for the throne.
Princess Stephanie's daughter, Pauline Ducruet, is behind her niece in the seventeenth spot. She was born in May 1994. It should come as no surprise to hear that Pauline Ducruet, like so many of her royal relatives, is involved in the fashion industry. In 2016, Ducruet completed her training at Parsons School for Design and took up her current position as a fashion designer who currently lives in New York. Pauline Ducruet heads Alter Designs, which is a line dedicated to gender-neutral fashion. Like her mother, her aunt, and many of her other royal relatives, Pauline Ducruet is redefining the life of a Monegasque royal in line for the throne.