Where You've Seen Zibby Allen Before Virgin River
You will see some new faces on Season 5 of Netflix's "Virgin River," but there will be a crop of familiar faces returning as well. Actor Zibby Allen joined the cast in the show's third season as Brie Sheridan, the sister of Jack Sheridan (Martin Henderson), and she is one of many Virgin River residents that will be back for Season 5. Allen has been playing Brie since 2021 and is most known for that role, but the Netflix drama is not her first TV appearance. That was "Grey's Anatomy," and Allen appeared in six episodes of the medical drama.
Allen told Cherry Picks how neat it was that Shonda Rhimes wrote her character as "Nurse Zibby" in the "Grey's" scripts. "I never actually got to meet [Rhimes] in person," Allen told the outlet, "so it felt like a little wink and a nod from her." She went on to praise Rhimes as a writer and storyteller and added, "Needless to say, starting my career on a [Rhimes] show set a brilliant tone (and a very high bar) for the work I would like to always be a part of." 
Allen is also a Hallmark star, along with her "Virgin River" co-star Alexandra Breckenridge, who plays Melinda Monroe. Allen has starred in two films for the network so far: "The Story of Us" and "The Vows We Keep." She has also been seen in the CW's "Nancy Drew," Jordan Peele's "The Twilight Zone" reboot, and the 2022 Lifetime thriller "Lies Between Friends."
Brie may be Allen's favorite acting role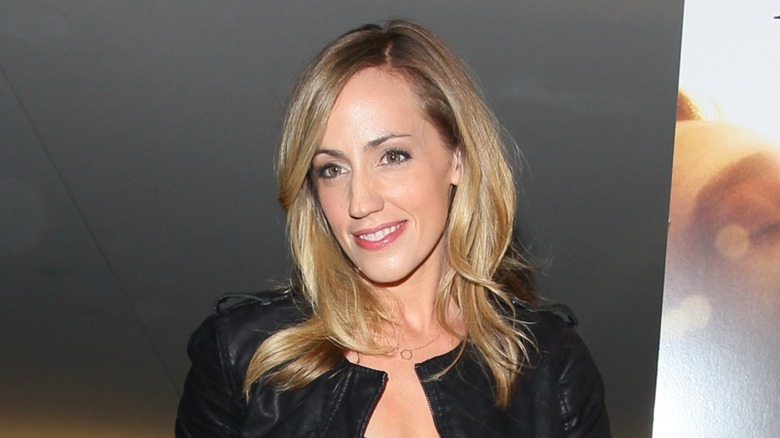 Jb Lacroix/Getty
In her interview with Cherry Picks, Zibby Allen also described how she feels she can learn something from her "Virgin River" character Brie Sheridan. She said, "I like to think that every character I play needs a little something from me, and I need a little something from them. Brie has shown me a sense of durability and self-dignity that I appreciate so much. She's got strong boundaries and is an advocate for herself. In real life, I probably lead with a lot more tenderness and natural vulnerability, which is something, I think Brie could use more of."
Allen even admitted to Numéro Netherlands magazine that her "Virgin River" character might be her favorite acting role so far because she has been able to play her over many episodes. She said, "I'm with her now. ... If I'm in a role, it's hard for me to think about another character. But I genuinely love playing Brie. It's been so satisfying for a million reasons. One of which being I get to actually play a character for longer than just one season or a couple of episodes. Doing this long-form dance with one role has been so satisfying, and I feel like Brie is my good friend."
Allen is a musician too and released an album in 2011
Even if you have not seen Zibby Allen in any of her other acting roles, you may have heard her voice without realizing it. She and her friend and collaborator Ian Merrigan make up the musical twosome Socks and Chimes. Allen told Eclair Magazine in July 2022, "We create really whimsical, unpolished tunes that kind of tug at the heartstrings."
The band formed after Allen's brother passed away, and she had trouble sleeping. She began learning to play the ukulele and writing songs. "It was highly therapeutic for me," Allen revealed. "I started to share some of my songs with [Merrigan], who just had this amazing ability to meet me in that vulnerable and expressive place so graciously." Allen and Merrigan began collaborating and released the album "I Love You Overall" in 2011. 
"Our hope is that by mid-2023, we'll have a new album to share," Allen told Eclair. "But for us, it's always about the process and less about the product, so we're in no rush!"