HGTV's Erin Napier Has No Time For Instagram Mommy Shamers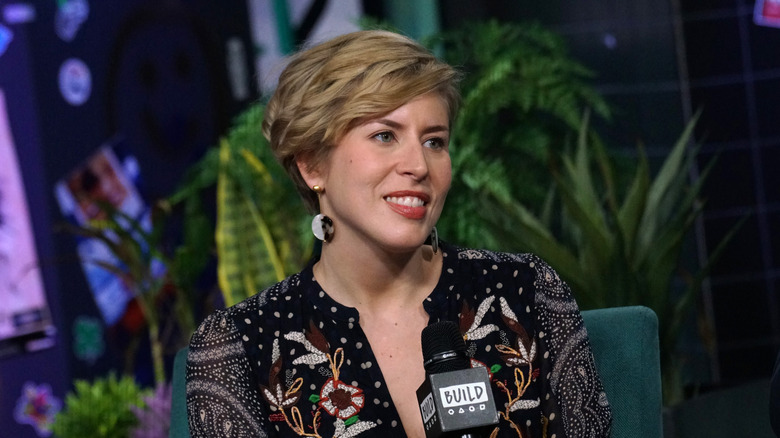 Manny Carabel/Getty Images
Erin Napier, of HGTV "Home Town" fame, has had her fair share of motherhood trials. From speaking out about the one question Napier will never ask as a couple about their journey to parenthood to turning down Season 2 of "Home Town Takeover" because it didn't mesh with her family life. Now, some fans are after the mom of two for how she parents her daughters.
On July 29, the Mississippi native posted an adorable picture of her two kids and their cousins on Instagram. All four girls stood at an ice cream counter, eagerly awaiting their scoops. While every one of them had quite a different style of dress, each girl flaunted a matching shoulder-length bob. It was this hairstyle that ruffled one fan's feathers, prompting them to comment, "Stop cutting their hair! Let it grow!"
Napier seemed to take it in stride at first, replying, "HA. no." But when the fan responded that they "love the family," though apparently still felt entitled to their opinion, Napier had enough, clapping back, "hope you've enjoyed following my family here that you 'love,' because you're getting blocked today." Fans jumped on in support of Napier. One writing, "I'm proud of you for blocking that person from your family," while another said, "What a presumptuous thing to tell a mother!"
Sadly, this isn't the first troll incident
Erin Napier and her husband Ben Napier, co-hosts of "Home Town" on HGTV, have dealt with social media trolls harassing their family before. In an essay, the mom wrote for Today in August 2023, "When my daughter Helen, who's now 5, was very young, I posted a picture of her, and someone criticized the way she looked. It made me see red. It made my blood boil. And it seems like the criticism always comes from other women. It feels like betrayal when a fellow mother has the gall to criticize your child or your parenting."
From that incident, the Napiers, plus three other families, decided that their children wouldn't have access to social media or smartphones in general. She specified that there will be a point when they're "older," that her girls can use technology of that nature, but it sounds like perhaps not while they're teenagers. Erin stated, "When they can drive, I hope to give them a phone with capabilities to play whatever music they like," illustrating that social media probably still won't be an option.
Erin got some flack for her banning of social media decision, with others telling her that she was "naïve" to think it will work. However, Erin persisted that she believes she is doing what is best for her children by giving them what they "deserve," which is a childhood free from being "tethered to something fake."
Instagram shamers prompted Napier to double down
The historic home-lover took it one step further when she created Osprey. Erin Napier was inspired when one of the other mothers in their no-social-media-or-cellphones group mentioned that her daughter felt left out due to her parent's policy. So, she started an organization where others interested in the Napiers' and their group's parenting values could connect. Osprey stands for "old school parents raising engaged youth."
The organization's goal is stated as helping youth have "social media-free childhoods" by "linking arms with other parents," and "committing to embargo social media together beginning in the elementary grades." Parents are encouraged to join and become part of an Osprey nest" with other local members to bond and strengthen one another, according to the organization's Guidebook. According to her Instagram post from early July 2023, the organization already has 20,000 parents signed up for the Osprey newsletter and was gearing up for a large event on the University of Mississippi campus.
It seems like keeping children from social media is becoming increasingly hard. Still, we can't blame Napier for wanting to try after the unkind criticism she and her daughters have received from trolls.