How Dolly Parton Keeps The Spark Alive In Her Marriage To Carl Thomas Dean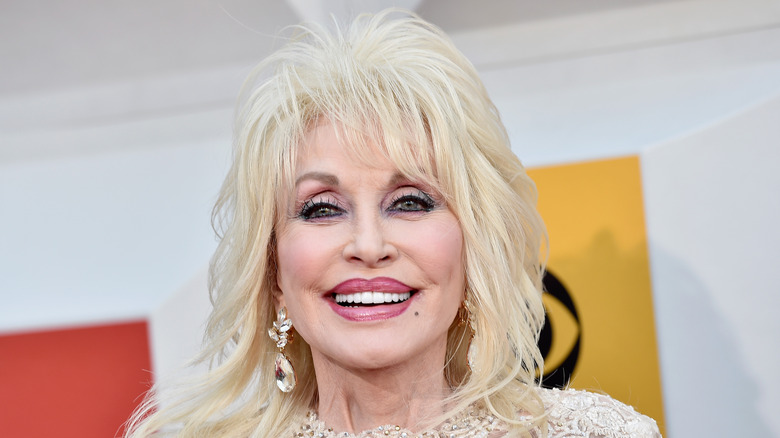 David Becker/Getty Images
Dolly Parton's music career may be long, but there's one part of the country star's life that has lasted even longer: Her marriage to Carl Thomas Dean. Long before Parton released the hit song "Jolene" or earned her first Grammy, she married Dean, in 1966, two years after the couple first met at a humble laundromat in Nashville. Since then, they've remained completely devoted to each other. 
"We actually have been married 56 years, but we've been together 58," the singer told Entertainment Tonight in early 2023. "That's a long time to be doing anything. It's nice to be married in this business." Dean is often absent from public events and even Parton's concerts, a fact that has sparked rumors claiming he doesn't exist and that Parton isn't really married. However, this myth couldn't be further from the truth, according to the country icon. 
On Instagram, she happily shares throwback pics of her beau in honor of Valentine's Day and the couple's anniversary, proving their relationship is the real deal. Parton and Dean's decades-long love story isn't the result of luck alone, although the living legend did credit divine intervention for once saving her marriage (and her life) in an interview with Closer Weekly. Keeping their relationship strong requires quite a bit of effort and some strategic time apart.
Dolly Parton keeps her marriage fun by dressing up
As an entertainer, Dolly Parton is known for her teased bleach-blond hair and glitzy getups, so it's no surprise that she likes to dress up for Carl Thomas Dean. According to Parton, it's one of her go-to ways of keeping the spark alive in her marriage. "You find little ways," the singer remarked when asked by Us Weekly how she maintains chemistry in her long-term relationship. "Like, last year on his birthday, I dressed up in my Playboy bunny suit, made him breakfast, and [ran] around in that for a little while." 
In 2021, Parton shared a video on Instagram showing off the costume in all its glory and explaining that she wore the outfit for a photoshoot, as a gift to her husband. The "I Will Always Love You" singer elaborated in an interview with E! News: "I like to dress up for Carl, every, every day, I put on some makeup and fix my hair because ... everybody else sees me all dressed up, and I'm not gonna just kind of go home and just flop on him." 
Parton added that even though Dean would love her no matter how she looks, she believes putting effort into her appearance helps to keep things "spicy" in their marriage.
It's important for the couple to lead independent lives
Dolly Parton spends her time attending industry events and making music in the studio, while Carl Thomas Dean prefers staying home at the couple's farm. The two are often separated from one another, but according to Parton, distance makes the heart grow fonder. "I always joke and laugh when people ask me what's the key to my long marriage and lasting love," she told People. "I always say 'Stay gone!' and there's a lot of truth to that. I travel a lot, but we really enjoy each other when we're together and the little things we do."
The country star had to accept they'd be spending more time together during the COVID-19 pandemic, however. After being forced to quarantine with her husband in 2020, she jokingly advised Hoda Kotb on Today to remain in separate rooms to maintain some mystery in her relationship. "The reason [marriage] worked for me is because I've stayed gone. I can't get away now. I'm stuck there now," she quipped. "I might find out who he is. We may not make it until the next anniversary." Luckily, that doesn't seem to have been the case.