What Adam Sandler's Relationship With His Daughters Is Like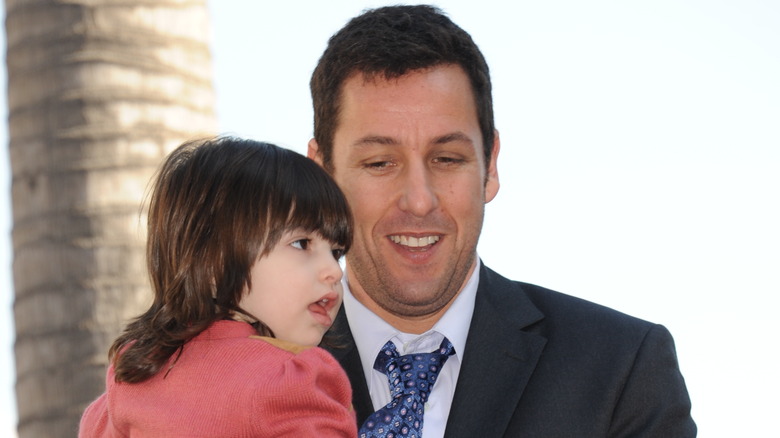 Jaguar PS/Shutterstock
Adam Sandler and his wife, Jackie Sandler, have been married since 2003. Three years after their wedding, the couple had their first child, Sadie Sandler. Then, in 2008, their second child, Sunny Sandler was born. Shortly after he became a dad for the first time, the "SNL" alum jokingly told Access Hollywood, "It took 10 minutes to become a good dad." Adam candidly elaborated, "When my kid was born, I was so nervous, I didn't know what I felt." However, after those pivotal ten minutes, he experienced a transformation. "I had a chemical reaction in my body, where I loved the kid so much, and I was so nervous for her, and that's when I lost my mind for the kid."
Adam has committed to building a strong relationship with his daughters. When his kids were in elementary school, the actor frequently joined them for lunch. "My kids give me the most joy," he informed HuffPost in 2014. To balance his movie career and his role as a parent, Adam changed his schedule, explaining that he stays in after 9:30 p.m. When Sadie was small, Adam also spent more time with her by taking her to work with him. In 2008, she appeared onscreen in two of her father's films. Like her older sister, Sunny also started participating in her dad's movies when she was around 2 in 2010.
Adam Sandler encourages his daughters to follow their interests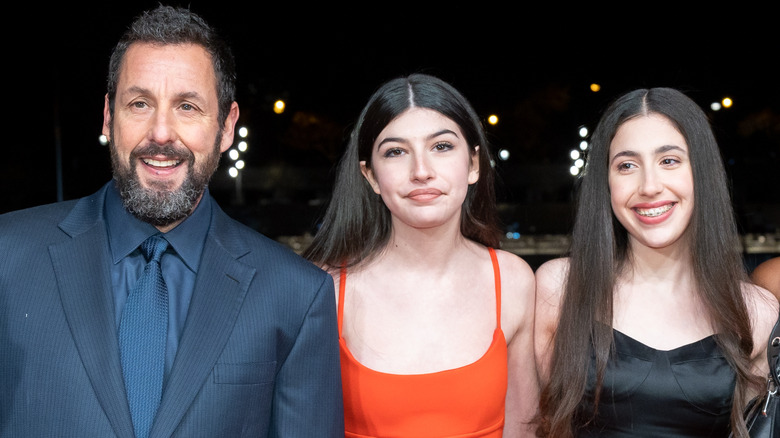 Marc Piasecki/Getty Images
Adam Sandler is a supportive father. As Sadie and Sunny Sandler grew, they requested to join their dad onscreen. With numerous acting credits between them, the sisters have appeared in films like "Hotel Transylvania" and "Grown Ups."  Sadie and Sunny also appear with Adam in the Netflix movie, "You Are So Not Invited to My Bat Mitzvah." The girls' mom Jackie Sandler has a role in the film as well. Even so, Adam is noncommittal about his daughters' future acting careers, telling Us Weekly in 2020, "I just know that they have a good time. They like doing it around the house."
Besides acting opportunities, Adam has also fostered his daughters' love of music. "They like to sing . . . and they're like, 'Can I try that?' So I say, 'Get on up there,'" the comedic actor informed Us Weekly. In 2019 Sunny sang "A Million Dreams" onstage during one of her dad's stand-up shows. In October of that same year, Sadie and Sunny sang a duet of "Lover" by Taylor Swift at a charity event.  Afterward, Adam, who accompanied his kids on guitar, complimented Sadie and Sunny, saying, per Closer, "Girls, you did great! Sounded awesome — confident and cool."
Adam also used his entertainment industry connections to ask Maroon 5's Adam Levine to perform at Sadie's bat mitzvah. Sadie was reportedly thrilled with this treat. "She hugged me so much," Adam commented on "Jimmy Kimmel Live," per People.
Adam Sandler is empathetic towards his daughters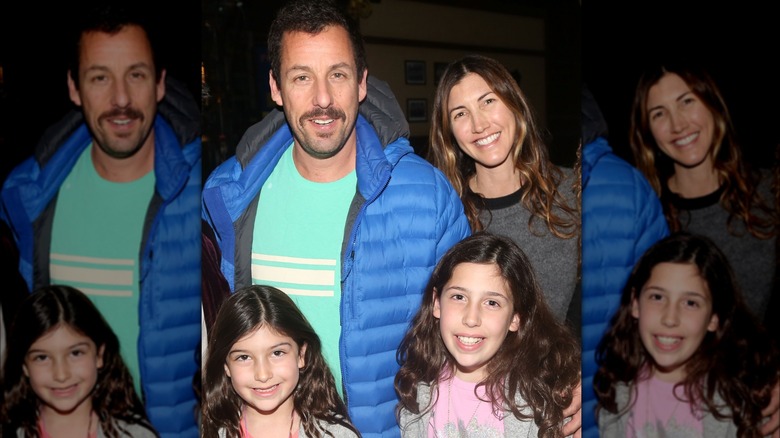 Bruce Glikas/Getty Images
When he received the Mark Twain Prize in March 2023, Adam Sandler reflected on his time as a parent to Sadie and Sunny Sandler, saying, per Hollywood Life, "They are the love[s] of our lives. The most pride and joy that Jackie and I could ever feel." He acknowledged how quickly the years had flown by, noting, "I'm only wishing time will stand still cause being with you two and mommy is the best life can get."
Over the years, Adam has discussed his empathy toward his kids' emotions. "When your kid is upset you're rocked until they're not upset anymore," he told HuffPost in 2014. "Making sure everyone in the family is OK is the most important thing." Adam puts his daughters' happiness first, even if it causes him discomfort. For the 2019 Nickelodeon Kids' Choice Awards, the actor initially opted out of getting covered in sticky green slime. As he later explained to Ellen DeGeneres, via Closer, after seeing Sunny's disappointment, "I changed my mind real quick just to make her happy."
Adam also doesn't mind when his daughters critique his past performances. When Sadie and Sunny were younger, they were eager to catch up on his back catalog. "Every time, I'd say about 20 minutes in, and then I see them tuning out, and then I hear them. They're nervous to say it, but like, 'Can we watch something else?'" Adam joked to DeGeneres, according to Hollywood Life.