Alyssa Farah Griffin Can't Escape Criticism About Her Former Trump Job From The View Fans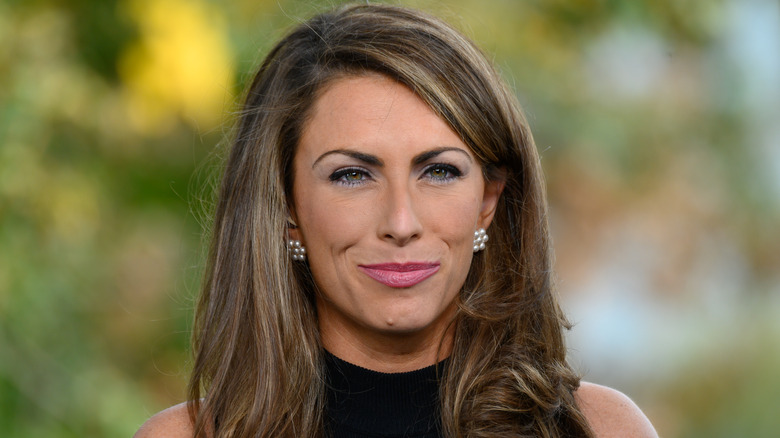 Bloomberg/Getty Images
Alyssa Farah Griffin might be a talk show star now, but many Americans still know her best as a former White House staffer. Most notably, Griffin acted as special assistant to Donald Trump during his presidency until relinquishing her position in December 2020. The Republican told Politico one month later that she stepped down from her role in the Trump campaign after the president lost the election but refused to accept defeat.
Soon after, Griffin publicly demanded that the POTUS stop violent protesters from storming the Capitol building, solidifying her defiance against the man she once called her boss. Her unique position made her the perfect person to fill the conservative seat on the fiery talk show "The View," surprising fans with another Republican at the table. She became a permanent fixture on the program in Season 26.
However, the former Trump aide's new gig has been met with criticism from fans of "The View." When rumors started swirling that Griffin might become a co-host on the show, commenters expressed their frustration online. "If she is hired I'm out all over again . . . We don't need toxic Trump rejects for this show to be interesting!" tweeted one viewer in response to another who said they were "not a fan" of the Republican. Over a year later, viewers of the daytime TV show are still blasting Griffin and her former job as a Trump ally.
The co-host is no stranger to backlash
In her time on "The View" so far, Alyssa Farah Griffin hasn't shied away from condemning her former boss, Donald Trump. In one segment of the show, she suggested the former president was unfixable after he made comments promoting violence. In another episode, the co-host admitted she was scared of Trump and believed he shouldn't be elected to office again.
However, not all fans of "The View" are convinced that Griffin is as anti-Trump as she claims to be. According to OK!, many have taken to Twitter to share their frustration with the conservative's comments on the show. "Alyssa yet again I'm not buying your phony negative comments against your former boss #DonaldTrump !!!" wrote one disgruntled viewer. "You never should've worked for him! You were loyal to him for a long time . . . #TheView." Over on Reddit, some fans echoed similar opinions, calling Griffin "complicit" and "the ultimate hypocrite."
Trump, too, bashed Griffin after she started her talk show gig. In a Fox News interview, the former POTUS said, "I have this woman named Alyssa Farah, she said the greatest things, long after she left, 'He's the greatest president we've ever had' . . . Then 'The View' offered her a contract, but obviously only if she changed her views and all of a sudden she can say negative things."
Griffin has learned to tune out the critics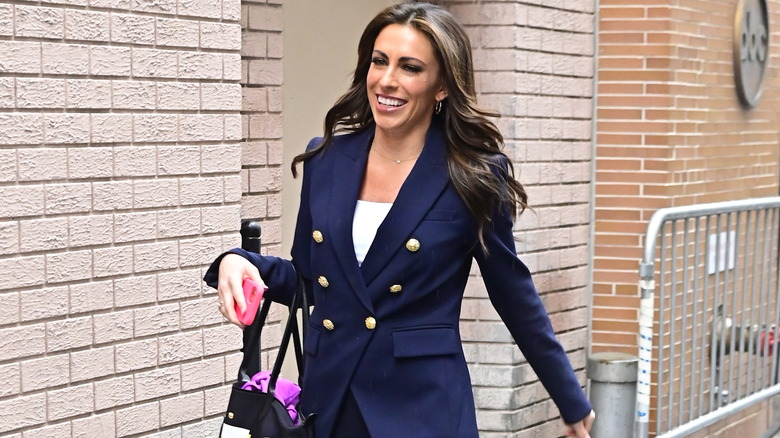 Raymond Hall/Getty Images
Some fans of "The View" might not believe that Alyssa Farah Griffin's perspective has evolved all that much since her days working for Donald Trump. It's true that her tune has seemed to change drastically in just a few short years. In 2022, a Twitter user dug up a video of Griffin praising the former president during her Trump era. One reporter close to the TV star told Vanity Fair that this contradiction is exactly what makes Griffin such a good fit for "The View." "With 'The View,' they are looking for someone who was pro-Trump but is also anti-Trump, who has credibility with Trumpworld but also rejects January 6 — that is a constituency of one," they revealed. "Like, that is Alyssa Farah. She's the only person who fits in that Venn diagram."
This may not make sense to fans of the daytime show, but Griffin doesn't mind — she's learned to tune out the backlash, thanks in part to her co-host Whoopi Goldberg. The former White House assistant explained to USA Today that Goldberg encouraged her to stop reading online comments from critics. Anytime she sees negative comments when she scrolls, she thinks of Whoopi and asks herself: "Why am I doing this," remembering she "[doesn't] need those people's opinion[s]."