Inside Justin Trudeau's Relationship With His Kids
arindambanerjee/Shutterstock
Justin Trudeau and his family have been in the spotlight ever since he was elected Canada's Prime Minister in 2015. The man made headlines when he cleaned house after his election, appointing a cabinet — for the first time in Canada's history — that was comprised of 50% women. Most of Trudeau's cabinet consisted of members under the age of 50, and Trudeau himself became the second-youngest Canadian Prime Minister in history. He won favor among the masses for being an advocate for abortion access, climate change, feminism, LGBTQ+ rights, and euthanasia, among other things. "It's important to be here before you today to present to Canada a cabinet that looks like Canada," Trudeau said during a speech after he was sworn in (via The Guardian).
Recently, the prime minister made the news for something other than his political achievements, however. It has come to light that Trudeau and his wife, Sophie Gregoire, are calling it quits. Naturally, this has put the spotlight on his family once again, especially his kids. Trudeau shares three children with Gregoire: Xavier, Ella-Grace, and Hadrien. Xavier was born in 2007, and Ella-Grace followed in 2009. Hadrien is the youngest, born in 2014. It's no secret that kids can have a hard time when their parents separate, and it'll likely be no different for the Trudeaus. Luckily, he appears to have a very close relationship with them, and it appears he's determined to continue fostering that bond amid the separation.
Justin Trudeau once played hide-and-seek with his toddler while at work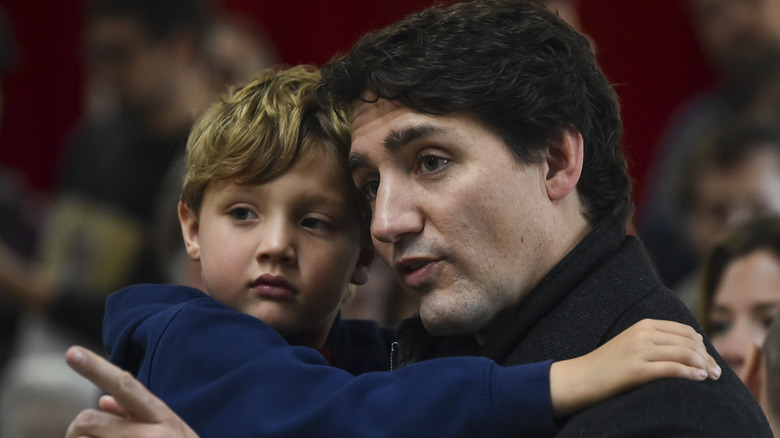 Minas Panagiotakis/Getty Images
Few things are more endearing than a father playing hide-and-seek with his son, and this is exactly what members of the House of Commons saw one day when Justin Trudeau brought his youngest son, Hadrien, to work.
To say that Trudeau is a busy man is an understatement, but that didn't keep him from bringing his youngest to the office in 2017. Hadrien, who was but a mere toddler back then, got to accompany his dad on some official business and meetings with members of the government. Snaps of the prime minister addressing the media and some of his fellow politicians hand-in-hand with his son went viral, with many gushing over the adorable photographs that were shared via outlets like the BBC. While Trudeau's day was reportedly packed with meetings and engagements, he still made some time to play hide-and-seek with Hadrien, something the toddler no doubt enjoyed immensely.
Justin Trudeau goes the extra mile to do everyday things with his kids
When you're the Prime Minister of Canada, making time for family obligations can no doubt be challenging, but Justin Trudeau makes it look easy.
During a radio interview with Terry DiMonte, Trudeau opened up about how he tries to balance his work and family life, and it's a fine line, but he has one goal. As reported by HuffPost, Trudeau shared that "It's all trying to keep a little bit of predictability and normalcy for the kids." He added that he and his wife, Sophie Gregoire, work together to figure out how to balance everything, and they still make time for family dinners during the week as his schedule allows. Trudeau also isn't against working around his schedule to be there for his kids whenever they need him. During the interview, he mentioned that he was going into the office later than usual that Tuesday because he was attending a concert at their school. Trudeau has even been spotted walking his kids to school like every other parent on a few occasions. One can't fault his commitment, that's for sure.
Aside from being around for family dinners and school activities, Trudeau also makes time to do fun things with his brood — this often includes activities one would not expect the sitting prime minister to participate in, like trick-or-treating. In 2018, Trudeau was spotted accompanying his kids dressed as Sherlock Holmes. 
Justin Trudeau is raising his kids as feminists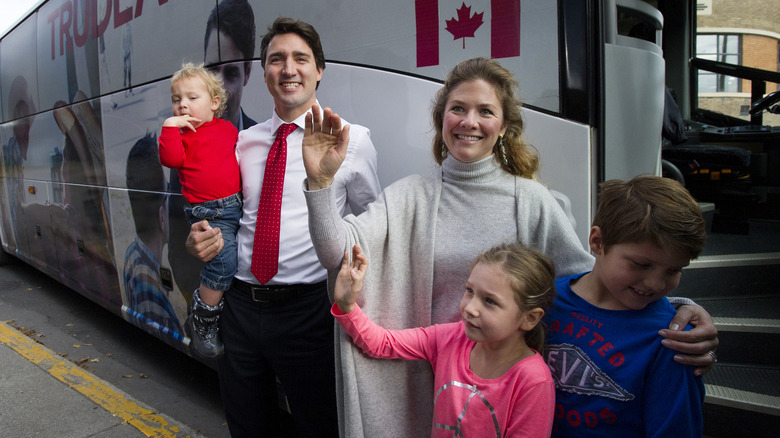 Bloomberg/Getty Images
Justin Trudeau is an avid advocate for women's rights, and he's passing those passions down to his kids. In fact, he wrote an essay for Marie Claire explaining why he's so ardent about the topic of feminism and how he's working to actively instill the same values in his children.
In the article, Trudeau talks about his two sons, Xavier and Hadrien, and how he doesn't want them to fall prey to the toxic masculinity that's so prominent in our world. "I want them to be comfortable being themselves, and being feminists — who stand up for what's right, and who can look themselves in the eye with pride," he wrote.
He also addressed gender equality, explaining that his sons and their entire generation have the power to build a world where both men and women have equal rights and opportunities. "I want [. . .] to help them grow into empathetic young people and adults, strong allies who walk through the world with openness, love, and a fierce attachment to justice," Trudeau wrote, adding that he believes a world without sexism is possible if these values are instilled in children from a young age. "To raise our kids feminist is to recognize that they ALL have a part to play to build that world," he added. "To raise our kids feminist is to honor their future, because they have the responsibility — and the power — to shape it for the better," he concluded.
Justin Trudeau has a very special bond with his firstborn son, Xavier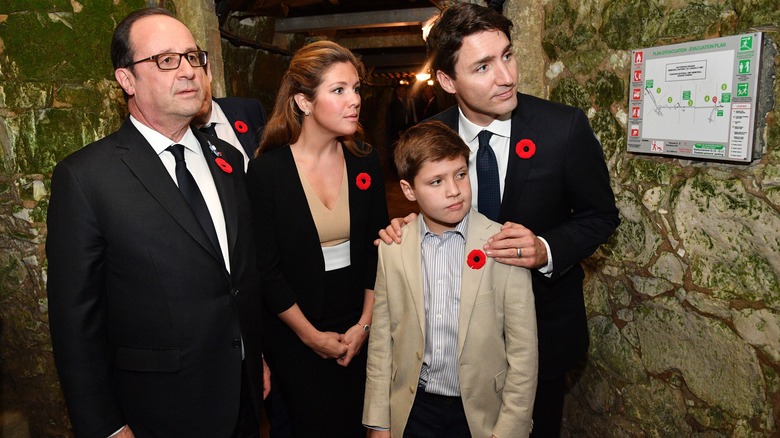 Pool/Getty Images
Because Justin Trudeau's father, Pierre Trudeau, also served as Canada's Prime Minister, Trudeau is well aware of the impact it can have on a kid.
During his radio interview with Terry DiMonte, Trudeau said that he's had some pretty meaningful conversations with his eldest son, Xavier, about how he experiences life as a prime minister's kid. "The conversations I get to have with him that I never got to have with my father are pretty cool. Because my dad had no idea what it was like to be the son of a prime minister. And I know," Trudeau said. From the sound of it, Trudeau is no stranger to the bullying that can occur because of who your father is. His advice to Xavier was to "learn how to read people" and accept that there are some kids who will be nasty for the heck of it.
Trudeau also warned Xavier that he could expect kids to act weird toward him at first and that it was usually a pretty normal reaction. He also had some sound advice on how to stop the weirdness in its tracks. "They pick up their cues from how your friends react, and when your friends don't think it's a big deal, the new kids will learn quickly it's cool not to think it's a big deal and just adjust to it and everything," he recalled telling his son.
Justin Trudeau praised his daughter Ella-Grace in an essay he wrote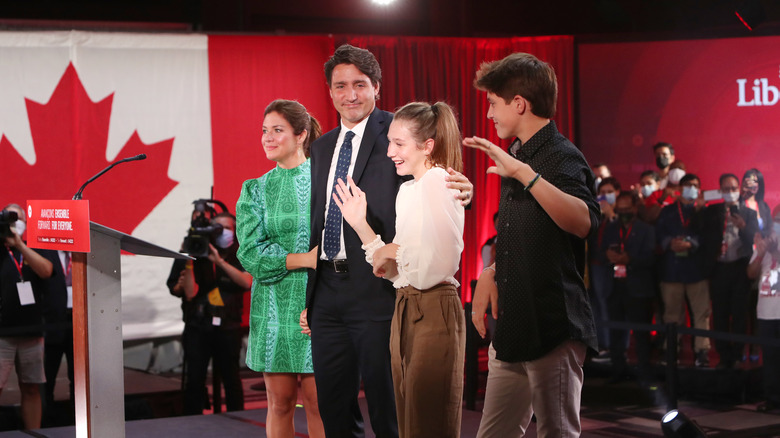 Bloomberg/Getty Images
It might be safe to say that most parents worry just a tad more about their daughters than their sons — the world isn't exactly a forgiving place when you're a woman, and the obstacles (and dangers) are plenty. Justin Trudeau is no different than any other parent when it comes to this, and he admits as much in his Marie Claire essay. "It is maddening to me that my brilliant, compassionate daughter will grow up in a world where, despite everything she is as a person, there will still be people who won't take her voice seriously, who will write her off — simply because of her gender," Trudeau wrote.
Luckily in Trudeau's case, he is in a position where he can actively work to make the world a better place for his daughter, and in the essay, he explains that he's doing his best to do whatever he can to make the world a more welcoming and fair place for women. Additionally, he recognizes that there's only so much he can do and that his daughter, Ella-Grace, will have to stand up for herself repeatedly. But he and his wife have worked hard to equip her with the tools and skills to do just that. He also didn't pass up the opportunity to say how proud he is of her. "She's growing up kind, super-smart, a passionate debater, open to the world around her," he wrote.
He has been very worried about his kids' safety in the past
In 2014, the Trudeau family made headlines when it came to light that someone broke into their family home while Justin Trudeau was away on business. His wife and kids were home alone and fast asleep when an intruder entered their Ottawa residence and left a message near the kitchen knives that told the family to better secure their home.
Naturally, Trudeau was very troubled by the incident and feared for the safety of his wife and kids, who never knew the intruder was there until they woke the next morning. "Everybody's safe, but the idea of someone getting into the house while my family was sleeping, while I'm away working is very distressing, to say the least," Trudeau said in a statement reported by BBC after the incident, adding that he was "extremely troubled" by what happened. There was plenty of talk about increasing the prime minister and his family's security after the break-in, and it was clear that Trudeau was willing to do anything to keep his family safe.
In the end, it turned out that a drunk teenager entered the wrong house, and once he realized his mistake, he considered stealing what looked like valuable items, but decided against it. He left a note advising the family to lock their doors, not realizing it might look threatening. While Trudeau was likely very relieved, the incident did alert him to the flaws in his family's security detail.
Justin Trudeau doesn't allow his kids to use TikTok
Like any other parent out there, Justin Trudeau is concerned about his three kids' online activity, especially when it comes to TikTok. During a joint press conference with President Joe Biden, Trudeau spoke honestly about his feelings regarding his kids' use of social media. The prime minister said that he is concerned about everything his kids get exposed to on the web and that he's talked with them about how to navigate the world of social media. Most of all, he'd like them to be on their phones less and spend more time outdoors being active, which is something he continuously tries to instill in Xavier, Ella Grace, and Hadrien.
The U.S. and Canadian governments actually banned the use of the app on government phones, and it so happens that Trudeau's children own government-issued phones, which means they can no longer access TikTok either. The prime minister did not try to hide how thrilled he was about this — his kids, of course, were decidedly not. The ban came after it was determined that TikTok's privacy policy is a little shady and therefore not safe to use on phones that might contain sensitive information. "I am obviously concerned with their privacy and their security, which is why I'm glad that, on their phones that happen to be issued by the government, they no longer access TikTok," Trudeau said.
Justin Trudeau has taken his kids along on some official trips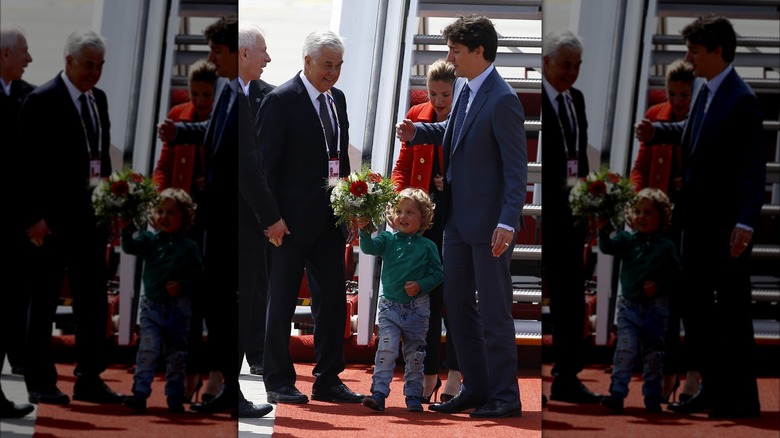 Morris Macmatzen/Getty Images
Justin Trudeau's trip to India with his family made plenty of headlines in 2018, mostly because his youngest son, Hadrien, appeared to be very unbothered with his father's official engagements and instead managed to be the focus of attention every time, thanks to his carefree toddler shenanigans.
It's clear Trudeau allows his children to fully be themselves (as long as they behave cordially), and the media was loving little Hadrien's adventurous spirit during the India trip. While it was clearly a working engagement, with Trudeau meeting with various government officials, he took his whole family along for the ride, giving his three kids the opportunity to experience India. The trip led to various stunning family photos that were shared via outlets like HuffPost, but what the media appeared to be most interested in was little Hadrien having the time of his life — from running off with several flower bouquets to lying face down on the ground while his father was busy working on international politics. When Trudeau met with India's Prime Minister, Hadrien was sat flat on the ground, clearly exhausted from the day's activities. In a photograph capturing the moment, Trudeau can be seen looking down at his son fondly.
Justin Trudeau helped his kids navigate the 2020 lockdown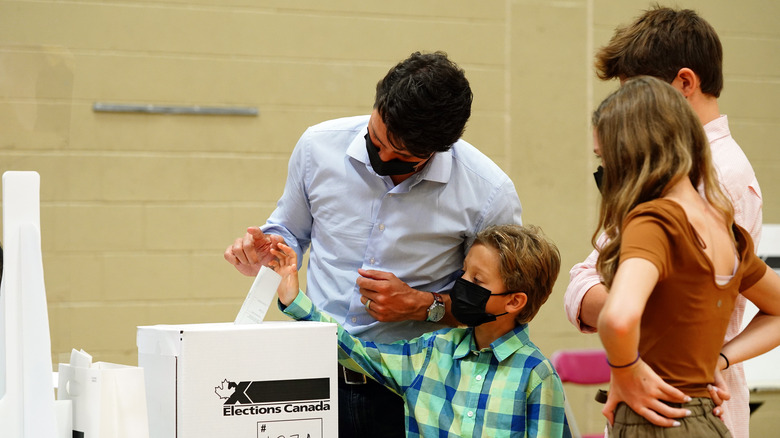 Bloomberg/Getty Images
In March 2020, Justin Trudeau took a moment to address all the kids in Canada in an effort to commend and comfort them during an unprecedented time. While he was addressing the nation's children, he also included his own. As reported by The Globe and Mail, he spoke candidly about how his own brood was stuck in front of the television and that they missed going out and spending time with their friends.
"To all the kids out there: All of a sudden, you heard you can't go on play dates or have sleepovers, your playgrounds and schools have closed and your March break was certainly different than what you've hoped for. I get it from my kids as well," Trudeau said. It might be safe to say that the advice he gave next is what he told his children too — that they were all playing a very important part in keeping their family and friends safe by adhering to the lockdown and social distancing regulations.
He took a moment to thank his kids and all the kids out there for making the best of a scary situation. "Thank you for helping your parents work from home, for sacrificing your usual day, for doing math class around the kitchen table, and for trusting in science," Trudeau concluded. In compliance with the lockdown regulations, Trudeau forfeited his traditional trick-or-treating with his children later that year and instead organized a fun candy hunt in their yard.
Justin Trudeau watched the Barbie movie with his son, Xavier
Few Canadians were probably surprised when they saw their prime minister dressed up in pink to go watch the "Barbie" movie. Justin Trudeau might be running a country, but he still makes time to go to the movies with his kids. The prime minister took to Instagram shortly after the "Barbie" movie launched in theaters to post a snap of him and his oldest son, Xavier. The two were grinning at the camera and sporting pink outfits, and Trudeau captioned the post, "We're team Barbie."
It's no surprise that the prime minister made the time to see the film. While some men have been absolutely outraged by the film's portrayal of males, it has been widely praised for its feminist themes. One only has to glance at Trudeau's resume to know that Trudeau is likely a big fan of the flick. 
Justin Trudeau and his daughter Ella watched Oppenheimer together
Xavier Trudeau isn't the only one who got to spend a day at the movies with dad. His sister, Ella-Grace, also got a turn. Justin Trudeau and Ella-Grace didn't watch "Barbie," however, the father-daughter duo opted to watch "Oppenheimer" instead.
A few days after Trudeau posted the snap of him and Xavier getting ready to watch "Barbie," he took to Instagram to post another photo of him and his daughter getting ready to watch the film. "Balancing things out: Oppenheimer with Ella," he captioned the post. Since "Barbie" and "Oppenheimer" premiered on the same day, many have dubbed the release "Barbenheimer," and it's safe to say the prime minister is on top of things now that he's seen "Oppenheimer" with Ella-Grace.
He posted the pictures of him and his children at the movies days after Trudeau and Sophie Gregoire announced the end of their relationship. In the post, he said that they will "remain a close family with deep love and respect for each other." It seems Trudeau is making good on his promise. After all, nothing beats a day at the movies with your dad.
Justin and Sophie are committed to co-parenting through their split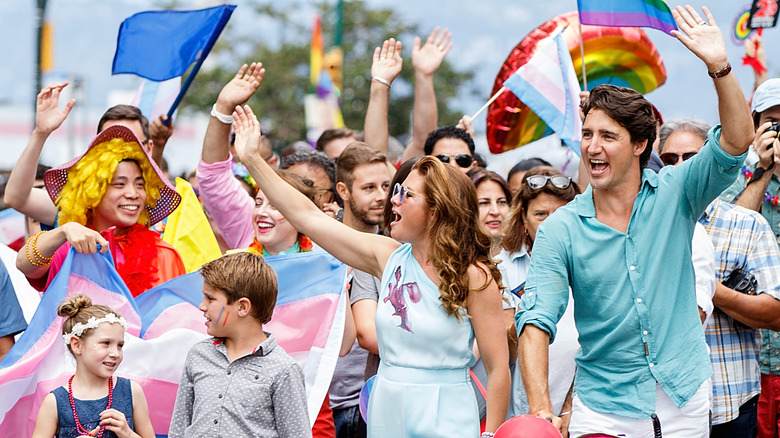 Andrew Chin/Getty Images
On August 2, Justin Trudeau shocked the world when he announced that he and his wife, Sophie Gregoire, are separating. "For the well-being of our children, we ask that you respect our and their privacy," the prime minister's post on Instagram read.
Despite Trudeau's plea for privacy, media speculation has been plenty, and some sources have come forward to share how the prime minister is planning on making the split as easy on his kids as possible. Apparently, he and his wife will be implementing an expert-approved tactic called nesting. This method consists of the kids staying in one place while the parents take turns spending time with them, instead of the kids constantly moving from one parent to the other.
The National Post reported that sources claim Trudeau's three children will be staying with him, with their mother paying frequent visits to their family home. A statement made by the Prime Minister's Office made it clear that Trudeau and his wife are committed to co-parenting and "raising their kids in a safe, loving, and collaborative environment." The statement also informed the public that Trudeau is even busy planning a family vacation. "They're striving so hard to serve the best interests of their kids," family law lawyer Rebecca Jaremko-Bromwich told the National Post. While Trudeau's life is changing, one thing's for sure — he's still putting his kids first.