Why Angus Cloud Once Had To Apologize To Megan Thee Stallion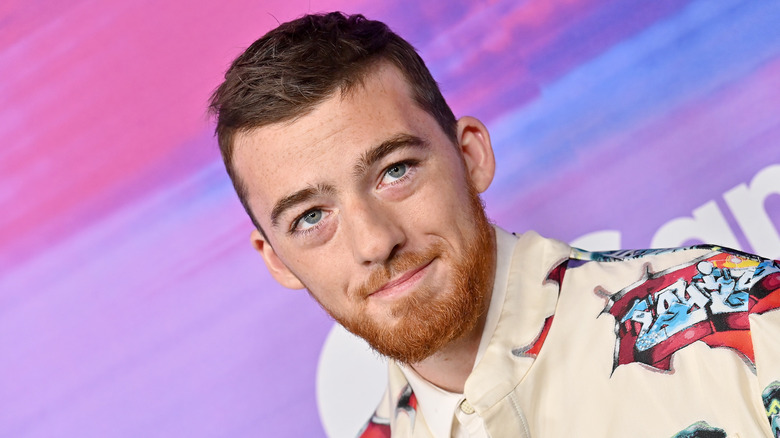 Axelle/bauer-griffin/Getty Images
Angus Cloud, a fan-favorite on HBO's "Euphoria," passed away unexpectedly on July 31, 2023, at just 25 years old. Since his death, the actor's former co-stars have paid tribute on social media. "Words are not enough to describe the infinite beauty that is Angus," wrote Zendaya on Instagram, adding that she was lucky to have called him her brother. "Angus was a sunshine," posted Hunter Schafer. "To have known his warmth, his light, and his love was nothing short of a gift." 
Also since Cloud's death, new (and old) stories about the actor are coming to light. One of them involves none other than Megan Thee Stallion. You probably remember when a photo of Cloud offering the rapper some of his Hot Cheetos, while the two were sitting front row at Coach's show during New York Fashion Week in 2022, went viral on social media and solidified Cloud's status as a fashion It boy. 
"I'm just eating my hot chips, man. I didn't think it was a big deal," he reasoned at the time, per InStyle. In reality, there was much more going on behind the scenes. Cloud accidentally stole a sandwich from Meg, too. "I had to apologize. She was cool about it," he recalled. "I would just walk around hungry and I see some snacks and stuff. They was like, 'Hey, that's Megan Thee Stallion's sandwich.' I was like, 'Oh, s**t. My bad.'" 
Angus Cloud was a bit of a rulebreaker before his Euphoria days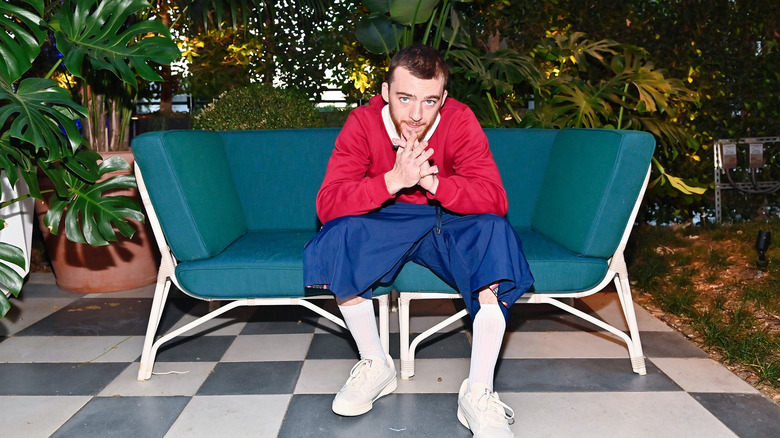 Stefanie Keenan/Getty Images
Stealing Megan Thee Stallion's sandwich wasn't Angus Cloud's first foray into rule-breaking. Before he landed his life-changing role on "Euphoria," the actor had a habit of sneaking into zoos. "You just go over the fence at the zoo. Go into the kangaroo cage. See some animals. And get kicked out," he told Variety. Clearly, it was a more-than-once kind of activity for him. In fact, it was this zoo story that endeared him to "Euphoria" casting scout Eléonore Hendricks, who valued Cloud's uncanny knack for spinning hilarious tales of casual law-breaking.
Outside of his millions of followers, his scene-stealing role on one of HBO's most popular shows, and his proximity to Megan Thee Stallion, Cloud considered himself a normal person, perhaps because his rise to fame happened so quickly and unexpectedly. What's more, his real-life personality wasn't as similar to Fez's as viewers of the show assumed. 
"It does bother me when people are like, 'It must be so easy! You get to go in and be yourself,'" the actor complained to Variety. "I'm like, 'Why don't you go and do that?' It's not that simple. I brought a lot to the character. You can believe what you want. It ain't got nothing to do with me." If you want to see a different side to Cloud, "The Line," in which he played a southern frat bro, is definitely a different vibe from the low-key drug dealer. 
The actor never expected to become a star
Jeff Kravitz/Getty Images
Angus Cloud couldn't have predicted that he'd one day be sharing Hot Cheetos with Megan Thee Stallion at New York Fashion Week. What's more, he probably couldn't have foreseen his breakout role on "Euhporia," either. Cloud was discovered in a surprising way, simply while walking down the street one day in Manhattan. He was working at a "chicken and waffle joint" at the time and an HBO casting representative approached him. 
"I was confused and I didn't want to give her my phone number," he remembered in an interview with GQ, admitting, "I thought it was a scam" at first. Eventually, Cloud decided to just go with the flow and he nailed the audition. Unlike many of the other young actors on "Euphoria," Cloud didn't have many credits to his name prior to signing up. 
In fact, most of his experience lay in behind-the-scenes tech jobs. "I wasn't trying to learn how to act on the plane [to Los Angeles]," he explained. They wanted authenticity and he gave them exactly that. At just 25, Cloud had already accumulated a long list of unbelievable life stories, zoo-related and otherwise. He will be sorely missed.