Wardrobe Malfunctions At Royal Weddings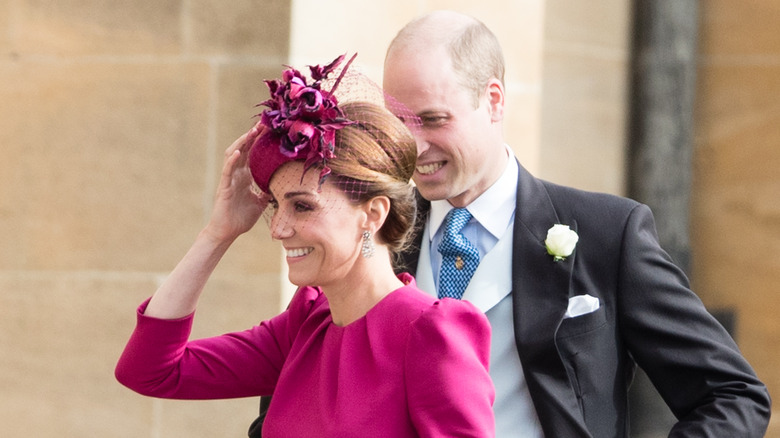 Pool/samir Hussein/Getty Images
Virginia Woolf — one of England's most celebrated writers who, in fact, had quite a lot to say about the royal family — once made it a great point to remind the common folk that royals are mortal beings just like everyone else. "Real people live in Buckingham Palace," Woolf wrote in 1939. "But always smiling, perfectly dressed, immune, we like to imagine, if not from death and sorrow, still from the humdrum and the pettifogging." At the time, Woolf's commentary on the royal family was deemed too edgy for print, so it stayed on ice for decades. The essay was first published in 1974 — over 30 years after Woolf died.
Thanks to on-screen dramas like "The Crown," movies like "Spencer," or even Prince Harry and Meghan Markle's no-holds-barred interview with Oprah Winfrey, it could not be more apparent that royals are indeed humans like us. Moreover, though the royal family takes the utmost care and preparation in ensuring that they are consistently "perfect" and presentable to the public, even they cannot escape the reality of mistakes, mishaps, and accidents in the eyes of the surrounding world.
While the Windsors have experienced their fair share of stumbles and faux pas over the decades, it seems that royal weddings are no exception to setbacks — particularly setbacks in the wardrobe department. Here, we're exploring all of the fashion incidents at royal weddings that remind us that they, too, are humans like us.
Princess Eugenie's high-wind mishap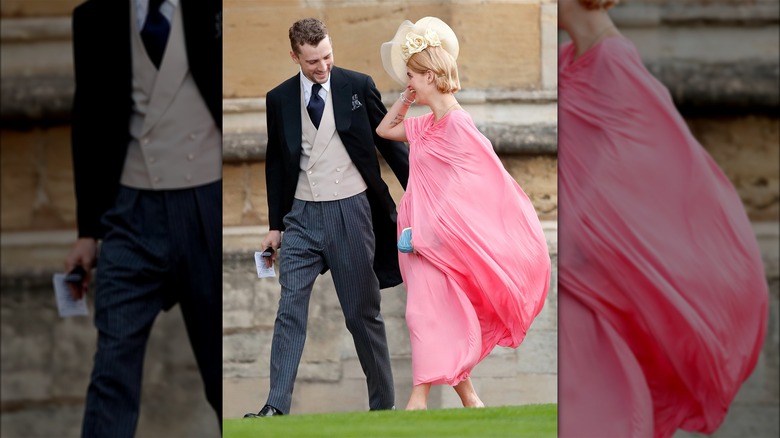 Max Mumby/indigo
While some may worry about the possibility of rain occurring during an October wedding, Princess Eugenie and guests found themselves fighting off serious winds on her big day. The princess was married on October 12, 2018, which was right in the middle of Storm Callum's sweep over the UK. Wind gusts as high as 86 mph reached parts of Wales, while heavy rains caused flooding on the coasts. Luckily, Princess Eugenie and Jack Brooksbank's nuptials weren't affected by any rain, but the high winds stemmed over into the outskirts of London — right where the wedding was taking place at Windsor Castle.
The winds caused quite a few wardrobe malfunctions for guests entering the chapel. English model and singer Pixie Geldof, for example, had to hold on tightly to her yellow fascinator as her pink frock blew about. Demi Moore, Naomi Campbell, and Tyra Banks all had similar issues and were photographed clutching their fascinators while holding their dresses in place.
However, it wasn't only the celebrity guests who found themselves grappling with the elements. Catherine, Princess of Wales, was also spotted having what looked to be a very Marilyn Monroe-esque moment as the winds whisked up her skirt. Quick to avoid any potential exposure, Catherine held her skirt down. Now, we do know that Catherine makes a point of having weights sewn into the hems of her dresses and skirts to keep garments from flying up. Perhaps she needed heavier weights on this particularly blustery day.
Queen Elizabeth II's broken tiara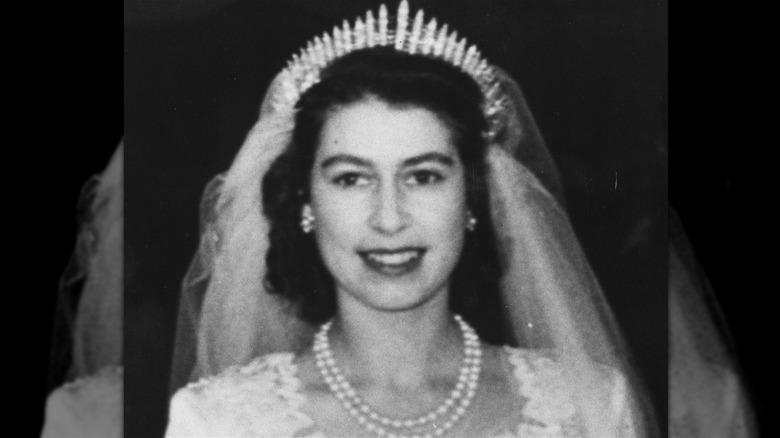 Topical Press Agency/Getty Images
It really is not uncommon for a bride to wake up on her wedding day feeling a mix of excitement, joy, and anxiety. But for Queen Elizabeth II, all of these feelings must have been amplified ten times over as she prepared to exchange broadcasted vows with an estimated 200 million listeners worldwide. Everything started off well until the moment came to attach Queen Elizabeth's wedding tiara to her veil. As the hairdresser began to arrange the fringe tiara in place, it completely split into two seemingly out of nowhere.
The fringe tiara was originally crafted for Queen Mary, Elizabeth's grandmother. The diamonds came from another headpiece that doubled as a necklace, which was given to Queen Mary on her 1893 wedding day. Mary passed the kokoshnik style tiara down to her daughter, Queen Elizabeth II's mother. The Queen Mother then lent it to Queen Elizabeth on her wedding day for her "something borrowed." Alas, it also was her "something broken."
Fortunately for the then-princess, royal jeweler Gerrard was on standby in case any issues like this arose. Understandably, this was an all hands on deck situation: The tiara was sent to the jewelry workshop via police escort and was welded back together at the last minute, allowing Elizabeth to wear the tiara as planned on her wedding day.
Princess Diana's wrinkled wedding dress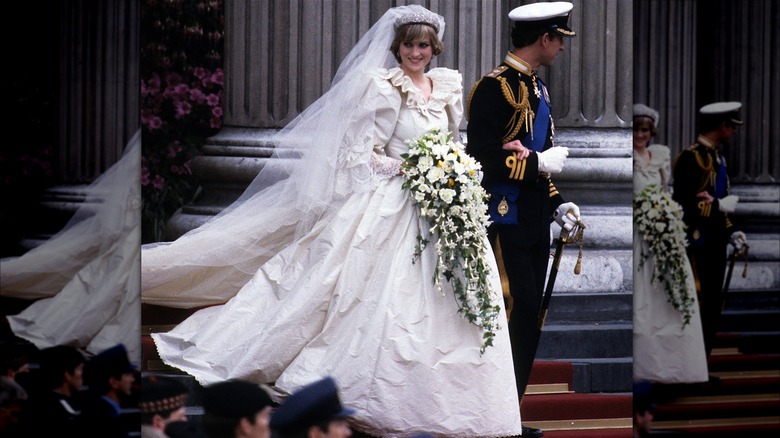 Anwar Hussein/Getty Images
Whether you consider it a painfully '80s garment or a timeless moment in bridal history, there is no denying that Princess Diana's wedding dress was, and is to this day, one of the most recognizable dresses in history. Designed and crafted by Welsh couple Elizabeth and David Emanuel, the construction was left entirely up to them. "We had no guidelines or instructions, so we came up with this amazing, completely [over-the-top] gown that we knew would stand out on the steps of St. Paul's," Elizabeth recounted to Vogue decades later.
On the wedding day, viewers around the globe gushed over the fairytale dress, while others were quick to notice one major detail: The dress appeared to be rather rumpled as Diana stepped out of the carriage. "We did know it would crease a bit but when I saw her arrive at St. Paul's and we saw the creasing I actually felt faint," Elizabeth recalled on ITV's 2018 special "Invitation to a Royal Wedding." "I was horrified, really," she continued. "Because it was quite a lot of creasing. It was a lot more than we thought."
Though there was a rehearsal, the Emanuels had not factored in that Diana would be riding in the carriage with her father on the day of the wedding, meaning there was less space for the dress. In the end, the Emanuels felt that the imperfections added to the romance of the day, enhancing Diana's beauty even more.
Princess Diana's spilled perfume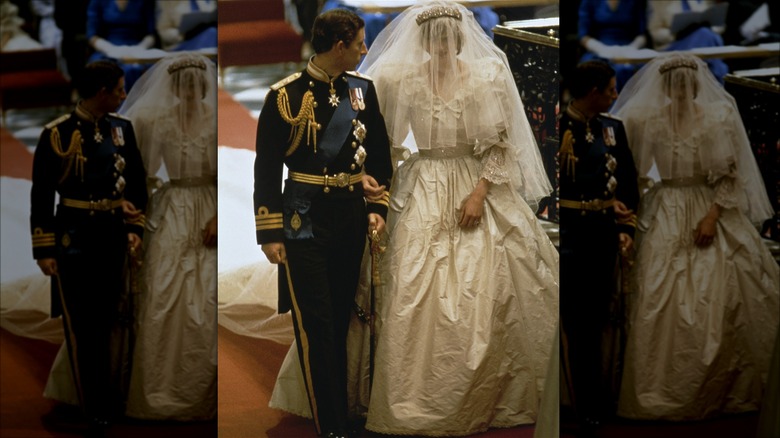 Keystone/Getty Images
If you look closely at photographs of King Charles III and Princess Diana's wedding, you'll see Diana holding up her dress so that she wouldn't trip on it. While that might have been part of the reason why she was carrying her dress in such a way, there was more to the story. Years later, it came out that she had actually spilled perfume on the dress, and clutching the area was her attempt to cover up the spot. Diana's makeup artist, Barbara Daly, reported that while the princess was simply trying to apply the perfume — which happened to be Houbigant Paris Quelques Fleur, one of Diana's favorite scents — she accidentally spilled some right in the center of the gown. Diana did her best to hide the area in photographs, as neither she nor her team wanted a perfume spot to steal focus at such a historic and regal occasion. Fortunately for the royal, she succeeded in concealing the stain throughout the day.
Quelques Fleur was chosen as Diana's wedding day fragrance to commemorate the joyous occasion. The floral scent features notes of bergamot, jasmine and rose, and was launched in 1912 by Parisian perfume house Houbigant. Nowadays, this signature scent of Diana's is getting a second go in the spotlight, as Perris Group recently acquired Houbigant and is marketing the fragrance with modern day aesthetic.
Prince William's struggle with Princess Catherine's wedding ring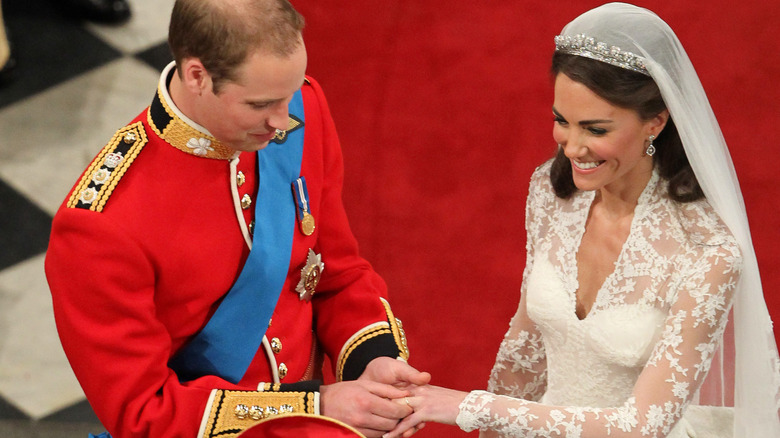 Anwar Hussein/Getty Images
When Prince William proposed to Princess Catherine in Kenya with a 12-carat blue sapphire surrounded by 14 solitaire diamonds that belonged to his late mother, Princess Diana, filing a complaint about the piece was certainly at the bottom of the bride-to-be's priority list. That even goes for the ring's size, which actually was too big for her finger. Though one source reported to The Sun that Catherine loved the ring straight away and "didn't want to cause a fuss," she found that it was simply too large. "A bride's worst nightmare is looking down and seeing her ring has fallen off," the source continued. "One can only imagine how this is magnified when you are marrying the future King of England." Therefore, Catherine opted to have the ring resized to better fit her finger.
So, naturally, the Princess of Wales had to ensure that the same issue wouldn't happen with her wedding band. "Kate asked Wartski, who made the ring, to make it a size smaller so it didn't slip off," an anonymous source told the Daily Mail. However, that ring ended up being a size too small, so Prince William had a bit of a struggle while placing it on her finger at the ceremony. Viewers and guests likely figured nerves were to blame for the awkward ring exchange, but the couple reportedly did not sweat it too much. "It has now become a subject of amusement to her and William," the source said.
Queen Elizabeth II's glove mishap at her grandson's wedding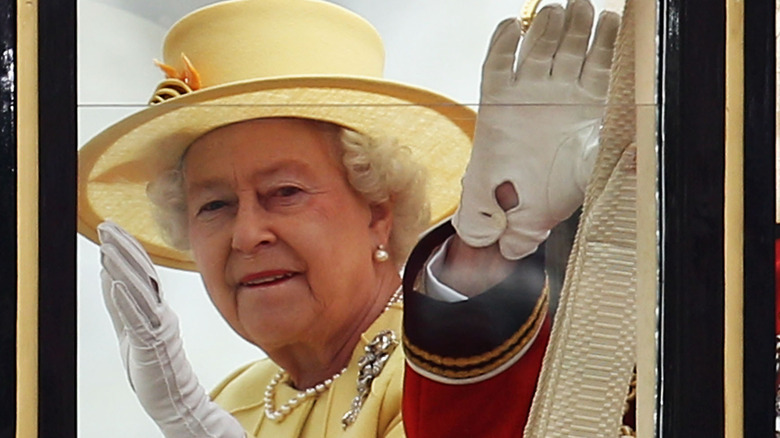 Paul Gilham/Getty Images
At Prince William and Princess Catherine's 2011 wedding, Queen Elizabeth II had a team of stylists to make sure she was looking her very best for the occasion. Her look was topped off with a pair of white gloves — which was a go-to for the late queen. Despite the efforts to have Elizabeth looking up-to-par for the day, the royal reportedly left the ceremony "furious" over one detail that had gone unnoticed until she was waving to crowds of onlookers; somehow missed, there was a gaping hole in the queen's right glove — a situation that would later become nicknamed "Holegate" within the palace walls.
"How it wasn't written about at the time, I will never know," stylist Bernard Connolly, who worked for the queen when the now-infamous malfunction happened, told the Daily Mail. Connolly went on to explain just how seriously the queen's designers and stylists took what happened. "The Queen went out and waved to the world with a hole in her glove — can you imagine? You don't do that, you wouldn't do it in a fashion show, or in a photo shoot, and you certainly wouldn't do it to a monarch. It was not just any engagement, but the future King getting married."
It was reported that from then on, the queen would always carry a spare pair of gloves in her purse to prevent any mishaps like this one from happening again.
Princess Eugenie and Princess Beatrice's spotlight-stealing fascinators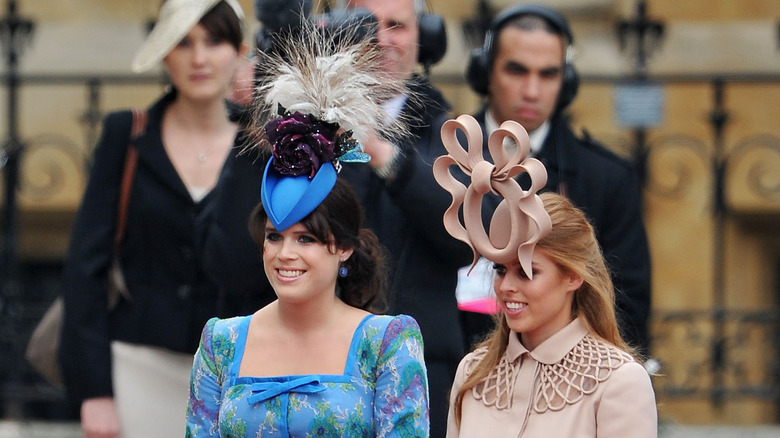 Pascal Le Segretain/Getty Images
Wedding dress codes — whether spoken or unspoken, dated, or still holding true — are a thing. No matter which country you hail from, one international bridal rule that will forever remain is to not upstage the bride. After all, it is her special day, and it would be rude to pull focus. So, while making sure to look your best is usually the right move for the occasion, drawing excessive attention to yourself via your outfit might be a warrant for some unwanted backlash — backlash that Princess Eugenie and Princess Beatrice know all too well.
For Prince William and Princess Catherine's wedding, royal sisters Princess Beatrice and Princess Eugenie each opted to don dramatic, over-the-top Philip Treacy fascinators. Eugenie chose a bright blue shade adorned with an arrangement of dark purple flowers and a burst of white feathers sticking out from the top. Beatrice went with a neutral blush-colored dress and a matching fascinator shaped like a giant bow (some went on to compare it to an oversized pretzel), which was pinned to the front of her voluminous hairstyle.
The sisters went on to face a great deal of scrutiny from the public, mainly for choosing such flashy headpieces at an event where the focus was supposed to be on Princess Catherine. "They got hammered in the press and it was a little unfair," stylist Charlie Anderson shared with People. 
Queen Camilla's shoe mistake at her wedding to King Charles III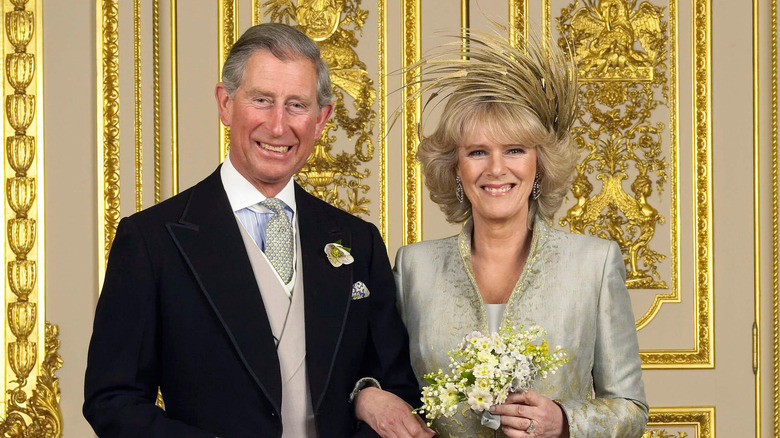 Tim Graham/Getty Images
Not all royal wedding mishaps are monstrously embarrassing situations; in fact, some of these mistakes are moments the royals look back on rather fondly — at least according to Camilla, Queen Consort. "I remember coming from Clarence House to go to Windsor the day I got married, when I probably wasn't firing on all cylinders, quite nervous," Camilla recalled in a 2022 BBC One program premiering just before the queen's funeral was to air on television. "And, for some unknown reason, I put on a pair of shoes and one had an inch heel and one had a two-inch heel. I mean, talk about hop-a-long. And there was nothing I could do."
Yes, King Charles III's second wife put on a pair of mismatched shoes and did not realize it until she was on her way to their civil ceremony. While some royals might've melted down over such a mishap, the reigning monarch all but shrugged it off. As Camilla noted in the special, Queen Elizabeth II was amused by the gaffe. "I was half way down in the car before I realized and, you know, she could see and laughed about it and said, 'Look, I'm terribly sorry.' She had a good sense of humor." In addition to possessing a sharp wit, Camilla said Queen Elizabeth had an "unforgettable" smile. 
Prince William wore tight pants to his brother's wedding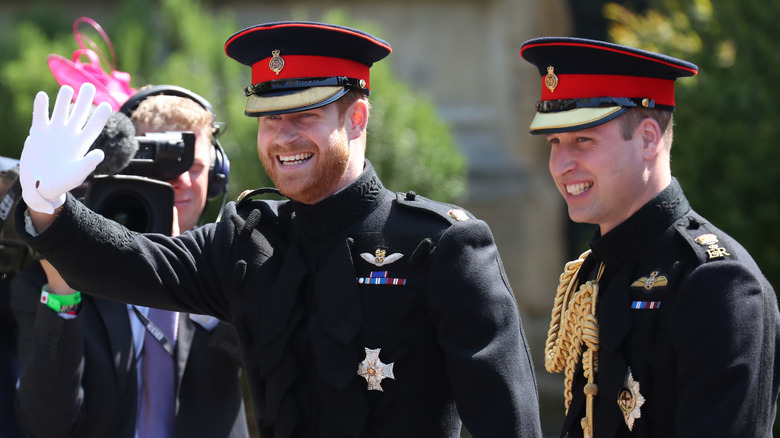 Wpa Pool/Getty Images
Prince Harry and Meghan Markle's wedding was mostly smooth sailing for everyone, minus a minor malfunction in the trouser department on Prince William's end. As thousands of onlookers gathered outside Windsor and millions tuned in on the TV to catch a glimpse of the royal wedding, they were able to clearly hear the sounds coming from the church, but not the dialogue spoken by the royals. As lip reading expert Terry Ruane stated in the Daily Mail, William seemingly said "my trousers are too tight" as he walked with Prince Harry towards St. George's Chapel.
But William decided to endure for the sake of his brother. According to The Sun, the future king reportedly added, "I'll see how it is." Lest anyone think this was a situation where William grabbed a pair of slacks off the rack and hoped for the best, his and Harry's military uniforms were hand-crafted by Savile Row's Dege & Skinner. Alas, it was also reported that Harry himself was also complaining of the trousers being too snug for his liking.
Oprah's last-minute realization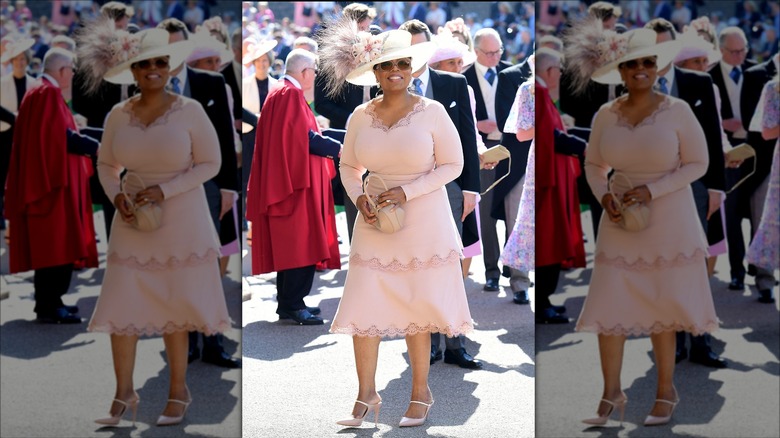 Wpa Pool/Getty Images
For most everyday folk, realizing the night before a wedding that the dress you chose was actually too close to bridal white would probably lead to a late-night scramble to Target or Kohl's in hopes of finding something that would work. But when you're Oprah Winfrey? Simply call up your world-class design team and have them create an entirely new gown for you in a matter of hours. If it sounds too good to be true, it's not: This is exactly what happened to Oprah the night before Prince Harry and Meghan Markle's wedding. Thankfully, what could have been a royal wedding wardrobe malfunction — or at the very least, a faux pas — was nipped in the bud.
The dress Winfrey originally had picked out was a shade of beige, but upon realizing that it may look white in photographs, she knew she needed to act swiftly to avoid a major royal wedding catastrophe. She called up her styling team at Stella McCartney, who were able to craft a new dress in a blush shade quite literally overnight. "I would like to thank the Stella McCartney team for working all night long to get this dress finished," Winfrey said in an Instagram video. "Because we had Dressgate. Wrong color! Now we got the right color. I think we're gonna do OK. But no. Thank you so much for the detail, working all night, to the whole Stella McCartney team." As Tim Gunn would say, they certainly made it work.