How Margot Robbie Spent Her Millions After Becoming Famous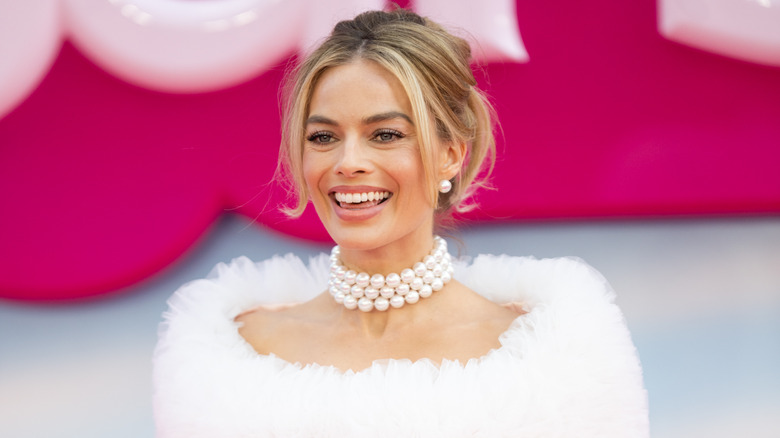 Samir Hussein/Getty Images
Margot Robbie has become one of Hollywood's most recognizable stars, especially in the wake of the globally successful "Barbie" movie. She's also one of the highest-paid actors in the industry. The actor earned a staggering $50 million for appearing in (and producing) the splashy pink summer blockbuster, a salary that could definitely buy a few mansions, a brand-new Barbie Jeep, and an expensive beachfront vacation. This wasn't Robbie's first multi-million-dollar paycheck, however. Reportedly, she made around $10 million for 2020's "Birds of Prey," per Variety.
So, what was Robbie's first priority after becoming a world-famous millionaire? She paid off her mother's mortgage, of course. "Everything I owed my mom, I had it written down," she said in an interview with CBS Sunday Morning. 
Robbie's mother, Sarie Kessler, raised the future actor and her siblings solo on a farm in Australia. She also supported her daughter financially while she was just starting out in the industry. "She'd take money out of like the house mortgage, lend me money ... one day when I made enough money, I just paid that whole mortgage off completely," the "Barbie" star explained. In fact, taking care of this financial burden was her mom's 60th birthday present in 2014. It really beats a birthday cake, if you ask us.
After that, Robbie began saving and even launched her own production company, LuckyChap Entertainment, alongside her future husband Tom Ackerly, in 2014. Through the company, the "Babylon" actor aims to empower women through female-led stories.
Margot Robbie and her mother have a one-of-a-kind bond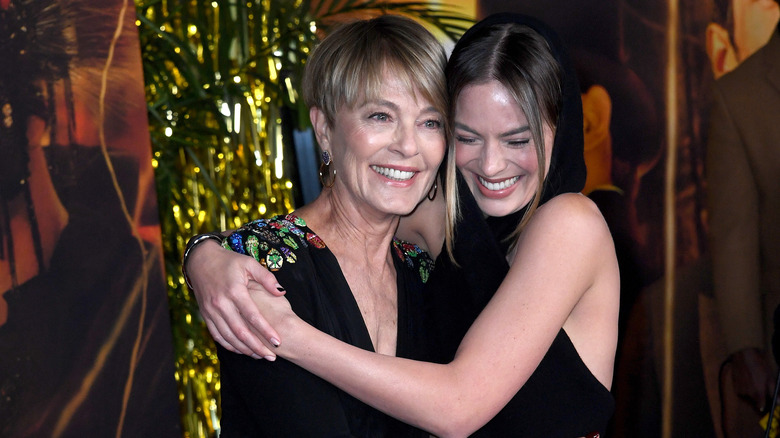 Albert L. Ortega/Getty Images
Margot Robbie and her three siblings lived with their mother, Sarie Kessler, on a farm belonging to her grandparents. They had plenty of adventures around the property on the Gold Coast of Australia, Robbie told The Resident in a 2017 interview. "My siblings and I went boar-hunting and surfing, and I grew up learning more about agriculture and animal husbandry than you could imagine," she said. "It was not the kind of upbringing that you could ever have expected would lead anyone into acting."
Although Kessler was certainly surprised when her daughter announced she wanted to be in movies, she supported Robbie's decision, according to a 2019 Vogue Australia interview between the pair. That didn't make goodbyes any easier, however. "When you first went to LA, Margot, to me you were so young, and every time you'd come home then go back, it was awful. I used to cry all the way back to the Gold Coast," Kessler told Robbie in the interview.
Since her breakout role in 2013's "Wolf of Wall Street," Robbie and her mother have made quite a few red-carpet appearances together. They attended the Academy Awards in 2018 to celebrate Margot Robbie's  "I, Tonya" nomination. The duo also made waves at the Cannes Film Festival in 2019, something the actor has since described as a full-on "pinch-me moment." More recently, Sarie Kessler was her daughter's date for the premiere of "Babylon" in 2022.
Margot Robbie has also splurged on some luxuries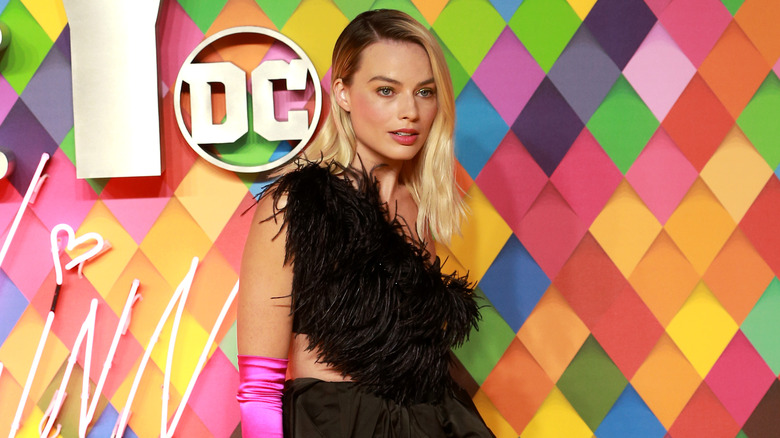 Fred Duval/Shutterstock
Along with paying off her mother's mortgage in Southport, Australia, Margot Robbie has also invested in a few of her own properties. In 2017, the actor and Tom Ackerly, her film producer husband, bought a $2.73 million home in Los Angeles. Although the home had a wine cellar and a rope swing in the living room (both pretty cool features), they eventually moved on and sold it for nearly $3.5 million in 2022 (via Architectural Digest). The pair also invested in another house in Hollywood Heights, two homes on the Gold Coast of Australia, and a property in Venice Beach, California. Unfortunately, a real-life Barbie dream house isn't on the list ... yet.
In the wake of the "Barbie" movie, Margot Robbie's expensive skincare routine has also gained some traction on social media. According to Marie Claire, she uses a $1,000 luxury skin caviar moisturizer from La Prairie — you won't believe what other celebrity stocks up on this top-tier product too — and an eye cream from the same brand (don't worry, it's only $435). All in all, you just need upwards of $1,600 to get Robbie's signature Barbie doll glow. Movie star paychecks come in handy in more ways than one.
If you aren't quite there yet, no worries — Robbie also swears by a more affordable product that only costs about $5. "I always keep a little Burt's Bees tinted rose lip balm on me," she told Marie Claire.