You Won't Believe Which Celebrity Uses Luxury Caviar As A Moisturizer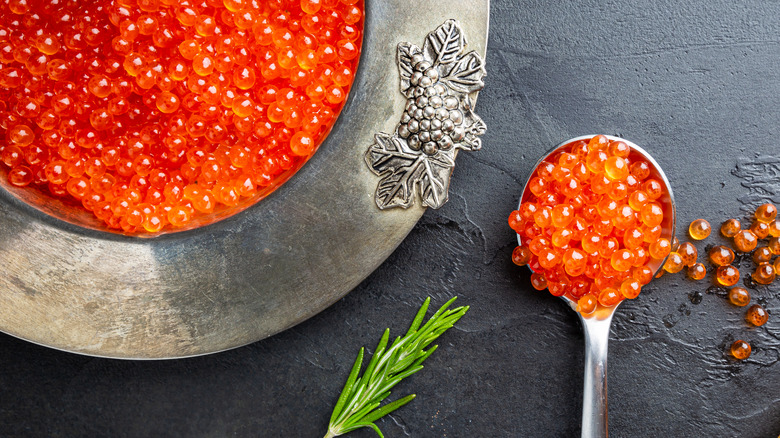 Goskova Tatiana/Shutterstock
If we were all to follow the wild beauty tips touted by celebrities, we may be left with an assortment of random products and confused skin. Followers of Margot Robbie may stock up on nipple cream as a replacement for lip balm, while others may emulate model Suki Waterhouse's Coca-Cola shampoo situation. Even Beyonce's 209 million followers aren't safe: the iconic musician's fierce eyebrows are a result of Elmer's glue.
However, some tricks may just be worth the hype (and the scientific backing). Caviar pairs well with champagne — but it's on pretty good terms with your skin, too. The expensive fish roe is known to be an anti-aging ingredient that can protect you from UV rays and boost collagen (via Byrdie). Dermatologist Dr. Michelle Green told the publication, "Caviar has a high content of oil and protein, making it best-suited to tackle problems like dehydration, fine lines and wrinkles, and loss of elasticity." Read on to find out which celebrity uses caviar extract.
Angelina Jolie uses a caviar product that retails for $530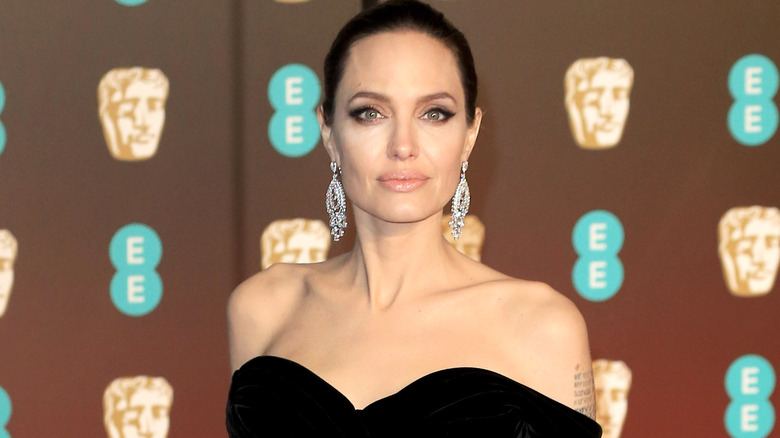 Cubankite/Shutterstock
It may not be surprising to know that the ever youthful Angelina Jolie uses an anti-aging ingredient in her skincare products. According to Elle, the actress includes the La Prairie's Skin Caviar Luxe Cream in the beauty regimen she's crafted over years. The cream retails for $530, an indulgence few can afford (considering Angelina Jolie's stunning net worth, she probably doesn't have to think twice about buying the cream) — but there is a drugstore dupe. Dermatologist Shari Sperling tells Well + Good, "While La Prairie's Skin Caviar is unique in ingredients — and expensive — a great drugstore alternative would be the Olay Regenerist Nightly Recovery Cream Moisturizer [$30] ... It's an incredibly hydrating and potent wrinkle cream, and promotes firmness and elasticity in the skin, just like the La Prairie option."
Jolie's own dermatologist Dr. Rhonda Rand added to Refinery29, "She's always been such a natural beauty, so she didn't ever have to do much. It was really just sunscreen, proper cleansing with a mild, gentle cleanser, antioxidants, sometimes glycolic [acids], and natural products. Some alpha hydroxy [acids] are good too, and they're very natural." To sum up, Jolie stays filter-free with a simple routine and a luxurious finish.