Ivanka Trump Made Waves When She Appeared On The View Without This One Key Accessory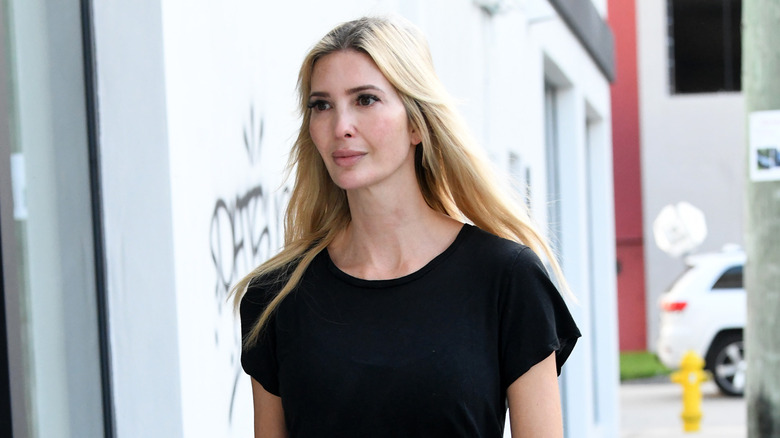 Mega/Getty Images
Nowadays, when a woman is spotted not wearing her wedding ring, most don't think much of it. After all, we're used to seeing silicone bands or even tattoos on couples who have tied the knot. So if we even notice a bare ring finger, we're much less likely to clutch our pearls than our grandmothers, who wouldn't be caught dead leaving the house without their diamond on full display.
But Ivanka Trump definitely caught some flak when she appeared on "The View" without her wedding ring. The more seasoned hosts of the hit talk show were quick to notice and even called her out on it. During her 2009 appearance, Barbara Walters, Elisabeth Hasselbeck, Whoopi Goldberg, Joy Behar, and Sherri Shepherd raised their eyebrows at Trump's uncouth behavior. 
According to People, it was Hasselbeck who actually pointed it out, arguing that wearing it should be like second nature. The former first daughter, who had only been married for just over a week at the time, reasoned that she simply forgot to put her ring on.
The former first daughter often forgets to wear her ring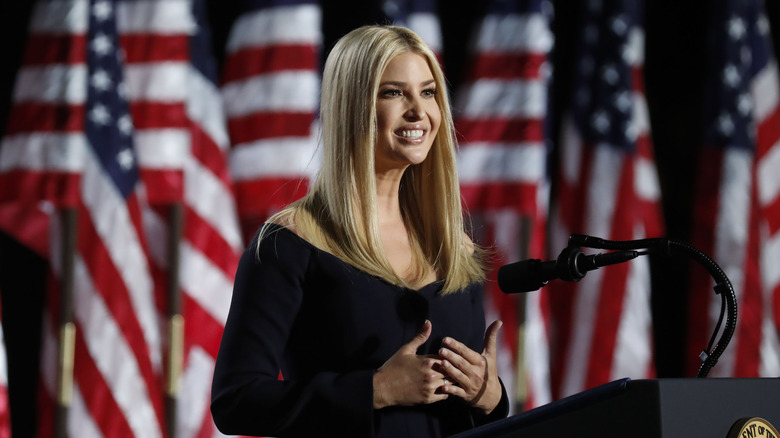 Bloomberg/Getty Images
During Ivanka Trump's appearance on "The View," she claimed that she had only gone without her wedding band once before. But that number has increased in the years since she and Jared Kushner tied the knot in 2009. In 2020, during her father's presidency, Trump frequently made the papers. When images of her giving a speech at the Republican National Convention were splashed all over the pages, it was glaringly obvious that she wasn't wearing a wedding ring.
Some speculated online that she may have decided to tone down her jewelry for the political event. However, we've witnessed Trump ditching her wedding hardware at more relaxed gatherings too. For example, when she was hanging out with friends at billionaire Wayne Boich's mansion (via the Daily Mail). Even at home with her family, the former first daughter seems to prefer going ring-less. 
In a photo she posted to Instagram in August 2020, her left hand is noticeably unadorned. Trump can't use her newlywed status as the reason she forgets to slip on her matrimonial accessory. And, we're not really confident that she still feels "a little bit naked" without it, as Trump admitted on "The View." Perhaps she's just over a bulky bauble occupying space on her finger — and who are we to judge?
Her engagement ring is pretty impressive regardless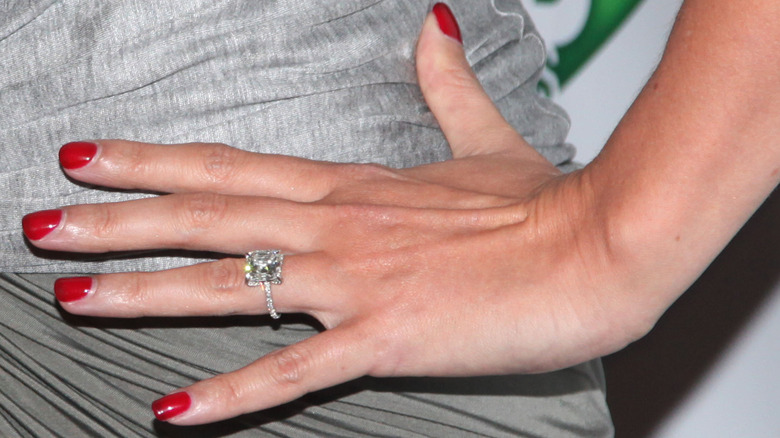 Johnny Nunez/Getty Images
With all the ring-free sightings of Ivanka Trump, it's normal to wonder what her wedding ring even looks like. Her engagement ring from Jared Kushner is thought to be one of the most expensive rings in the Trump family. He designed the 5.22-carat sparkler himself, and it's said to be worth over half a million Dollars.
It's unclear if former White House Advisor Ivanka received a second band as her wedding ring when the happy couple tied the knot at their lavish Trump National Golf Club ceremony. She may have decided to tone it down upon taking on a more serious role, with Tobias Kormind, managing director of 77Diamonds.com, telling Express: "Prior to their political exposure, the Trumps were more ready to make grandiose public displays of wealth."
Even if the businesswoman regularly wore her ring(s), it's possible that her massive engagement bauble would totally eclipse a wedding band, and we wouldn't be able to get a good look at it anyway. Admittedly, the times we have caught a glimpse of her half-a-million-dollar accessory have made us feel that maybe we'd want to leave that mammoth rock at home too.