Pamela Anderson Still Holds On To An Iconic Reminder Of Her Baywatch Past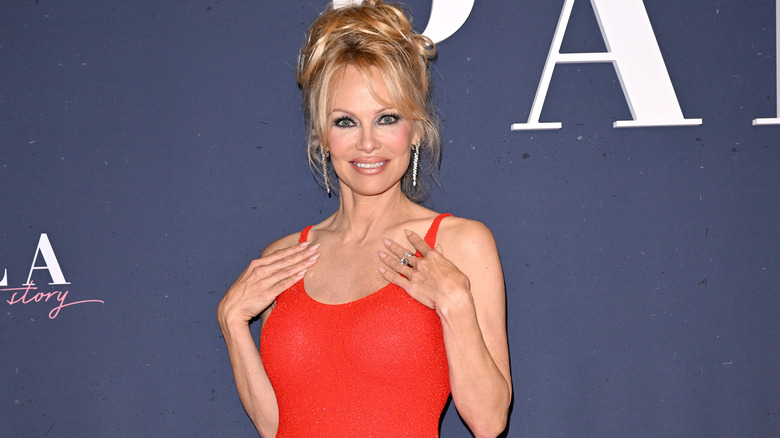 Axelle/bauer-griffin/Getty Images
If you are wondering what Pamela Anderson did with her "Baywatch" swimsuit, she kept it. During an interview with ET Canada, Anderson spoke about her dress for the "Pamela, A Love Story" premiere and how she was hesitant to wear red at first. Ultimately she decided on it, and she told Hoffman how "It's the same 'Baywatch' red, and I thought, 'Why not?' I wouldn't normally go for red but red's always lucky for me for some reason."
Hoffman then asked Anderson if she still owns the iconic red swimsuit she wore on "Baywatch," and Anderson confirmed she does, saying, "I put it on every once in a while. It still fits." She told a story about going to a party with her friend and stepping into the shower with the suit on. Then, once she was wet like she'd just emerged from the ocean, "I gave everyone mouth-to-mouth." Anderson added that she wore high heels with the suit at the time. 
Anderson helped create a swimsuit line
Not only does Pamela Anderson have her own "Baywatch" bathing suit for the ultimate throwback, but she also unveiled a collaboration with swimsuit company Frankies Bikinis in spring 2023. Francesca Aiello founded Frankies Bikinis and she's known Anderson for a long time, saying, "Pamela is truly beautiful inside and out, she exudes strength, kindness, love for all living things. I have looked up to her for as long as I can remember, and to be able to work on a swimwear line together is an absolute dream come true for me" (via People).
In an Instagram post sharing a promotional photo for the collection (where she's wearing a familiar red one-piece), Anderson shared how thrilled she was about it. The actor also described the bathing suit line as "A dream come true — And who better to do this with than the sweetest girl from Paradise Cove." Anderson tagged Aiello's account and added, "She grew up before my eyes, with my boys — our story is authentic and unique."
Anderson spoke with InStyle and said how proud she is of Aiello's success. On the swimsuits themselves, Anderson said, "All of these pieces are inspired by the past, but feel more modern than ever."
Anderson was not paid nearly as much as her 'Baywatch' co-star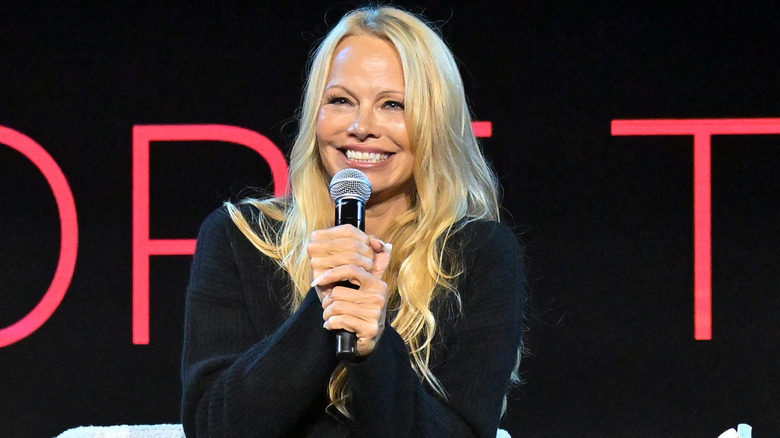 Charley Gallay/Getty Images
Pamela Anderson is a major reason "Baywatch" was such a big success, but she did not get paid enough for her contributions to the franchise. She was paid less than David Hasselhoff, who acted in and produced the show and earned even more when "Baywatch" was added to Amazon Prime for streaming.
"The producers of 'Baywatch' made a fortune," Anderson told Variety. "I just didn't have the representation back then. Or the know-how. You don't realize when you're doing a TV show that it's going to be that popular, so you kind of sign your life away." Anderson did not get paid for the "Baywatch"-themed C.J. Parker Barbie dolls made to look like her either. Anderson was also badgered to do a free cameo in the "Baywatch" film from 2017. After repeated requests, she did a cameo at the end of the movie but not as a speaking part.
Another source of strife for Anderson was the "Pam & Tommy" show on Hulu, which chronicles the leaking of Anderson and Tommy Lee's sex tape. She was not asked for permission before the show was created and she refuses to ever watch it. Anderson isn't looking back after her bold career change, and she is telling her own side of her story with her "Love Pamela" memoir and the "Pamela, A Love Story" documentary.