Why Martha Madison Is Leaving Days Of Our Lives And Belle Behind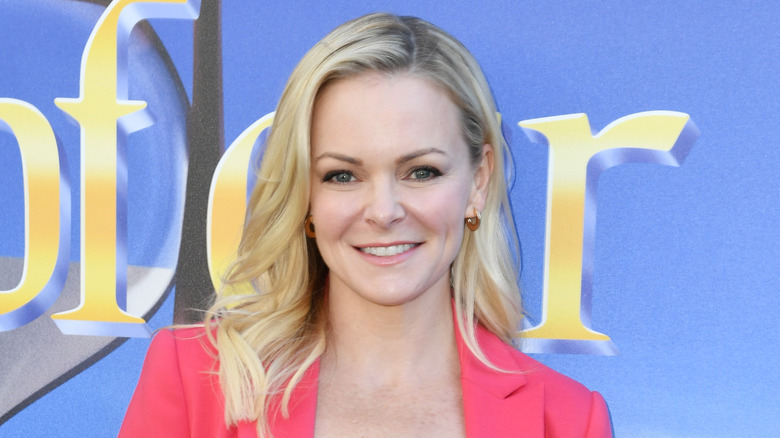 Jc Olivera/Getty Images
Martha Madison has played spunky attorney Belle Black on "Days of Our Lives" since 2004, and now it seems this chapter in her life is coming to a close.
The much sought-after lawyer has recently tried to help her brother, Brady Black (Eric Marstolf), in a custody hearing with the scheming Kristen DiMera (Stacy Haiduk) over their infuriatingly naughty daughter, Rachel Black (Finley Rose Slater). Shockingly, instead of being granted shared custody, the judge gave full custody to Kristen, which was a devastating blow to Brady, and a maddening loss for Belle. Throughout the years, Belle has faced a lot of tough situations but has always been able to rely on her on-again-off-again love Shawn Brady (Brandon Beemer). She did recently have a fling with the duplicitous E.J. DiMera (Dan Feuerriegel), but that ultimately went nowhere.
The fact that the show has only used Belle sparingly over the last few years, coupled with the done-before-it-started romance with E.J., has frustrated Madison. However, not only has she found work on other shows, such as "One Mississippi" and "A Place Called Hollywood," fans may not be aware that she has another career as the director of recruitment for a staffing company called One Haus. It's a good thing, too, because her dissatisfaction with being cast aside on "Days" has fueled her desire to leave the show once and for all.
Madison feels Belle shouldn't be sidelined
TV Insider posted an interview with "Days of Our Lives" star Martha Madison, where they discussed her leaving the role of Belle Black after 19 years. She'd been told by former co-executive producer Albert Alaar – who was recently fired for harassment – that she was being written out because of budget issues. But Madison wasn't shocked, explaining, "Honestly, the writing had been on the wall since they squashed the E.J. and Belle story so abruptly, so I wasn't fully surprised. But then weeks later, as I was saying my goodbyes to everyone, I randomly got another script" That confused her, and the explanation given was that Belle could occasionally return if the show needed a lawyer.
Belle is the daughter of legendary super couple John Black and Marlena Evans. Madison explained that because of her pedigree, Belle shouldn't simply be on the periphery. She remarked, "It just finally clicked for me that they were never going to showcase the character the way I felt she should be." Thus, she turned down the offer to recur. Madison further commented on the failed romance of Belle and E.J., stating, "I got great feedback when we were shooting it, but then, all of a sudden, it was wrapped up in one episode."
Madison also stated that she's now the vice president at One Haus and was happy to have a "fulfilling" fallback career — but she hasn't ruled out other potential soap roles either.