Gwyneth Paltrow's Daughter Apple Once Embraced Her Mom's Biggest Fashion Faux Pas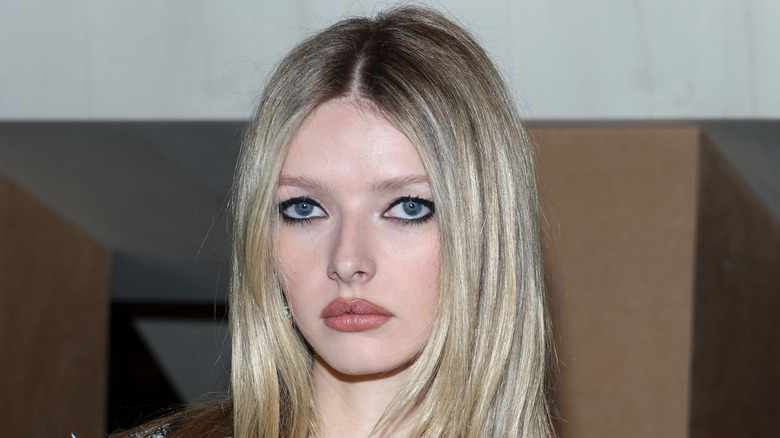 Pascal Le Segretain/Getty Images
Apple Martin, Gwyneth Paltrow's eldest daughter, is already finding her footing in the fashion world. Propelled by her mother's fame, she made headlines at Paris Fashion Week in 2023 dressed head-to-toe in Chanel. "Karl Lagerfeld met Apple Martin when she was 4 years old and declared that one day she'd be a Chanel girl," fashion writer Derek Blasberg shared on Instagram following her Fashion Week debut, excitedly declaring, "It happened today!" Although Martin doesn't consider herself to be all-that-trendy, she does have a preference for '90s fashion — convenient, considering her mother's collection of designer clothes from the decade. 
"I love sweaters and oversized cardigans, loafers, and a good pair of comfy Levis," she told Vogue, adding, "The most important thing for me is feeling like my genuine self when wearing an outfit; I'm aiming for a mix of classic '90s and cool grandpa." She's truly an It girl in the making. Long before Martin was born, Paltrow was consistently treating us to iconic fashion moments, although she also had her fair share of red-carpet flops. Notably, critics lambasted the gown the actor wore to the 74th Academy Awards, a sheer black Alexander McQueen number that left little to the imagination up top. 
She styled the dress with a bold smokey eye, a French braid, and a cord necklace. Fashion magazines called the look "unflattering" and "a fashion disaster" at the time, per The Independent. Over two decades later, Martin proved them wrong. She posed in her mother's biggest fashion "faux pas" and demonstrated that, just maybe, Paltrow was ahead of her time.
Gwyneth Paltrow got a lot of hate after the 2002 Academy Awards
In the wake of the 2002 Oscars, Gwyneth Paltrow was faced with a barrage of criticism. Mostly, the tabloids were upset that she didn't wear a bra underneath her sheer designer dress. "The actress didn't even try to cover up in see-through Alexander McQueen and a bucketful of eyeliner that she must have borrowed from Margot Tenenbaum," EW complained, referencing one of her most famous characters from "The Royal Tenenbaums." 
Years later, Paltrow admitted in a Goop Q&A that she regretted not adding a bra to the look, per Today. "I still love the dress itself but I should have worn a bra and I should have just had simple beachy hair and less makeup. Then, it would have worked as I wanted it to — a little bit of punk at the Oscars," she said. However, during a 2021 Vogue "Life in Looks" interview, Paltrow asserted that she still thought the gown was pretty cool. 
The infamous McQueen dress made a reappearance in 2023, this time worn by her daughter, Apple Martin. "Does Apple ever wear any of ur fashion archives?" one fan asked during an Instagram Q&A session (via Grazia magazine). The "Shakespeare in Love" star responded with a snapshot of Martin happily posing in the so-called fashion "faux pas." So now we know what really becomes of these designer gowns after award shows.
Gwyneth Paltrow's daughter makes regular appearances on her social media
Although Apple Martin doesn't (yet) have a public profile of her own, she frequently appears on her famous mom's Instagram account. Paltrow, who's a fan of regular "outfit of the day" content, sometimes features her daughter in the series too. In one post, she and Martin stand side by side, the latter wearing '90s-style oversized jeans, a cable-knit sweater, and loafers. 
To celebrate Martin's birthday in May 2023, Paltrow posted several pictures with her daughter, captioning them, "I love you so deeply and wholly, it defies articulation. To behold you as a [19-year-old] woman fills my heart with almost unbearable love, pride and meaning!" Clearly, they have a strong mother-daughter bond, perhaps one similar to Paltrow's connection with her own famous mother, Blythe Danner. 
When Martin left for college in Fall 2022, the Goop founder admitted she had a bit of an existential crisis about it. "It was horrible. It was truly horrifying," Paltrow acknowledged to People, adding, "I was sick to my stomach, bursting into tears." At least we know Martin makes regular visits home — she even made a cameo in a viral "Call her Daddy" TikTok, reacting to her mom talking about her famous lovers on the hit podcast.