Luke Macfarlane And Erin Krakow Were Connected Before They Ever Made A Hallmark Movie
Many Hallmark actors have become something of a legend on the channel for their frequent appearances in the network's movies. Erin Krakow is one of them. She has acted in many Hallmark movies and plays dual roles on "When Calls the Heart" as actor and executive producer. She also co-executive produced the Hallmark film "A Summer Romance." 
In 2019, Krakow appeared in "Sense, Sensibility & Snowmen" alongside fellow Hallmark star Luke McFarlane. However, the two shared an industry connection before their joint tenure in feel-good TV Movies: the duo went to The Juilliard School together. Macfarlane has said he chose to study acting because he didn't want to follow in his family's footsteps into the medical field. His success on-screen suggests that was a good decision.
Krakow told TV Insider that making a film with Macfarlane "was really fun because [he] and I went to college together in New York, and he was an upperclassman, so I looked up to him, but we didn't really get to work together in school." She added, "It was a lot of fun to get to work together on this movie and reminisce about our time at school and just become closer pals. He's a really great guy."
Both Krakow and Macfarlane loved working together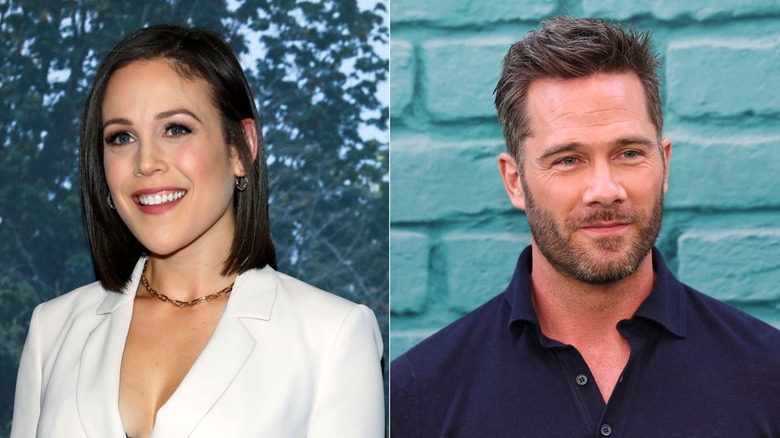 Kathy Hutchins/Shutterstock & Leon Bennett/Getty
Around the time of the "Sense, Sensibility & Snowmen" release, Luke Macfarlane spoke with TV Goodness about the film. He mentioned attending the same university as his co-star Erin Krakow and how that fact bonded them.
"The big appeal was to work with Erin," Macfarlane told the outlet. "We actually went to college [and] overlapped a year. So I didn't actually know her that well when I was at school. But you know, once you've been through that, you kind of have a camaraderie." He said he was thrilled to work with Krakow because of how influential she is in the Hallmark sphere, and he complimented her by adding, "She's a pro and does her homework."
Krakow spoke with Hallmark for a "Sense, Sensibility & Snowmen" cast interview and mentioned how she admired Macfarlane at Juilliard, saying, "I just thought he was the coolest guy!" She sang his praises about how he's a kind co-star and very enjoyable to work alongside. "It's so much fun!" Krakow said. "We've laughed so much together on set, shared stories from our time in drama school in New York, and I really don't want it to end. I'm kind of sad that I don't get to work with him every day after this project ends."
Macfarlane and Krakow both have many stage acting credits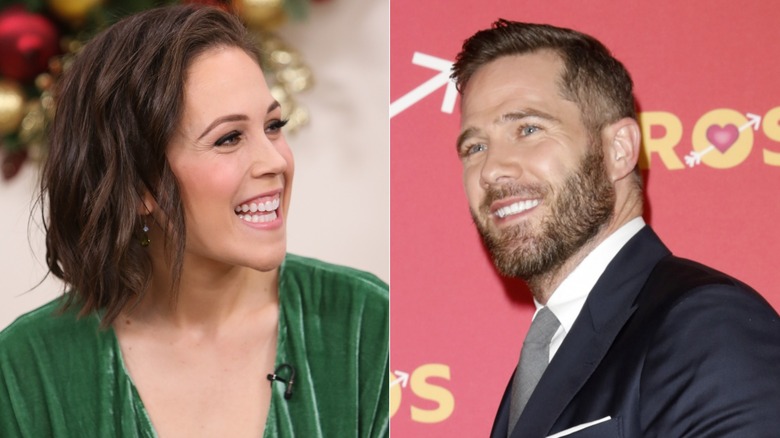 Paul Archuleta & Tristan Fewings/Getty
Both Luke Macfarlane and Erin Krakow acted on the stage before hitting the TV screen. Macfarlane's Juilliard credits include "Romeo and Juliet" and "As You Like It," among others. After graduation, he had a variety of stage roles, including a starring role in the off-Broadway play "Juvenilia." In another one of his stage roles, "Where Do We Live," Macfarlane acted alongside Jesse Tyler Ferguson.
While at The Juilliard School, Krakow starred in many stage productions, such as "A Midsummer Night's Dream" and "Twelfth Night." Post-graduation, she acted in productions that included "The Importance of Being Earnest" and "Othello."
On her formative time at her arts high school and The Juilliard School, Krakow told From The Desk, "I wouldn't be where I am today without my education. I'm very grateful to my teachers, and it's an honor to get to play one on TV," referring to her role of Elizabeth on "When Calls the Heart."