Kelly Rowland Told The World Blue Ivy's Gender Before Beyoncé Was Ready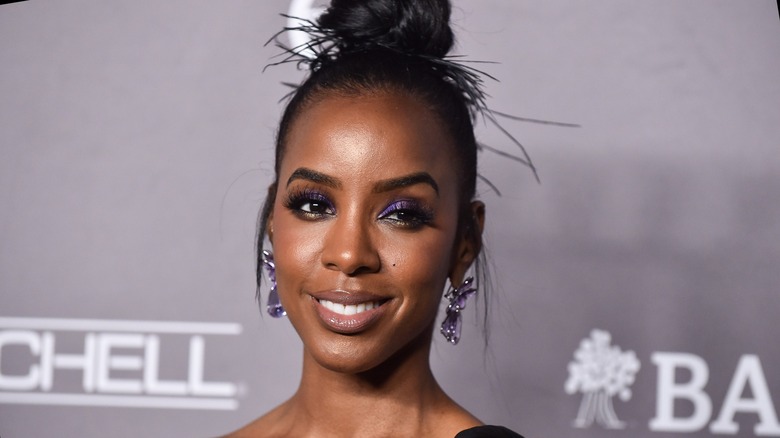 DFree/Shutterstock
After Beyoncé famously revealed her baby bump at the 2011 MTV Video Music Awards, the world was buzzing about the birth of her and Jay-Z's first child. While the couple had kept their personal matters pretty low-key, it ended up being close family friend Kelly Rowland who spilled the beans about their baby girl. In an interview on Billy Mann's "Yeah, I F*cked That Up" podcast, Rowland revisited the moment when she accidentally let the sex of Beyoncé and Jay-Z's first child slip. In 2011, the songstress misspoke about her future niece in an interview with Bang Showbiz. 
"I have no idea what I'm going to buy Beyoncé at the baby shower because Jay is going to buy that little girl every single thing possible," Rowland gushed (via Complex). Of the decade-old incident, she revealed to Billy Mann that it was the biggest interview mistake she's ever made. "That was the worst moment ever. It was no one's business," she said on the "Yeah, I F*cked That Up" episode.
While Rowland's slipup was an honest mistake, she said that it was still a special moment that the first-time parents deserved to share. She continued: "I felt terrible because it's not my news. It was honestly the worst. It wasn't my news to share." While she was upset by the whole ordeal, the two's friendship was not impacted. Rowland is now an aunt to all three of Beyoncé's children: Blue Ivy, Rumi, and Sir.
Beyoncé and Kelly Rowland share an unbreakable bond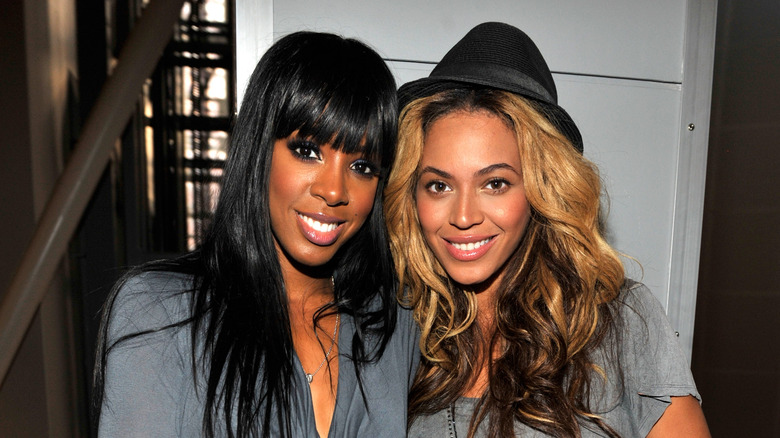 Kevin Mazur/Getty Images
Kelly Rowland and Beyoncé's relationship today is a result of decades of hardships. They first met at auditions for their group Girls Tyme in the early '90s. The two became even closer when then-11-year-old Rowland moved in with Beyoncé's family. She refers to Tina Knowles as "Mama Tina," and Beyoncé's parents still have a close relationship with the "Motivation" singer.
The girls became even tighter as founding members of Destiny's Child, which saw several iterations until landing on its final three members in 2000. Even though the group disbanded in 2003, Rowland, Beyoncé, and Michelle Williams still share a close bond. However, Rowland has noted that being best friends with Queen Bey does have its challenges, especially when it comes to the media.
"I would be lying if I said, 'No, it's never bothered me.' That's bull," Rowland told Harper's Bazaar, referring to the constant comparisons between herself and Beyoncé. "There was a whole decade — if I'm being completely honest, decade — that it was like the elephant in the room, the thing that would constantly be on my shoulder."
Kelly Rowland and Beyoncé share a special role in their children's lives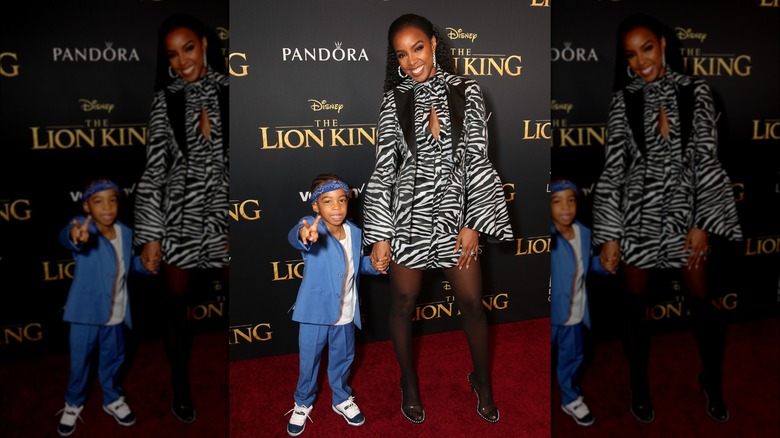 Jesse Grant/Getty Images
Despite these outside pressures, the pair are still thick as thieves. Now that the two are both mothers, Beyoncé and Kelly Rowland serve new roles in each others' lives. While Beyoncé is a mother of three, Rowland has two sons, Titan and Noah. They are both aunties to each other's children and sparingly offer glimpses into their lives as a close-knit family.
Michelle Williams and Beyoncé were even present over Zoom as Rowland gave birth to Noah in 2021. "The girls were literally over here at the house just recently and when they met the baby," the mom-of-two told Entertainment Tonight. "It was like another part of my heart just ... being able to share space with Michelle and Bey is truly a gift."
Additionally, Beyoncé and Williams assume their Destiny Child duties by practicing scales with Titan, Rowland told "Today with Hoda and Jenna." She is also supportive of Blue Ivy's recent taking to the stage. The tween recently joined her mother onstage for a dance break on her "Renaissance World Tour." Of her niece's first performance, Rowland gushed on the Today Show: "I'm so proud of her, she's absolutely awesome."