Beyoncé's Parents Are Especially Close To One Destiny's Child Member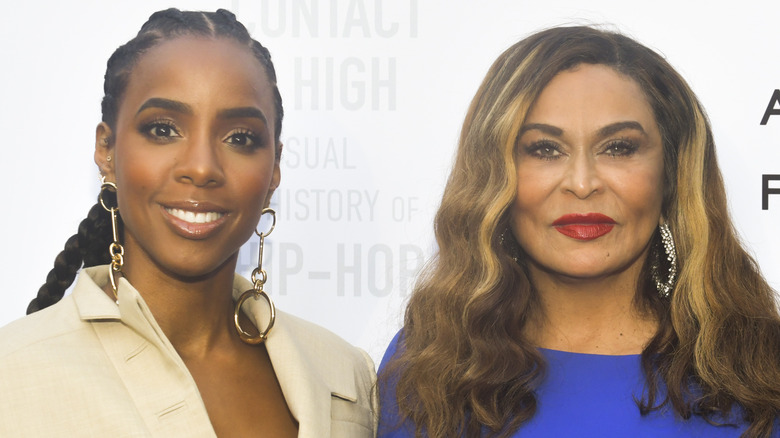 Rodin Eckenroth/Getty Images
In addition to superstars Beyoncé and Solange, Tina Knowles-Lawson has maintained that she, in fact, has three daughters. As the mama of the group and costume designer for Destiny's Child, it's no surprise that Tina also helped raise Kelly Rowland. Before they were platinum-selling vocalists, Beyoncé and Kelly first met when they were 9 years old, at rehearsals for their first girl group "Girls Tyme" in Houston. Since then, the two have been inseparable — with Tina claiming Kelly as one of her own daughters, especially after she moved in with the Knowles family.
Tina wrote to the "Motivation" singer in a heartfelt open letter for Mother's Day in 2021. "Kelly, I know without a doubt that you were a true gift from God," reads her letter in Time Magazine. "You came to live with us when you were only 11 years old. You were the sweetest, most kind person I had ever met and you still are. You are also a true survivor."
Affectionately referring to her as "Mama Tina," Kelly has constantly given her mother figure praise. "I remember the first time I went to Tina's salon in Houston, Texas, and seeing a strong Black woman with her own business," Kelly told Marie Claire. "She was so beautiful and glamorous: a role model."
Tina raised Beyoncé and Kelly together
Kelly Rowland and Beyoncé's decades-long friendship is certainly #BFFgoals. Despite their 1993 letdown on "Star Search," where Girl's Tyme placed runner-up, Beyoncé and Kelly held onto their dreams. By 2000, they reached the final iteration of Destiny's Child,  after the loss of several group members. Alongside newcomer Michelle Williams, the trio launched into mainstream stardom, managed by Beyoncé's father, Matthew Knowles.
Beyoncé shared that her parents held two different goals. While Tina Knowles-Lawson maintained a normal life for the girls, her ex-husband Matthew prepared them for showbiz. The "Break My Soul" songstress told Vanity Fair: "She's very strong and will say whatever she feels and protects me always, but she always kept me a normal kid ... My father was more focused. He wanted it for me and did everything because he's my father and wanted me to be happy, but he's a workaholic."
Matthew pushed the girls to work hard, and it paid off: In 2005, the World Music Awards named Destiny's Child the best-selling female group of all time. Even though they disbanded in 2006, the members of Destiny's Child still remain close. Always referring to each other as "sisters," they are aunts to each other's children: Kelly's sons Titan and Noah, and Beyoncé's children Rumi, Sir, and Blue Ivy. Fans would no doubt be excited for the iconic triad to hit the stage again, and even Matthew hopes that a Destiny's Child reunion will happen sometime in the future.
Mama Tina gives Kelly parenting advice
As a second mother to Kelly Rowland, Tina Knowles-Lawson has worn many hats in their relationship. Fans may not know that Mama Tina was the brain behind many of Destiny's Child's iconic outfits in the late '90s and early '00s. The WACO (Where Art Can Occur) Theater co-founder has also custom-made dresses for Kelly's red carpet looks, calling them "wearable art." As a two-in-one mom and stylist, she certainly does it all.
Their bond runs so strong that Tina was present via Zoom as Kelly gave birth to her second son, Noah, in 2021. Other special guests on the call included Beyoncé, Michelle Williams, and members of her husband Tim Weatherspoon's family (per People). And now that the "X-Factor" judge is a mom, Tina has given her loads of advice — and even some critique.
Sitting down on "The Jennifer Hudson Show," Kelly spoke about her mistake of taking her son Titan to watch "The Curse of Bridge Hollow," a comedy-horror she starred in. She shared that the poor toddler was scared out of his mind when he saw his mother being attacked on screen. Upon telling Tina about the incident, the seasoned mother had some choice words. "She's like, 'Well, why the hell you do something like that?'," Kelly told talk show host, actress, and singer Jennifer Hudson. "She didn't understand why I even showed him the movie. "She's like, 'It's Halloween, baby, you don't do that.' So I missed the mark!"