Why Didn't Tori Spelling's Mogul Dad Aaron Leave Her A Bigger Inheritance?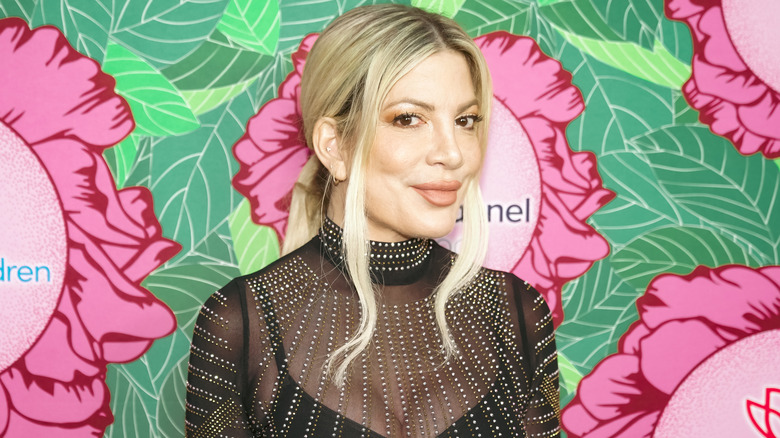 Andrew J Cunningham/Getty Images
Tori Spelling has spun quite the life story over the years. There's so much to unpack concerning her upbringing, relationships, and life that it can be difficult to know what's fiction and fact. We do know for certain that her father, Aaron Spelling, was hugely successful. Famous for his work with shows like "Charlie's Angels" and "Beverly Hills, 90210," the "most prolific producer in television history" — yes, he really holds the Guinness world record for it — was incredibly wealthy.
Tori, on the other hand, is decidedly less so. It's reported that recently her net worth fell to around a quarter of a million dollars, and after separating from her husband Dean McDermott, the actress and her five children were living in an RV. That's because her father isn't as generous as Daddy Warbucks. When Aaron passed away in 2006, he had an estimated $600 million, which would be about $900 million in 2023. Tori and her brother are thought to have received just a fraction of that as their inheritance, approximately $800,000.
Candy Spelling, Tori's mother and Aaron's wife, believes her daughter's spending habits were to blame. Regarding Tori's shopping habits, Candy told The New York Times, "She would close a store and drop $50,000 to $60,000, I never did anything like that. She just went crazy." Candy alluded that her daughter's lack of control is why she only received a small scrap of the Spelling pie.
What does Tori say about her inheritance?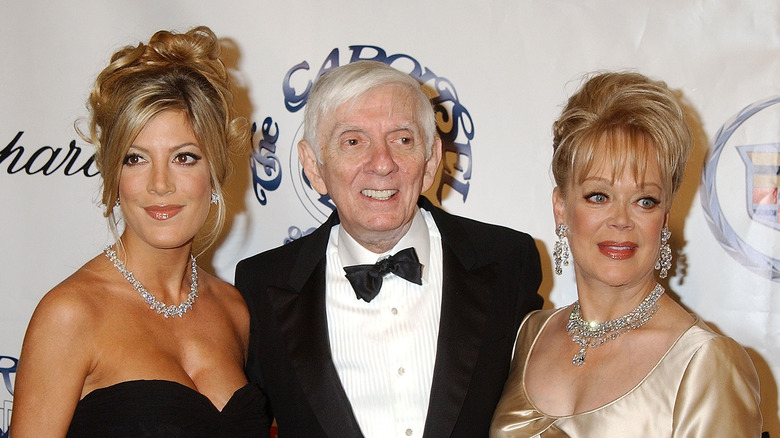 Gregg Deguire/Getty Images
The public was shocked when Tori Spelling received such a tiny inheritance after her father's passing since he was a multimillionaire. Considering the bulk of the wealth reportedly went to Candy Spelling, and Tori had feuded with her mother for quite some time, it made sense to assume that Candy would not swoop in to rescue her daughter if she blew through the $800,000.
Which Tori did. After all, there was a time when the "90210" actor agreed with her mother's assessment of her spending issues. Tori confessed in her book "sTORI Telling" that "Bad shopping habits die hard. In all honesty, I grew up a certain way. I never had to worry about money ... that was my reality," (via Good Morning America). It wasn't long before she racked up debt and had credit card companies filing suit against her for unpaid bills.
Though the reason why Aaron didn't leave his daughter (or her brother Randy) more money upon his passing wasn't discussed publicly, Tori knew ahead of time she wasn't getting a lot. She admitted in her book, "We had lunch and he [Aaron Spelling] said, 'You're gonna be OK. I made sure. You're getting just under a million.'" Tori said she wasn't completely at peace with the decision. "I think part of me, in the back of my head, maybe hoped it would be different? But I hated myself for hoping it would be different, because I didn't want to take advantage, I didn't want to be that girl who needed, or wanted, my dad's money" (via Good Morning America).
Is Tori's overspending the only reason for her financial troubles?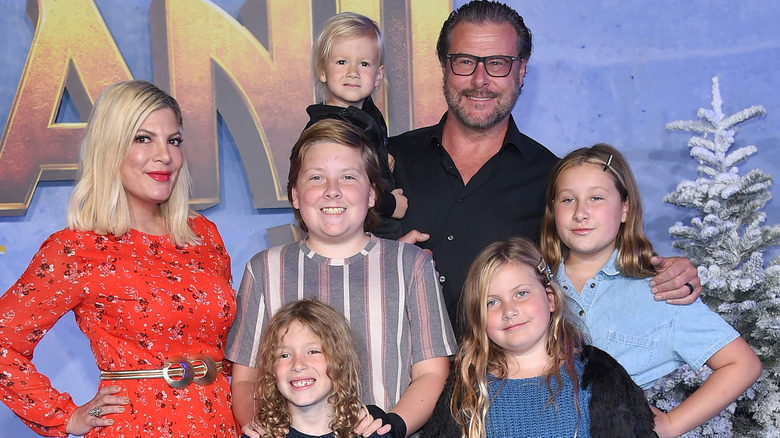 DFree/Shutterstock
While well-documented financial struggles throughout the years seem to be the root of Tori Spelling's money woes and why she didn't inherit more from her father Aaron Spelling, she has suffered some bad breaks. The BFF Collection owner was in the midst of an affair with a married man, her now ex-husband Dean McDermott, when her father passed. Sometime later, Tori thought she could turn things around with a promised "90210" reboot, but when that was canceled, she had to change her plans yet again. But any amount of income she was earning likely wouldn't be enough to cover what was to come.
In early 2023, the Spelling heiress was accused of owing over $1 million in back taxes. These days, Tori has fallen on hard times financially, a scary thing for a mother trying to raise five children. While she hosts a podcast and most likely receives earnings from her published books, her lifestyle is far from the one most people expected her to have.
However, there is some good news and maybe a light at the end of the tunnel. Apparently, Tori's turbulent relationship with her mother, Candy Spelling, may be in a much better place as the two have reconciled. Tori told Jeff Lewis Live on SiriusXM of their relationship, "We text every single day. It's really, really good." Maybe the matriarch Spelling will swoop in and help her daughter after all.