Tori Spelling's Financial Struggles Have Been Well Documented Throughout The Years
Raymond Hall/Getty Images
Tori Spelling comes from a wealthy family and has a successful career, but she's still struggling financially. The "Beverly Hills, 90210" star is currently sharing a motor home with her five children after living in a motel for weeks. Her rental home became infested with mold, which fueled her decision to move out. "Kids will be kids, but when you have your youngest (10 and 6) so sick they are sleeping all day and say they feel dizzy even standing, I knew something bigger was going on. Enter mold inspection," she wrote on Instagram.
The 50-year-old actress could have rented a really nice place, but she chose to stay in an RV. According to The Sun, she owes $1.3 million in tax liens and has been struggling to make ends meet over the last few years. After her father passed away in 2006, Spelling expected a large inheritance — especially given his $500 million fortune. However, she received a mere $800,000, which simply wasn't enough to support her lavish lifestyle. "As my real estate obsession persists, it's starting to look more compulsive. Moving is expensive, and I've put us in a precarious financial situation," she confessed in one of her books, "Spelling It Like It Is" (via MamaMia).
Tori Spelling admits she doesn't know how to handle money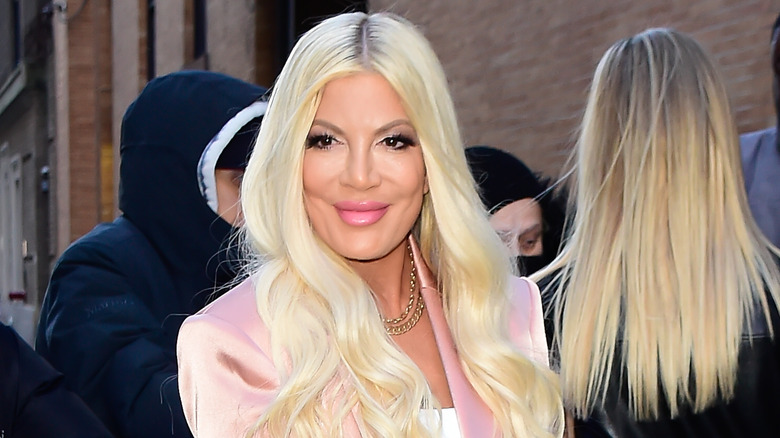 Raymond Hall/Getty Images
Throughout the years, Tori Spelling has admitted to having bad money habits. As a child, she had everything one could ever dream of and grew up in a huge mansion with 123 rooms. "Walking that house was just, phew. Just taking that elevator up to the second floor was like too much to handle," the actress confessed in her 90210MG podcast. Later, she attended the prestigious Harvard-Westlake School and took acting lessons under the guidance of an elite coach. A business manager took care of her finances, which allowed her to focus on her acting career.
But while all this sounds great, it may have worked against her. "Unfortunately, I never quite learned about money. Now [that I'm] raising kids of my own, I'm like, that is so important," she said on her YouTube show, "Tori Tried and True." Spelling has also had her reality show, "True Tori," canceled in 2014, which contributed to her financial woes. Two years later, she was sued for failing to pay over $87,500 in credit card debt, but this didn't stop her from overspending.
The mother of five confessed in her memoir, "sTori Telling," that "bad shopping habits die hard." "She would close a store and drop $50,000 to $60,000," her mother, Candy Spelling, told The New York Times. The Hollywood star also refused to accept help from her late father, the producer Aaron Spelling, saying that she'd rather go bankrupt. 
The Beverly Hills, 90210 star is facing an uncertain future
Fans are worried about Tori Spelling for good reason. Not only is she struggling to make ends meet, but she also went through a painful divorce. On top of that, she allegedly cut ties with her friends and may no longer have a place to live. "Their household bills run 100 grand a month," an insider source told Page Six. "Besides her shopping, there's pet care, hospital stays, private schools, you name it. The house was a pit filled with animals like pigs, snakes, and ferrets. It's white trash central," they added.
The actress is now living in the aforementioned RV in Ventura County, California. While there's nothing wrong with staying on a campsite, we can't stop wondering where all the money went or why she doesn't accept help. As it turns out, her mother tried to find her a home but she declined the offer, saying that she "wanted to live in a certain place," a source revealed to Page Six.
A possible reason Spelling refuses to get help is that she wants to make it on her own. According to her memoir, most people assume she's successful because of her dad. The actress is currently trying to revive her career while taking care of her five children. We can only hope she'll find the strength to navigate these difficult times and get her life back on track.