A Closer Look At Adam And Jackie Sandler's Gorgeous Wedding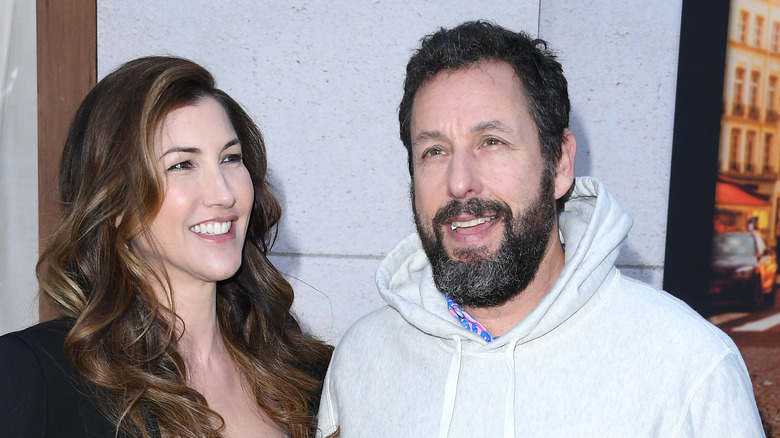 Steve Granitz/Getty Images
In June 2023, comedic king Adam Sandler celebrated his 20th wedding anniversary with his wife, Jackie Sandler. Adam commemorated the moment with a post on Instagram where he uploaded a photo of their wedding with a caption that read, "Your "I do" was the best gift of my life. My heart has been yours since the first second I saw you, and I love and appreciate your devoted soul more and more each day. Us. The kids. Let's keep going and going, babe. Lots of love to give you. Always." 
Adam met Jackie, then known as Jackie Titone, while he was working on 1999's "Big Daddy." Jackie, a model and actor, had a small role as a waitress in the film. They hit off, and the pair wed in a Jewish ceremony on June 22, 2003. The couple's big day was held in Malibu, California, at a home owned by Dick Clark. Jackie wore a stunning white gown that Carolina Herrera reportedly designed, while Adam wore a classic tuxedo. 
In a 2020 interview with "The Dan Patrick Show," Adam revealed that his wedding day was filled with unforgettable moments.
Jackie Sandler gave her hubby a memorable wedding present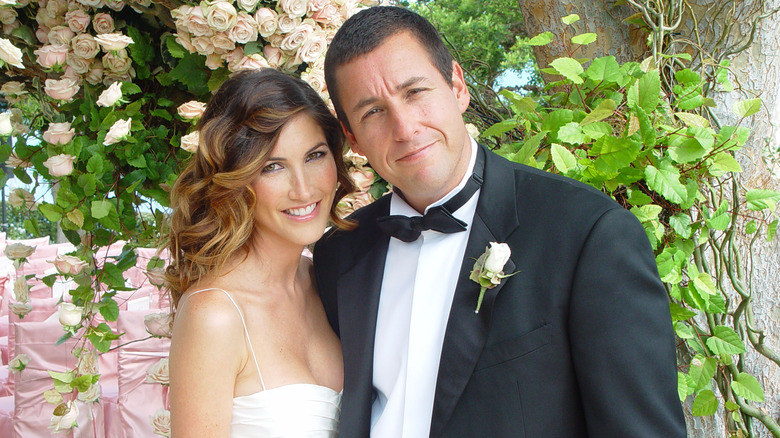 Nick Gossen/Getty Images
Four hundred guests, including Adam's Sandler parents, Jennifer Aniston, Rodney Dangerfield, and other big names, attended Adam and Jackie Sandler's nuptials. Speaking on "The Dan Patrick Show," Adam Sandler revealed that Tom Petty appeared at his wedding. Adam explained that Petty was not invited but stopped by Dick Clark's home to use the phone after being involved in a nearby fender bender. Adam noted that his friends from his home state of New Hampshire were starstruck by Petty. Moreover, Adam told Patrick that his father, who was sick with cancer, had a comedic interaction with Dangerfield.
Although Adam did not mention this in his interview with Patrick, Jackie is said to have given Adam a new bulldog named Matzoball for their big day. Adam already owned a bulldog named Meatball. Meatball was a ring bearer at their wedding and wore a tux for the occasion. However, Adam also had a gift for Jackie, telling Patrick that he sang "House Of The Rising Sun" and an original song that he wrote to the music of "I Wanna Grow Old With You" from his hit 1998 film "The Wedding Singer.
Adam was not the only performed that day; Leon Redbone also took the stage. Per Contact Music, Adam hired Redbone for his ailing father, who was a big fan of the musician and singer. 
Jackie Sandler is a huge supporter of her husband Adam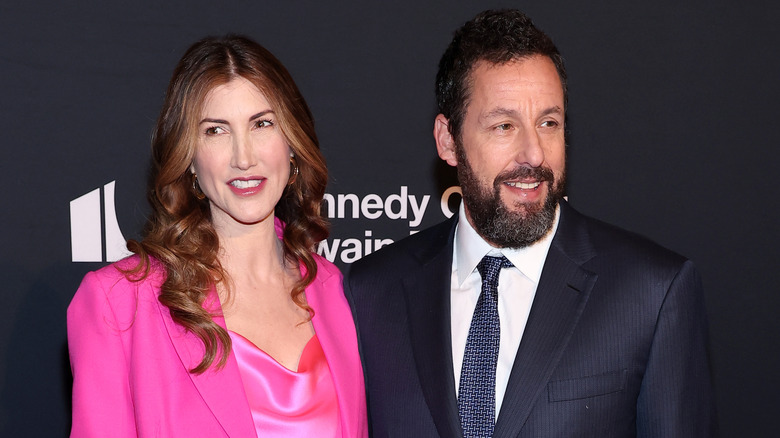 Paul Morigi/Getty Images
What we know about Adam Sandler's wife, Jackie Sandler, is that she is perhaps the comedic legend's biggest supporter and fan. Jackie has starred in several of her husband's films, including "Murder Mystery," "Sandy Wexler," and "Blended," to name a few. In 2020, Adam revealed at the National Board Of Review Gala that he was hesitant to star in "Uncut Gems" until Jackie pushed him to do so. Speaking to Entertainment Tonight in 2023, Jackie dished about Adam and described him as a loyal individual and a great friend.
In a 2022 interview with AARP, Adam spoke about his long-lasting marriage. "Jackie and I like spending time with each other. We try to make each other laugh, try to listen, try to include each other, try to support each other," he shared. "We try our best — that's all. And we don't ever think of not being together. We always talk about our future together."
Adam and Jackie are also the proud parents of two daughters, Sadie and Sunny Sandler, who were born in 2006 and 2008, respectively. Like Jackie, the girls have been featured in their father's films, including "Hubie Halloween." Adam and his family are said to reside in Pacific Palisades, California, not far from Malibu, where he and Jackie tied the knot.