What You Never Knew About Donna Mills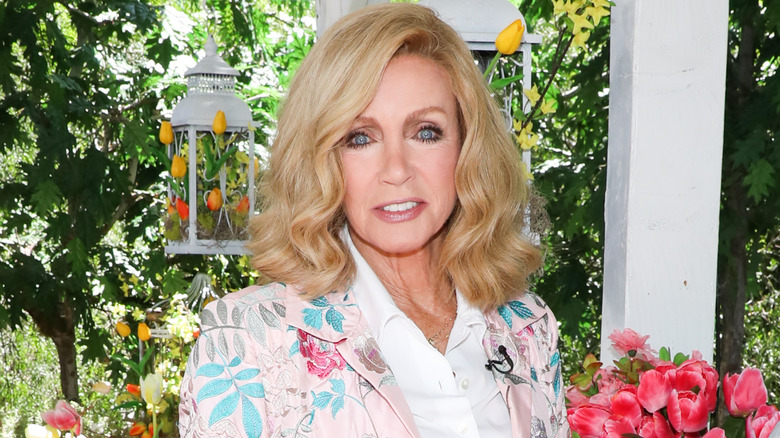 Paul Archuleta/Getty Images
Donna Mills has had one heck of a career. She made her on-screen acting debut on the soap opera "The Secret Storm" in 1966, followed it with a long-term gig on another daytime drama, "Love Is a Many Splendored Thing," from 1967-1970, and a year later, hit the big screen, starring in Clint Eastwood's directorial debut, "Play Misty For Me." She held the recurring role of Madeline Reeves on General Hospital from 2014-2022, has starred in Hallmark movies like "Christmas Wishes and Mistletoe Kisses," and played the evil Lilian in Lifetime's 2023 limited series of V.C. Andrews' "Dawn."
She's done numerous TV movies and guest spots on series and even worked in the theater, but she became a household name when she nabbed the role of Abby in the primetime soap "Knots Landing" in 1980. A spin-off of "Dallas," fans tuned in to see all the drama happening in a neighborhood cul-de-sac. For over 200 episodes, from 1980-1989, Mills played the bad girl, scheming and plotting against her neighbors — and winning trophies for Outstanding Villainess three different times.
Appearing weekly on small screens everywhere, Mills treated "Knots Landing" viewers to not only dastardly deeds but all the bold fashion and style of '80s, a decade that saw shoulder pads and hair compete for new heights. It was also a time for serious makeup moves, and Mills delivered.
Mills released a how-to makeup video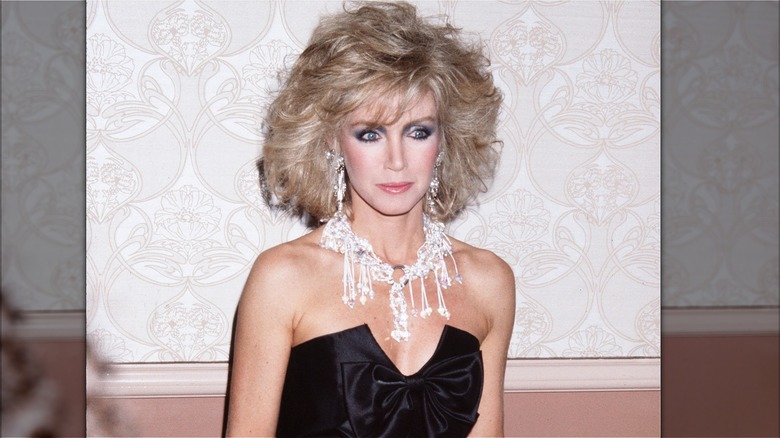 Frank Trapper/Getty Images
Having been in the business a while, Donna Mills learned a lot about makeup before she began on "Knots Landing." Admitting she was too impatient to wait for a full makeup application on set, she usually did her own makeup for the series, with only final touches done by the pros right before cameras started rolling. She was particularly known for her dramatic eye looks, which included lots of eyeliner, jewel-toned shadows, and black mascara. 
The actor released a makeup tutorial video in 1987 titled "The Eyes Have It" after she received a ton of fan mail asking about her techniques. "It was the simplest way to answer them," she explained to OWN. "I did [the video] all myself — I financed it, I hired the director — and I had no idea it would be as big as it was. But it was fun." 
In 2001, Mills updated her original video, and also released "The Eyes Have It" Makeup Kit, sold through QVC and other outlets. In her video introduction, she told viewers, "The most striking part of anybody is their eyes. That's why it's so important to bring out the best in them, and that's what 'They Eyes Have It' is all about."  
Her makeup tips are still popular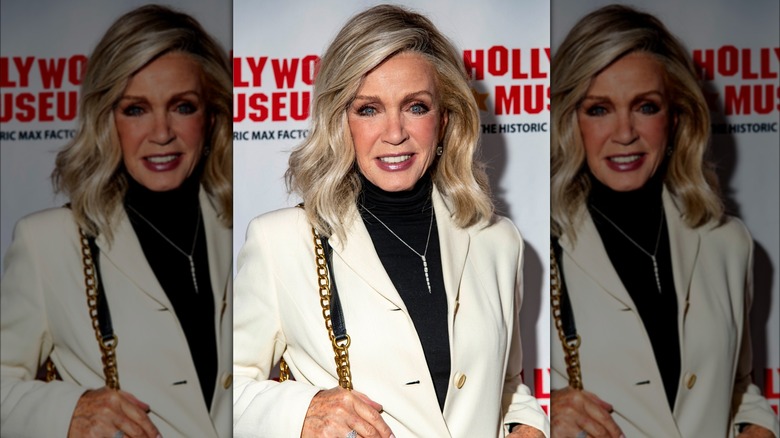 Eugene Powers/Shutterstock
Even though "The Eyes Have It" was released decades earlier, Donna Mills observed to Pop Geeks in 2019 she felt it was still relevant in today's makeup world. "I think all the things I did, and the tips and instruction I gave, all still work."
Her fans agree. In 2020, when everyone was wearing a mask during the COVID-19 pandemic, she posted a snippet from her video on Instagram, noting that since eyes were all you could see, you should make them stand out. The comments flooded in, praising her technique back then, and now.
"This was my favorite makeup video!!! I still have it!" wrote one long-time fan. "Unbelievable. This may be the best makeup video I've ever seen! Finally a video I can follow," shared a new convert. Another follower praised, "Donna, your video taught me how to wear makeup. I still use your tips today!" And one seemed to sum it all up by saying, "If you ask me, you started and perfected the 'smokey eye' and tutorials long before YouTube."