We're Swooning Over Jonathan Scott And Zooey Deschanel's Paris Vacation After Engagement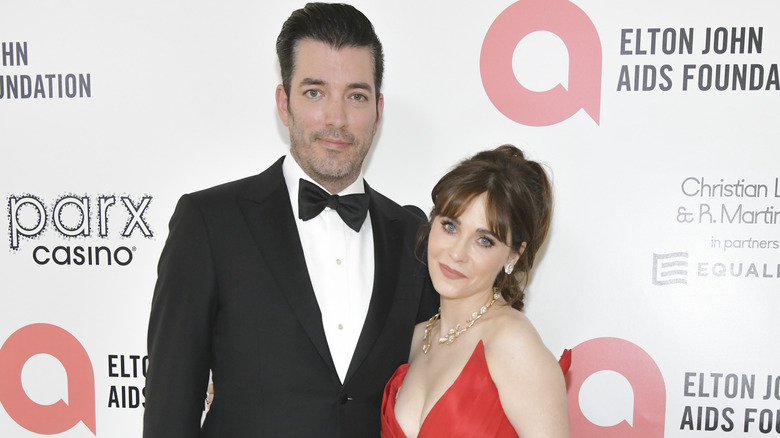 Rodin Eckenroth/Getty Images
A few days after announcing their engagement on Instagram, lovebirds Jonathan Scott and Zooey Deschanel jetted off to Paris to celebrate. "Amour de ma vie," Scott captioned a joint Instagram post on August 17. The translation? "Love of my life." The upload contained two photos; one of the newly engaged couple in front of the Eiffel Tower and another from their time at the Luxembourg Garden. Scott and Deschanel were dressed in casual attire as they posed with the Eiffel Tower behind them. Scott wore a light jacket over a blue shirt while Deschanel chose a blue Moto jacket and wore a large-brimmed hat. When they visited the garden, both Scott and Deschanel opted for sunglasses, with Deschanel channeling the gorgeous landscape by wearing a floral scarf. 
The duo arrived in France just after Scott proposed to Deschanel in Scotland. "Forever starts now," Deschanel captioned an Instagram post announcing the exciting news. The engagement was extra special as Scott included both of Deschanel's kids, Elsie and Charlie, in the sweet proposal. And while their engagement is still very new, sources say that these two have already talked about wedding planning.
Jonathan Scott and Zooey Deschanel are excited for the future
Jonathan Scott and Zooey Deschanel are clearly on a love high, just enjoying each other's company as they travel Europe together, but have they already thought about getting married? Yes and no. Following their engagement news, a source told Us Weekly that the two were ready for married life. "[They] are ecstatic and can't wait to spend the rest of their lives together," a source said, adding that "before they got engaged, they had discussed marriage in great lengths. But as far as wedding planning, they haven't begun that phase yet. They're still celebrating their engagement and enjoying each moment as it comes."
For now, fans will just have to enjoy seeing photos of Scott and Deschanel in Paris (we're not mad about it) as they continue making beautiful memories together. Of course, we're sure Deschanel has snapped plenty of pictures of her new engagement ring, too. The ring, which is estimated to cost upwards of $250,000, features a floral design, which is perfect for the "New Girl" star. "Wearing them on my dress, using them as a headband, holding a lovely bouquet and still not sure if this conveys how much I love flowers," Deschanel captioned an Instagram post in July 2020. What more can we say? The guy did good.