The Tuohy Family Lives An Extremely Lavish Life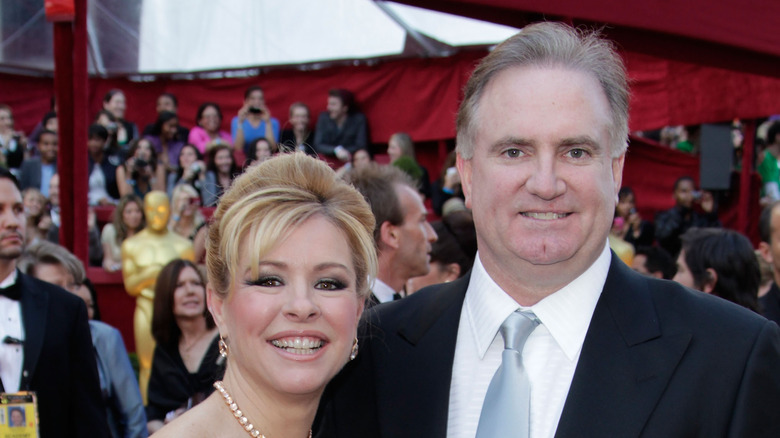 Jeff Vespa/Getty Images
In 2009, moviegoers were captivated by "The Blind Side," a true-life drama about an affluent couple, Sean and Leigh Anne Tuohy, and their relationship with Michael "Big Mike" Oher, an unhoused 17-year-old high school classmate of their son. Concerned about Oher's lack of direction and support in both school and life, the Tuohys took him under their wing, legally adopting him and helping him realize his potential as not only a football player (Oher went on to a successful career in the NFL) but as a person. The movie earned legions of fans, and Sandra Bullock won an Oscar for her portrayal of Leigh Anne Tuohy, but some critics thought the story felt too good to be true. And unfortunately, they might be right: Oher filed a lawsuit accusing the Tuohys of profiting from his name and story without sharing the proceeds with him. 
The Tuohys were blindsided (sorry!) by Oher's accusations, arguing through their attorney in a statement to the Los Angeles Times that they are already so wealthy in their own right that exploiting someone they considered a son would be pointless. Whatever the truth is, it's clear the Tuohys have long been living high on the hog — here's a glimpse of what their lives look like now.
Even going to the movies is a lavish event for the Tuohys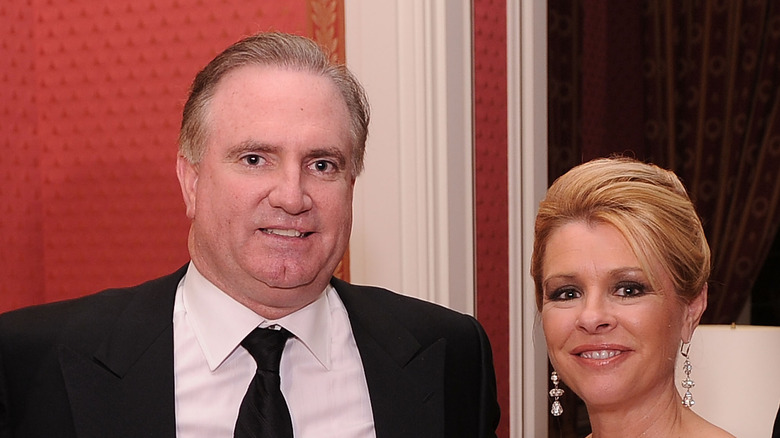 Dimitrios Kambouris/vf1/Getty Images
We all looked forward to "Barbie" and seeing our girlhood icon come to life on the big screen. For many of us, it wasn't just a movie, but an event. People who'd normally schlep to the theater in yoga pants and a sweatshirt put together the splashiest, girliest all-pink outfits they could manage. It was a big enough deal to draw in even those cautious souls who'd been avoiding moviegoing since the pandemic — it's estimated that as many as 9 million moviegoers made "Barbie" their first live moviegoing experience since the pandemic. 
Leigh Anne Tuohy wasn't immune to the siren call of "Barbie," and like millions of others, she decided to make her trip to the theater an event to remember. Like many of us, she gathered up a squad of friends to share the experience. And like many of us, she and everyone in her party — including Sean Tuohy — dressed in pink. But unlike most of us, she didn't just text a bunch of friends and tell them to meet in the parking lot of the theater 15 minutes before showtime. Instead, they all arrived in style, renting out a party bus to ensure there would be no stragglers.
An Italian shopping spree brought Leigh Anne Tuohy joy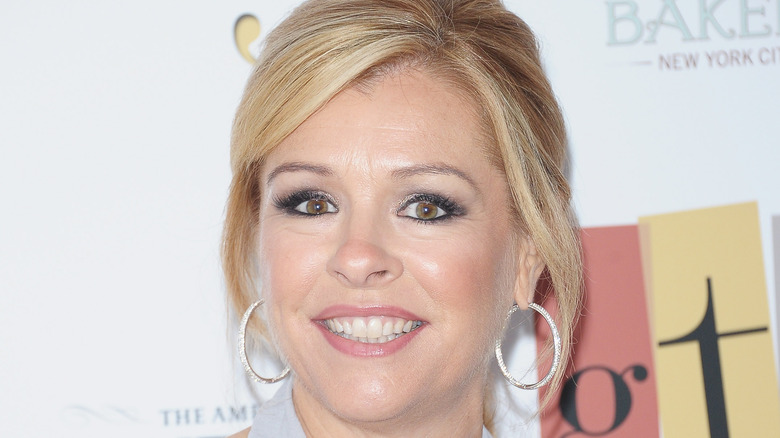 Michael Loccisano/Getty Images
As anyone who's shopped for plane tickets lately can attest, travel is getting seriously expensive. So when planning our trips, most of us not only have to be choosy about where we go and how we get there, but what we do when we arrive. If we're already paying through the nose for plane tickets and hotel rooms, chances are we'll be eating a lot of fast food and grocery store goodies instead of white tablecloth dinners. And shopping? Yeah, right.
But the Tuohys are fortunate enough not to have to worry about such things. Leigh Anne Tuohy's Instagram page is full of videos from their travels around the world, none of which seem to involve a shared bunk in a hostel. In one post, she shared a video from a trip to Florence, Italy, where she relates with genuine joy what she'd learned about some of the city's prominent historical figures, such as Michelangelo and Galileo. She also mentions shopping — lots of shopping. And in one Instagram post, she makes no secret that she loves it. "The shopping is super fun. I've been purchasing from street carts and odd little stores and loving every minute of it and sweet Seanie is paying and carrying. How great is that?!?"
The family spends lavishly on private jets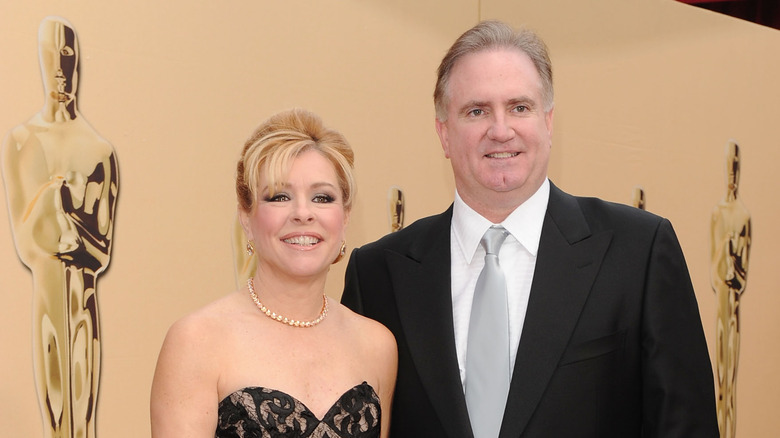 Alberto E. Rodriguez/Getty Images
Many might confess that if there were any way to fly without the hassle of endless TSA lines and the constant risk of getting bumped from a flight or stuck in a middle seat between two linebackers, we'd take it in a heartbeat. So we can't really fault the Tuohys for protecting their sanity by avoiding the perils of airline travel and opting for private jets.
However, it's far from cheap. Many of Leigh Anne Tuohy's social media posts show the couple alongside a Cessna Citation Bravo jet, a seven-seat private jet model that rents for $3,100 an hour. This means a round-trip flight between the Tuohy's Memphis-area home and Orlando, Florida (they are frequent visitors to Disney World), assuming a flight time of roughly two hours each way, would add up to over $12,000. And if the Tuohys decided it would be worth their while to buy the plane instead of renting it by the hour, that would total over $2 million.
The Tuohys frequent hotels costing over $1,000 a night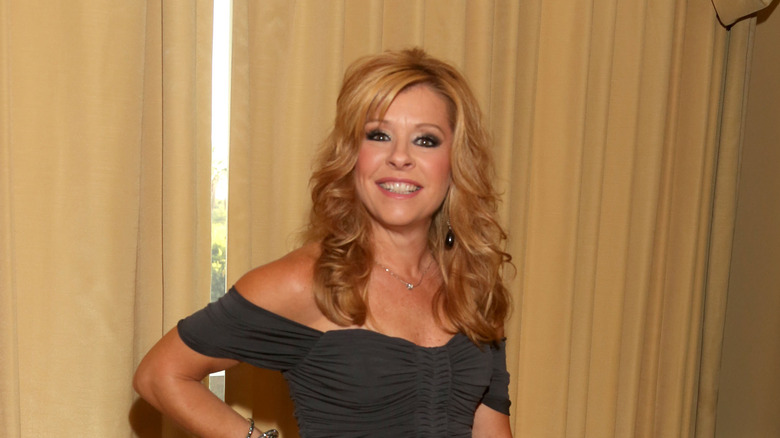 Mathew Imaging/Getty Images
Travelers tend to fall into two camps when it comes to hotels: Those for whom comfort is king and thus are willing to budget generously for accommodations and economize elsewhere. Then there are those who feel travel time is active exploration time, and a hotel is just a place to sleep, shower, and stow their stuff.
But even those of us in the latter camp would, if cost were no obstacle, prefer to shower and stow our stuff in a comfortable, well-appointed space rather than in a sketchy no-tell motel. And while the Tuohys seem to be active and enthusiastic travelers and explorers (if Leigh Anne Tuohy's Instagram feed is any indication), they are willing and able to splurge on accommodations as well. One of their vacation shots tagged their location as the St. Regis Deer Valley — a luxury resort in Park City, Utah. Guests in the hotel's luxurious suites can enjoy 24/7 butler service, which includes packing and unpacking services, pressing, personal shopping, and more. All of this service, of course, comes at a price: A suite with a single king-sized bed goes for $1,849 a night.
They were already serious wealthy before The Blind Side was released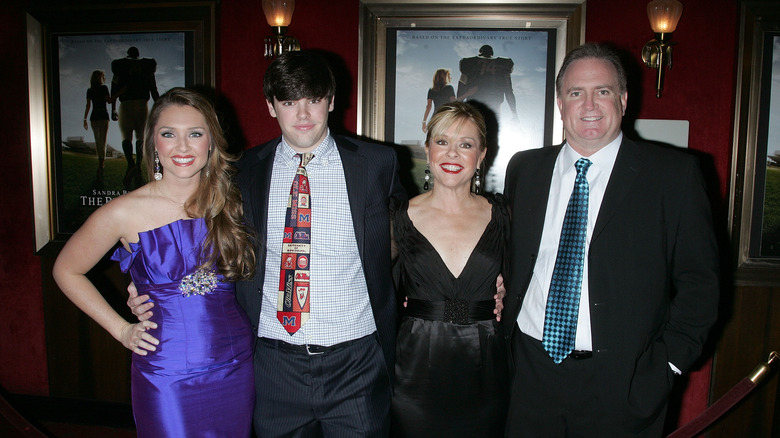 Jim Spellman/Getty Images
Time will tell if Michael Oher's accusations against the Tuohys hold any water. But even if the Tuohys did cross a line, it's far from the case that they suddenly became wealthy from the proceeds of "The Blind Side." Both Sean and Leigh Anne Tuohy had successful, thriving careers before Oher entered the picture. The Tuohys made most of their fortune from a large portfolio of fast-food franchises — they owned over 100 restaurants, including multiple Taco Bell and KFC outlets, and took in $213 million when they sold most of them in 2019.
In addition, Leigh Anne Tuohy had her own successful interior design business and made real-life onscreen appearances as part of the design team for the 2010 season of "Extreme Makeover: Home Edition." And while they certainly didn't need the cash, "The Blind Side" further padded their bottom line. According to Oher's lawsuit, both Sean and Leigh Anne — as well as both of their two children — received $225,000 each in royalties along with 2.5% of the movie's "defined net proceeds."
The Tuohys own at least five properties, some of them quite luxurious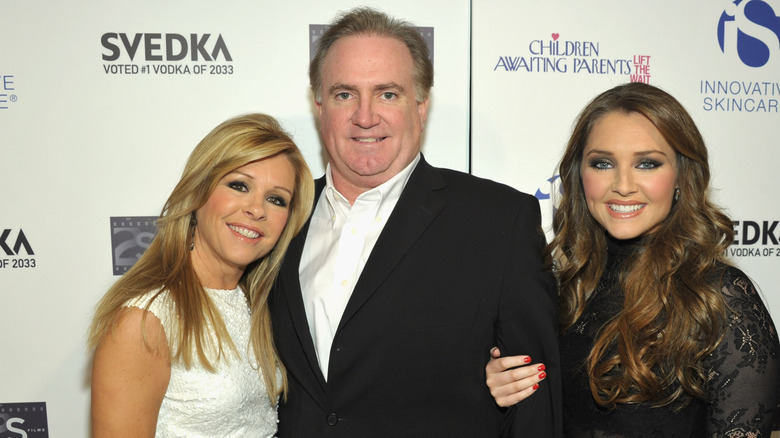 John Shearer/Getty Images
Judging from the size and success of their fast-food empire,  the Tuohys are clearly comfortable managing multiple properties and ensuring all of them are maintained to an acceptable standard. This skill has also helped them in their personal lives: The couple owns five properties in the Memphis area.
Their latest Memphis-area property is an elegant 5,100-square-foot home built in 1993, which the couple purchased in 2018 for $800,000. The home is full of luxury touches, such as granite countertops, a chandelier in the entryway, multiple large sitting areas, and a spacious outdoor patio with a pool and hot tub. The home is large and spacious, though not palatial. But if the Tuohys ever start to feel cramped, they can always visit one of their other properties for a change in scenery — or jet off to a luxury resort.
One favorite Tuohy family haunt is an exclusive resort with a private beach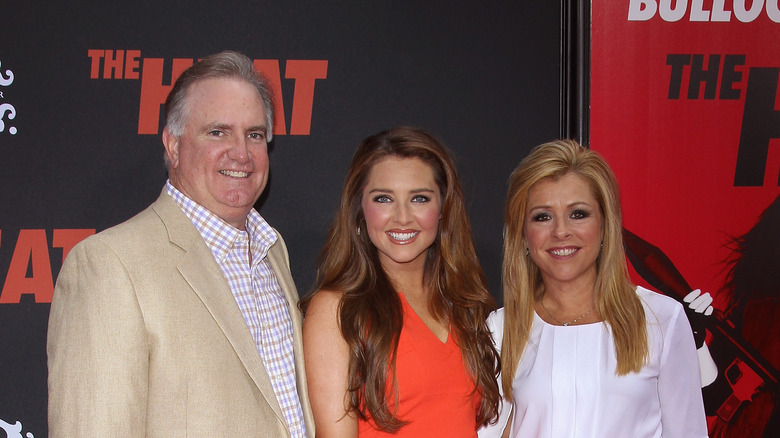 Jim Spellman/Getty Images
The thought of family trips to the beach may bring certain images to mind — sandy towels, the feel of hot sand or asphalt under your feet, and the sound of waves crashing in the distance. And if you're lucky enough to spend a weekend by the beach, maybe it's in a rustic beach cottage (inevitably with sand on the floors) or perhaps a nearby kid-friendly motel. 
Sean and Leigh Anne Tuohy also enjoy their beach trips with family — but when they visit the beach, they do so in style. They've been spotted at Alys Beach, an exclusive gated beach community in the Florida panhandle whose beach is only accessible to homeowners, renters, and their guests. Designed according to New Urbanist principles, the community includes not only luxury homes for sale and vacation rentals, but luxury shops, fitness and wellness facilities, and restaurants — all within walking distance of the beach. All this luxury, of course, requires a jaw-dropping investment —  current real estate listings for Alys Beach homes range from $1,385,000 to $6,775,000.
They also hang at a country club that charges $8,000 annual dues
Jeffrey Mayer/Getty Images
Judging from their frequent Disney World visits and Panhandle beach resort hangouts, it seems clear the Tuohys have a soft spot for Florida. This could be because of a penchant for warm weather or because of its relative convenience to Memphis. But whatever their reasons might be, saving money is not among them. Annual passes to Disney World go for $1,399, and this doesn't even cover food or hotel costs. 
And when choosing other recreational opportunities, the Tuohys seem to be drawn to luxury. During one of the family's trips to Florida, Sean Tuohy and his son S.J. were spotted at the exclusive Bay View Country Club in Orlando. The club is the former winter home of gold legend Arnold Palmer  and includes not only a golf course suitable for a champion, but restaurants, an Olympic-sized pool, a spa and fitness center, and well-appointed hotel rooms and suites.  But to become a member, you need deep pockets and a serious will to play golf: Initiation fees are reported to be around $30,000, with annual dues around $8,000.
Sean Tuohy loves fancy fast cars – but not fast driving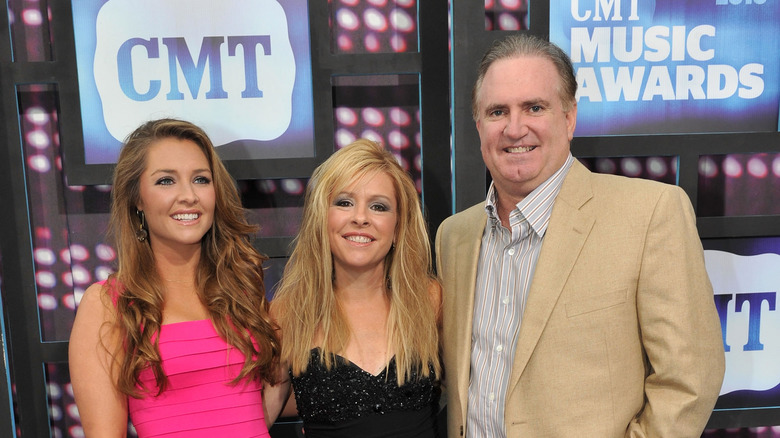 Frederick Breedon Iv/Getty Images
Few gender stereotypes are more pervasive than the idea that guys are drawn to fast cars. And it persists because, for whatever reason, there's some truth in it. While female speed demons do exist, men are statistically more likely than women to feel the need for speed. A study of all insurance claims submitted in 2019, for example, showed that men submitted over 70% of automobile claims and were 89% more likely to be involved in high-speed crashes than women. 
Thankfully for the rest of the Tuohy family, Sean Tuohy is not one of those guys. While his fondness for the finer things in life (and perhaps a curiosity about pushing his limits and checking items off his bucket list) brought him to a racetrack to try his hand at racing a bright-red Ferrari, no one had any illusions about him breaking any records. Even equipped with a racing helmet, Tuohy barely exceeded routine freeway speed. "He drove faster than 70 mph, and that's really big for him," Leigh Anne Tuohy wrote in apparent amazement on Instagram.
For the Tuohys, weekend decompression means yachting in the Bahamas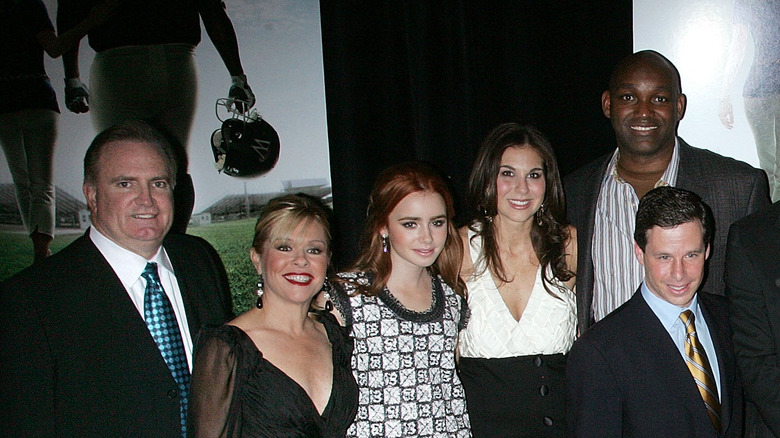 Jim Spellman/Getty Images
Those of us with busy work and family lives all look forward to weekends off as a chance to recharge and reconnect with family and friends without the stress of a fixed schedule or work obligations. And for some, weekends are a time for spiritual renewal as well — for those who follow an organized religion, this could mean observing the faith's day of rest intentionally, whereas for others it may mean some extra time for meditation and reflection.
Leigh Anne Tuohy is no exception. "You know sometimes it's just good to slow down for a second and take a few deep breaths and relax. And I'm really, really not very good at that," she wrote on Instagram. "So I'm trying to focus a few days on Seanie 😉 and clear my mind ... spend a hot minute on recharging ... focus on positivity and be prayerful and peaceful." This all sounds super grounded and relatable — except that it was accompanied by a photo of the couple on a yacht, and the location tagged was the Bahamas. And this wasn't even their first taste of yacht life: The Tuohys made an appearance on "Below Deck" (a reality TV series that follows a group of people who work on yachts) in 2017.
Leigh Anne Tuohy has her own fortune from her business and book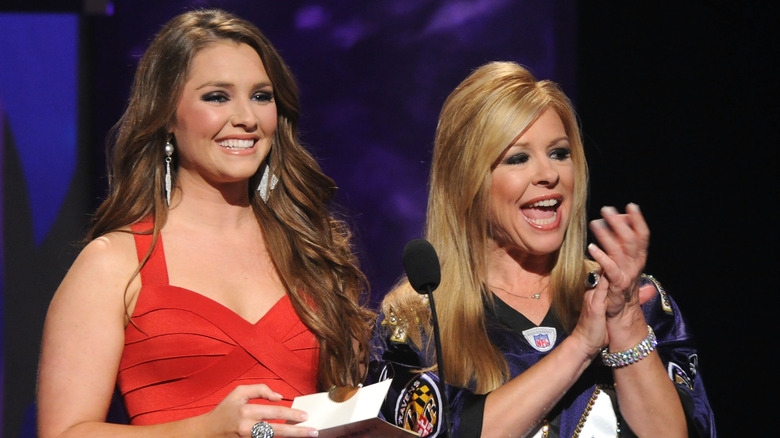 Rick Diamond/Getty Images
Leigh Anne Tuohy may love shopping and luxury vacations, but she's no trophy wife. In addition to her interior design career, she managed to leverage the visibility she gained following the release of "The Blind Side" into new revenue streams. She and her husband co-authored a New York Times bestselling book about their experience mentoring Michael Oher, titled "In a Heartbeat: Sharing the Power of Cheerful Giving."
The movie also launched her as a motivational speaker, and she regularly traveled the world to talk about adoption and one's power to make a positive impact on others. She spoke publicly about feeling like she was changing hearts and minds through her speeches. "Adoption is up. Whether 'The Blind Side' contributed to that or not, we can't know for sure, but we're going to take full credit for it," she told ESPN in 2010. She also implicitly denied she was seeking attention just for the money, pointing out that she and her husband had turned down a number of offers to do reality TV shows. But while money many not have been a driving motivator, her new career as a public figure was definitely lucrative. In 2022, her net worth was $50 million, far overshadowing her husband's net worth of $25 million.