David & Victoria Beckham's Daughter Harper Is Growing Up So Fast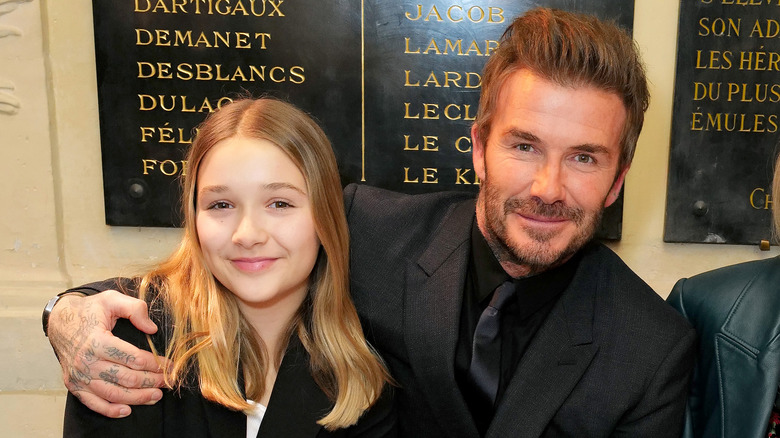 Darren Gerrish/Getty Images
Harper Beckham has to be one of the luckiest girls in the world. She's the youngest child and only daughter of the iconic soccer superstar David Beckham and Victoria Beckham, a multi-talented singer and fashion designer. As soon as Harper was born, she was destined to become loved worldwide by fans of her parents.
As the baby girl of the Beckhams, we like to imagine she also gets all the spoils that being the youngest girl in the family demands — especially since she has three older brothers that are all at least six years older than she is.  
Even though her brothers have all grown up before our eyes, it feels like Harper growing up so quickly has caught us all by surprise — and that includes her parents. It's clear from recent interviews with the Beckhams and the family's Instagram posts that the youngest Beckham is no longer the little wide-eyed baby that her parents would carry around to events. These adorable grown-up moments of Harper Beckham prove how time can fly by in the blink of an eye.
Harper's already a makeup expert, according to her dad
At just 12 years old, Harper Beckham already has the makings of a future makeup guru. David Beckham shared a heartwarming photo on Instagram that showcased his daughter's skill with the makeup brush using his own face as an example of her work.
"Daddy apparently needed a little powder & contouring (not sure what that means but I looked better what ever [sic] it was)," the soccer elite wrote alongside the cute pic. "My little makeup artist." He tagged Harper's mom Victoria in the post as well, and a commenter came back with the appropriate quip, "Blend it like Beckham."
In the post, Harper looks laser-focused on the task at hand as she delicately applied the makeup beneath her dad's eyes. We can tell this wasn't David's first time in his daughter's beauty chair as dad handled the makeup session like a pro. He made sure to look up to avoid getting any makeup in his eye and to also provide Harper a flat, unobstructed surface for her to work her magic.
Despite this being a very cute daddy-daughter moment, we know David and Victoria must feel torn over their daughter's interest in makeup. After all, it's another sign of how quickly their little girl is growing up.
Harper Beckham gets embarrassed by her parents, too
We've all had those moments when we felt embarrassed by our parents. When you're a young child, you can't wait to show off your parents to your friends, and you think nothing of showering them with hugs and kisses in public. But it's just a mark of growing up when you suddenly start seeing the people who raised you as slightly embarrassing when they're around your "cool" friends or you're somewhere out in public. It seems like Harper Beckham is currently at that stage, as a funny story by her mother Victoria Beckham suggests.
During a chat with the podcast Armchair Expert with Dax Shepard, Victoria shared a car ride experience that proves even celebrity children go through that phase of feeling embarrassed of their parents. After admitting she herself had been mortified to be dropped off at school by her father in his Rolls Royce, Victoria said she and David Beckham are experiencing the same thing with their daughter. 
"[David] was dropping off Harper, who is our youngest daughter. ... And she was like, 'Daddy, can you drop me off a little bit away from the school?'" Victoria said with a laugh. "He was obviously firstly heartbroken. She's our youngest daughter. He was like "Really? This is happening.'" Sorry, David and Victoria; even Harper's extremely lavish life still doesn't make car rides with her parents any less embarrassing.