Ashton Kutcher's Wellness Journey Led To A Major First At The South Pole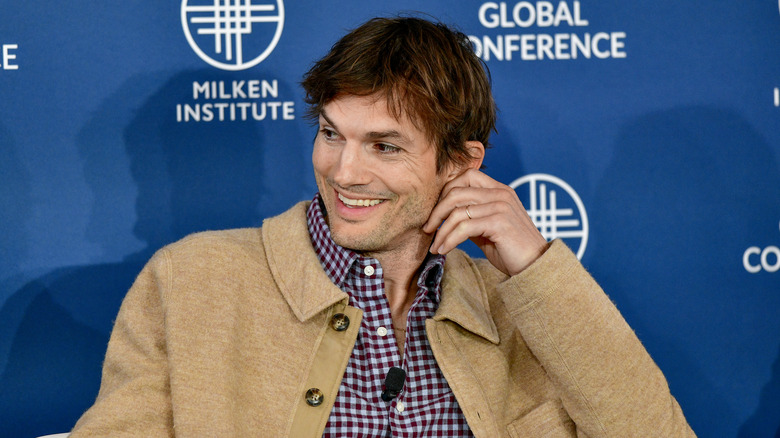 Jerod Harris/Getty Images
Ashton Kutcher was looking to regain "self-confidence" after suffering a blow to his health sometime in 2020. So, as anyone would do (or any celebrity, we should say), he set off on a wellness journey in the fullest sense of the word. The "That '70s Show" actor ended up in the South Pole. Yes, the literal southernmost point of the Earth — that South Pole. There, a man asked him if he would like to climb a mountain. It wasn't a reboot of his prank show "Punk'd," as Kutcher and the guide actually climbed a mountain, and the trip led to a series of firsts.
On "The Late Late Show with James Corden," Kutcher sat down with the host to explain how, once at the top, he was told he was the first person to ever make the summit. "We climb up this mountain and we get to the top and he said, 'You're the first person that has ever climbed this mountain. You get to name it,'" the celeb explained to Corden. This revelation led to another novel experience — an attempt to bestow a name upon a mountain.
Ashton Kutcher tried to name a mountain after his wife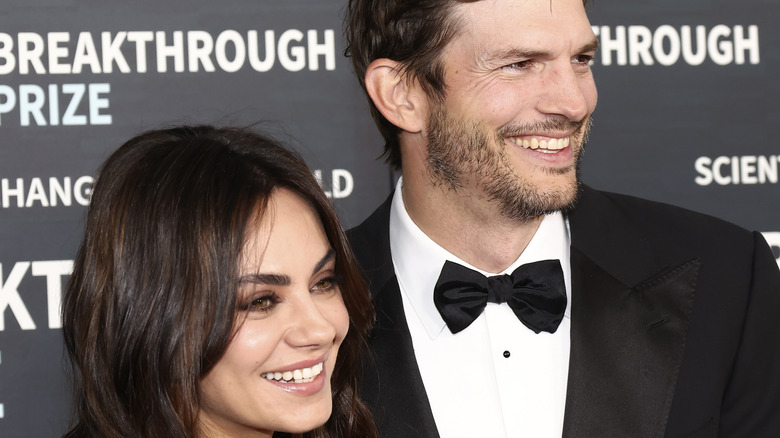 Tommaso Boddi/Getty Images
It was almost a first for Ashton Kutcher's wife, Mila Kunis, as her husband initially wanted to name the peak "Mount Mila." However, as Kutcher told James Corden during his appearance, he quickly backtracked when his guide explained, "'No no, it's bad luck to name it after another person.'" He went with the word "awesome" in Russian instead, and now Kunis, unfortunately, can't claim that she has an entire mountain named after her.
However, it still is an ode to his iconic wife. Kunis was born in Ukraine and grew up speaking the Russian language. "I don't speak Ukrainian. When I was raised in Ukraine it was still under the USSR umbrella, so I spoke Russian, which is what we all spoke. So my kids understand Russian. I speak Russian with my parents," the "That 70s Show" actor admitted in an interview with "Who's Talking to Chris Wallace?"
But the "Black Swan" actor also noted how she, with the help of her husband, is keeping her Ukrainian heritage alive by teaching her kids about it. So we guess Kutcher naming the mountain "Awesome" in Russian was a pretty sweet and sentimental choice, after all.
Why was Ashton Kutcher in the South Pole?
Ashton Kutcher's once-in-a-lifetime trip to the South Pole was quite the experience; however, the reason for his journey wasn't a happy one. He originally set out to find his sense of confidence after being diagnosed with an autoimmune disorder, as he told James Corden during his appearance. An autoimmune disorder is when a person's immune system wrongfully launches an attack on healthy cells, according to MedlinePlus. There are various types of disorders, and each one can affect the body differently.
In Ashton's case, it went after his blood vessels, as he was confirmed to have vasculitis (via NBC News). The disease can result in many symptoms that aren't specific to vasculitis, meaning it can be tricky to diagnose. Kutcher said that in his case, it "knocked out my vision. It knocked out my hearing. It knocked out, like, all my equilibrium," recalling the experience to Bear Grylls on an episode of "Running Wild with Bear Grylls: The Challenge" (via NBC News).
He explained that his recovery took around a year and left him feeling "lucky to be alive." Both the South Pole and his expedition with Bear Grylls were an attempt to get back what he felt he lost. "I was like I am just going to push myself to the end of my physical capacity in every form. I went to the South Pole, I ran a marathon, I went Running Wild with Bear Grylls," The "No Strings Attached" actor told James Corden on his show. Kutcher concluded that he finally feels like "he's back."