The Sweet Way John Travolta And Jamie Lee Curtis Gave A Rescue Dog A Fur-Ever Home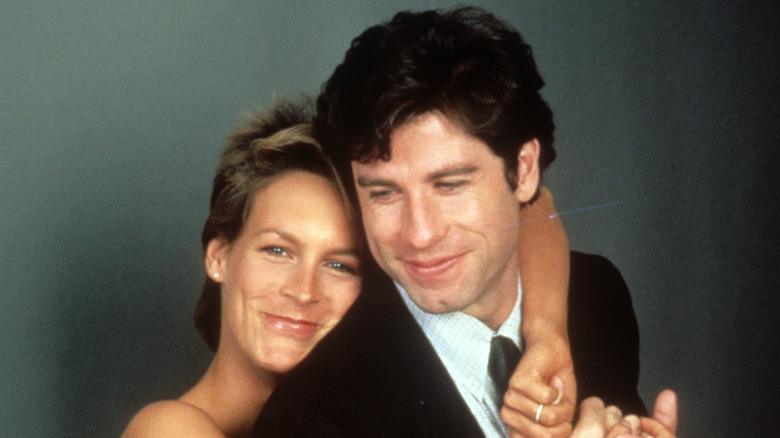 Columbia Pictures/Getty Images
Jamie Lee Curtis and John Travolta have quite a few things in common. They both became full-blown movie stars in the late '70s — Curtis had us holding our breaths in "Halloween" the same year that Travolta sang his way into our hearts in "Grease." In 1985, they played love interests in the critically-panned film, "Perfect." More recently, the award-winning actors found a forever home for a rescue puppy named Mac N Cheese — and believe it or not, deceased actor Betty White also played an important role in this real-life Hollywood fairy tale. 
At the 2022 Oscars, Jamie Lee Curtis paid tribute to White during the annual "In Memoriam" segment, addressing "The Golden Girls" star's love of animals. However, Curtis wasn't alone on stage — the "Everything Everywhere All at Once" award winner was accompanied by Mac N Cheese, a rescue puppy up for adoption at Paw Works. "The greatest gift you could give Betty White is to open your heart and your home and adopt a rescue dog just like Mac N Cheese from Paw Works," Curtis told the star-studded audience at the Dolby Theater, per YouTube. Fortunately, John Travolta had space in his Florida estate for a new puppy, and Mac N Cheese has been living in luxury ever since. 
John Travolta has a furry new family member
After Jamie Lee Curtis introduced Mac N Cheese on stage at the Academy Awards, John Travolta and his two children, Ella Bleu and Benjamin, welcomed a new furry family member into their home. "Ben adopted this dog from last [night's] Oscar tribute to Betty White," the "Pulp Fiction" star wrote on Instagram, posting a picture of his son proudly holding the orange puppy. Jamie Lee Curtis explained the situation in full on her own social media, writing, "I had already left the Dolby Theater last night after honoring Betty White and was on my way home when someone texted me a photo of John holding little mac & cheese in the green room before his presentation of the best actor Oscar," she said, adding, "I thought it was so beautiful to see him with [the dog] and then today I found out that he and his son, Ben have adopted beautiful little mac & cheese and are taking her home today."
If more recent Instagram posts are any evidence, Mac N Cheese is still a beloved member of the Travolta family. On Father's Day 2023, the "Saturday Night Fever" alum posted a picture with his two kids, their newest family dog sitting on his lap. In a Christmas 2022 post, Mac N Cheese — reportedly renamed "Peanut" by the Travoltas — can be seen enjoying the holiday alongside Benjamin and Ella Bleu. But Peanut isn't the only pet in the Hollywood household, it seems. The pup's furry companions include another dog and a cat. 
Mac N Cheese wasn't the only rescue dog Betty White helped save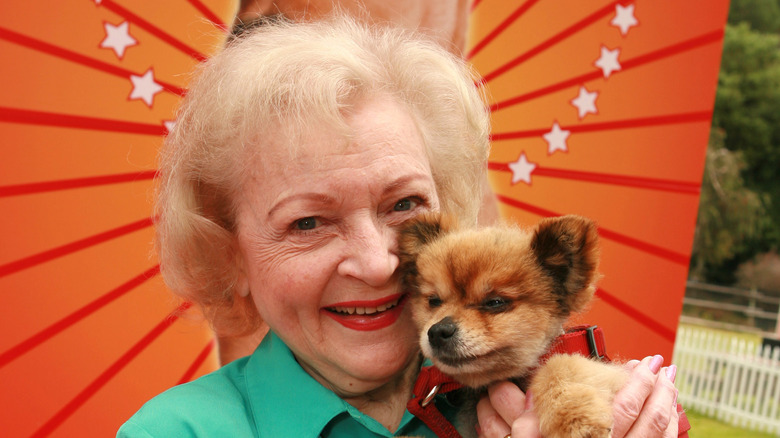 E. Charbonneau/Getty Images
Betty White will be remembered for her impressive acting career, but we also can't forget her work with rescue animals, as her efforts extend far beyond Mac N Cheese. The year after the actor's death, the Betty White Challenge raised an impressive $12.7 million for animal rescue organizations and shelters around the world, per Variety. "She could never have imagined such an outpouring of love and would have [been] so grateful to everyone," her former assistant wrote on Instagram. Countless donations were made in White's name, making it possible for families like the Travoltas to adopt furry friends.
Mac N Cheese (aka Peanut) joined the Travolta household after a tragic year. Kelly Preston, mother to Benjamin, Ella Bleu, and Jet (who passed away in 2009), died from breast cancer in July 2020. Preston and Travolta first connected in 1987 on the set of "The Experts." Believe it or not, dogs were involved in their first interaction ... ​​"I see, no lie, coming across the hall with his two dogs, this really hot guy," Preston said in a 2018 conversation with Us Weekly, remembering the first time she laid eyes on Travolta, the man who would become her husband of nearly 30 years. It's fair to say she too would have jumped at the chance to adopt Mac N Cheese.