General Hospital's Chad Duell Takes His Daddy-To-Be Role Seriously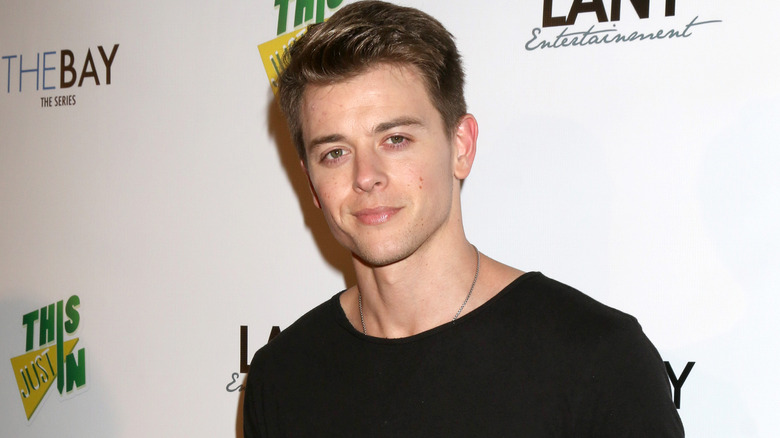 Kathy Hutchins/Shutterstock
"General Hospital" star Chad Duell (Michael Corinthos) has shared quite a bit of his personal life with his fans online. In September 2022, Duell opened up about his surprising break-up with fellow soap star Courtney Hope (Sally Spectra, "The Young and the Restless"). The resilient actor then moved on with his life, and he and his current girlfriend, Luana Lucci, announced on March 6 on Instagram that he's about to become a dad. The loving couple is expecting a baby boy, due in September, and family, friends, and followers couldn't have been happier for them.
The Brazilian model also took to Instagram on August 19 to sing Duell's praises. Along with a tender picture of the two at a beach, with Duell holding her for everyone to see her amazing baby bump, she wrote, "Counting down the days at 38 weeks pregnant, and I'm seriously amazed by how awesome my partner is. Right from the start of this pregnancy ride, he's been the rock that keeps us steady." She noted Duell's diligence in maintaining their finances as well as their living situation and even dealing with plumbing issues. She added, "But it's not just about the practical stuff; through all the ups and downs, he's been my unwavering support in every possible way." 
Lucci continued by remarking that Duell had galvanized her hope for the future.
The fans were overjoyed for Chad and Luana
In Luana Lucci's loving Instagram post about her boyfriend, Chad Duell, she stated that his support transcended them beyond simple parenthood for their coming son. "Cheering me on to chase after my studies and fueling my drive to start my own business, his support is beyond words," she wrote, further adding, "As we stand on the edge of this new chapter with our little guy on the way, I'm filled with gratitude for his endless love and backing." Lucci explained that she can't wait to see him pour that same strength, drive, and commitment into being a father. She's also excited and thankful for this new life that they are embarking on. The "General Hospital" star simply replied, "Thank you love," followed by a heart emoji. Lucci's well-thought-out and wonderfully written letter to Duell tugged at the heartstrings of the fans who responded with copious amounts of love and congratulations.
One enthusiastic follower spoke for many by writing, "Super !!! Love love love !! Blessings to you three !!!! Can't wait to see the little guy !!" Good wishes and support for the couple were aplenty, along with many stating that the two will make great parents, as one fan responded, "You're going to be incredible parents when you get to meet your precious little one!! So excited for you!!"
Congratulations to Chad and Luana!