How Sasha And Malia Obama Celebrated Their Last Night As First Daughters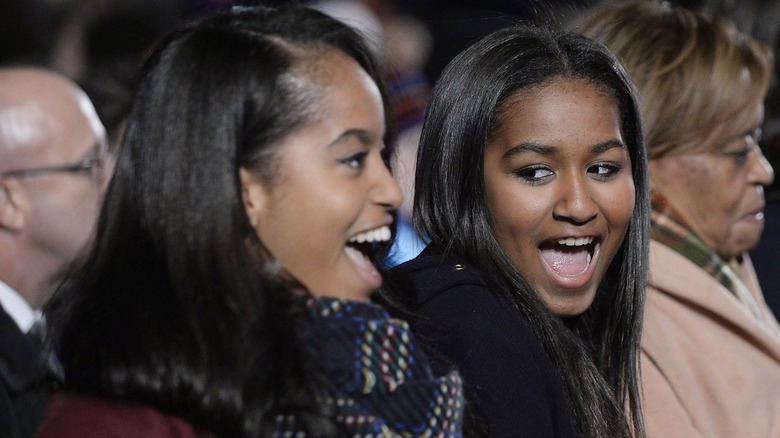 Pool/Getty Images
Sasha and Malia Obama, the two former first daughters of President Barack Obama and First Lady Michelle Obama, made sure to spend their last night as White House royalty ala "The Princess Diaries 2: Royal Engagement," minus the mattress surfing.
Sasha and Malia threw a party in the most fitting and complimentary option for two young girls re-integrating into society. There were no fancy hors d'oeuvres or celebrity guests in attendance, or even a large gathering for that matter. If anything, their sendoff was anything but privileged, and instead humbly paid homage to the kind of childhood nostalgia we carry into adulthood.
The lighthearted nature of the event also allowed Sasha and Malia to experience a sense of normalcy for their last night, while simultaneously enjoying the vastness and regality of their previous home of eight years. It's this simplicity that touched the hearts of many, as they caught a glimpse into Malia and Sasha's childhood in the White House.
How Sasha and Malia felt about leaving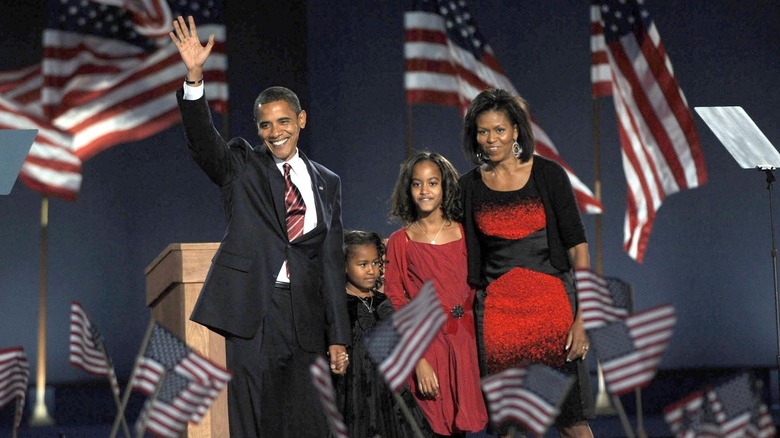 Everett Collection/Shutterstock
The American public watched Malia and Sasha Obama grow up in the eight years Barack Obama was president. During his two terms, they blossomed from young girls to young ladies of 15 and 18. Despite the pureness surrounding their sleepover, Michelle Obama touched on the bittersweet moment of leaving their home of eight years. Specifically, she recalls the moment that Donald Trump was inaugurated and welcomed into office, according to Today. "That moment of transition, right before the doors opened and we welcomed in the new family, our kids were leaving out the back door in tears, saying goodbye to people," she said. The moment must have been tough for the first daughters, who were both saying goodbye to a past life, while also welcoming an uncertain, yet hopeful, new one.
Sasha and Malia's choice of jubilee makes sense considering that the majority of their childhood upbringing happened amid their father's presidential term. For their choice of celebration, the sisters opted for a night consisting of friends, a sleepover, and of course, pizza. It's touching to see how they were able to turn a somewhat melancholy situation into a scene of comfort and normalcy, especially since many of their family's belongings were removed from the White House following the Trump inauguration.
Sasha and Malia's life after the White House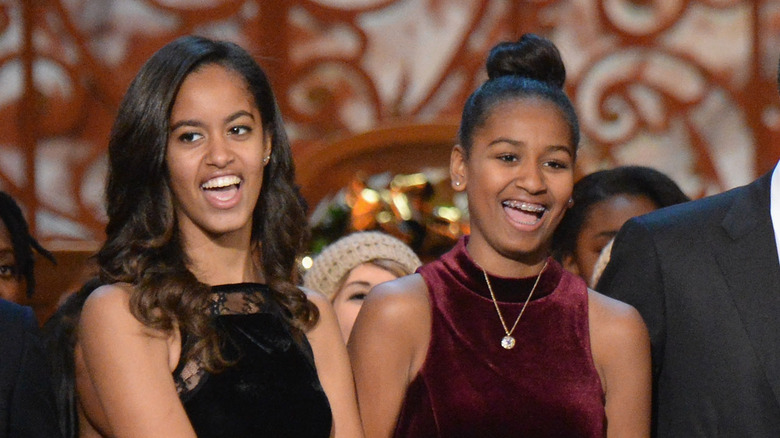 Kevin Mazur/Getty Images
After leaving the White House, Sasha and Malia Obama have had head-turning transformations. The sisters have since moved out of their parents' house and begun a journey of their own, rooming together in Los Angeles, according to People. "I think that they realize that they have a unique bond because they're the only two who know what they just went through, growing up in the White House with the brightest spotlight in the world on you as you were going through adolescence and puberty," Michelle Obama told People. "They uniquely know what that means for them."
Michelle also shed some light on what it feels like to return to society as a civilian, according to Today. "Friends are surprised I answer the door now," she said. Another post-presidential family fact Michelle touched on? Before leaving the White House, their two dogs, Bo and Sunny, "had never heard the sound of a doorbell," she said.