Samuel L. Jackson's Only Daughter Has Grown Up To Be Gorgeous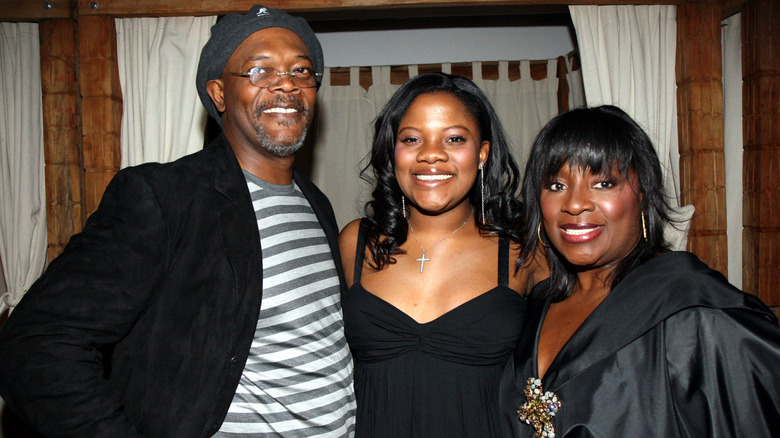 Johnny Nunez/Getty Images
Samuel L. Jackson is one of Hollywood's most successful men. With roles in films such as "Lakeview Terrace," "Eve's Bayou," and "Time to Kill," the actor has excelled in his over 40-year career. However, among his many achievements, he is extremely proud of his daughter Zoe Jackson. 
Jackson and his wife, fellow actor LaTanya Richardson Jackson, welcomed Zoe on March 28, 1982, two years after tying the knot. She is their only child, and the couple has doted over her, even vowing to stay together for the sake of ensuring she'd grow up in a two-parent household.  During Jackson's Lifetime Achievement Award at the 2016 BET Awards, he even credited LaTanya, along with Zoe for motivating him to get clean after a years-long battle with drugs and alcohol after the mother and daughter found him passed out after a booze-filled bachelor party when Zoe was just eight years old.  Since then, the family has continued to thrive, with Zoe growing into a gorgeous woman who has made a name for herself in entertainment. 
Zoe Jackson has launched her own film career
In addition to being the beautiful daughter of honorary Academy Award winner Samuel L. Jackson, Zoe Jackson continues to leave her mark in the television and film industry. According to her LinkedIn profile, she has worked on various television shows, including the culinary competition series "Chopped," as a senior producer from 2015 to 2017. Zoe also served as executive producer on another cooking show, Bravo's "Top Chef Amateurs" in 2020. She also lent her expertise to the production of HBO Max's "Project Greenlight," which helped upcoming filmmakers get their movies off the ground.
In October 2020, it was announced that both she and her father were collaborating on a new project, "Life On The Edge." Teaming up with Ample Entertainment, the daddy-daughter duo wanted to give viewers an intimate look at gang life from those who are a part of it in this docuseries, adding to elder Jackson's list of documentary work. This wouldn't be the first time that the two have worked together. In 2012, Zoe produced an episode of "Funny or Die" alongside Jackson and actor Anne Hathaway.
Zoe Jackson stays away from the spotlight despite her success
Even with famous parents and production credits of her own, Zoe Jackson has found a way to keep away from the limelight. While she has joined her parents on several red carpets throughout the years, Zoe has done an excellent job maintaining her privacy. She has no known social media accounts aside from a LinkedIn and Twitter profile. However, she seemingly goes months without tweeting and has not attracted a large following on the site.
Her parents share occasional images of their daughter online. In March 2023, both Samuel L. Jackson and LaTanya Richardson Jackson wished their daughter a happy birthday on their separate Instagram pages. Neither parent tagged any profiles affiliated with Zoe, so if an IG does exist for her, she prefers to keep it a safe space. With several accolades under her belt, such as an Emmy award, Zoe appears content as being a success-driven woman without any added attention.