Whitney Thore Slams Critics Of Her Body Hair: 'It's A You Problem'
Whitney Way Thore became famous for her body positivity, so she is no stranger to criticism. The reality star regularly receives comments on her personality, physique, and everything else, thanks to her starring role in "My Big Fat Fabulous Life." After premiering in 2015, Thore has shared everything on the TLC show. From dating to dancing, friends to family, and work to weight loss, Whitney Thore has left nothing unexplored. And, with Season 11 premiering in September 2023, she shows no signs of letting the critics get to her or her ambitions. 
She's also an open book on her social media platforms, and she regularly posts tidbits and tales on Instagram, Twitter, and TikTok — like showing off her new anklet, and talking about how sexy it makes her feel. And while Thore was all about feeling herself, some of her 1.2 million followers had their own personal opinions to share, and not about the delicate gold chain circling her ankle. 
"Shave your legs. Gross," was the reaction of one person, who seemed to have skipped over the anklet and went straight for pointing out the long, dark hairs visible along the length of the star's leg. Another reacted with, "Sorry but the hair was a distraction from the ankle bracelet and distracted from your original intent of the post." Of course, Thore had her own opinion about the hair on her body, and she wasn't afraid to call out the haters.
Thore posted a video about her leg hair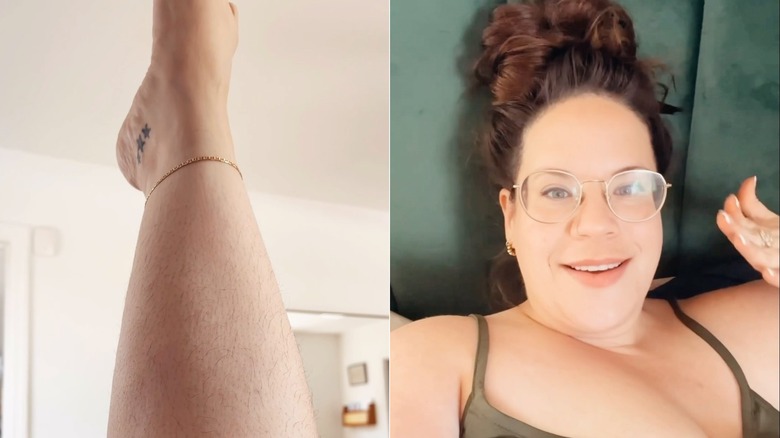 In response to the pro-shave, anti-hair commenters, Whitney Way Thore posted a video the next day, starting with a cheeky, "Trigger warning: hair on women." She started by admitting she knew folks were going to come after her for her visible leg hair, but she wasn't going change her no-leg-shave policy for the video. The "My Big Fat Fabulous Life" star revealed she does get rid of the hair from some parts of her body, but leaves her legs and underarms natural. "If that makes you uncomfortable, that's a you problem," she asserted. 
She also recalled a friend once telling her she should shave not for a boyfriend, but for herself, to which Thore responded, "Exactly. No. I would never do it, unless I was doing it for someone else." 
While some followers stuck by their hair-is-icky motto, there were plenty of others who applauded Thore for her stance. "People have no shame. And I'm referring to the haters not Whitney and her body hair. I feel sorry for any woman who believes it necessary to shave their legs etc in order to be an attractive woman. It's just sad."