The Andy Cohen Cameos On Sex And The City You Probably Missed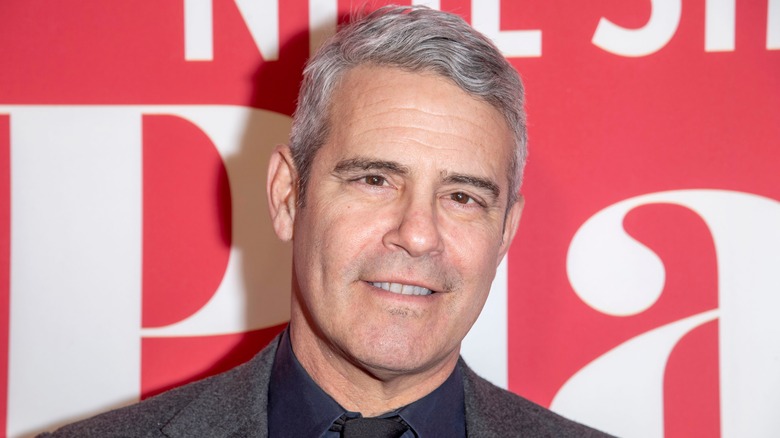 Ron Adar/Shutterstock
If there was ever a king of celebrity hosting, Andy Cohen definitely fits the bill. But before he was known for leading the "Real Housewives" franchise, it turns out that the Bravo host made several cameos on "Sex and the City" alongside his dear friend, Sarah Jessica Parker. While they may not have been memorable, Cohen appeared on the show twice, albeit seasons apart from each other. 
His first appearance was during season 4, where Cohen served as a shirtless extra in a gay bar. His second cameo came during the show's sixth and final season, where he assisted Carrie Bradshaw as a shoe salesman in Barney's. 
Cohen shared the fun fact via Instagram: "You may know that I was a Barney's shoe salesman in the last season of #SATC but were you aware I appeared in Season 4 (I think) shirtless in a gay bar standing next to Carrie Bradshaw? Sounds about right!!" But Cohen didn't give up there — his love for "Sex and the City" even got him as far as the audition room, for a role that actually had lines.
Andy actually auditioned for Sex and the City
While Andy Cohen was able to sneak his way onto the legacy HBO series a couple of times, the "Watch What Happens Live" host apparently wanted more camera time. Thanks to his in with leading lady Sarah Jessica Parker, snagging a role wasn't too far from reach — and he even got spoilers ahead of episodes.
"Years ago, I used to beg Sarah Jessica to let me run Sex and the City lines with her," Cohen revealed on "The Andy Cohen Diaries" (via E! News). "I'd even finagled an audition for a party planner role on Sex and the City." Cohen previously explained that his season 4 cameo is only available on DVD and Amazon, as it was cut out of the TV version. Even though he had already made two cameos, the Bravo personality wasn't going to give up that easily.
Alas, it appears the audition didn't go as gracefully as he'd hoped. "I'll never forget the looks of horror on Sarah Jessica and Hickey's faces when I tried to act out a scene for them," he recounted, referring to actor Tom Hickey, who also had a role on the show. Cohen said of his possible big break: "I didn't get the part." 
Andy had a real-life SATC moment with Sarah Jessica Parker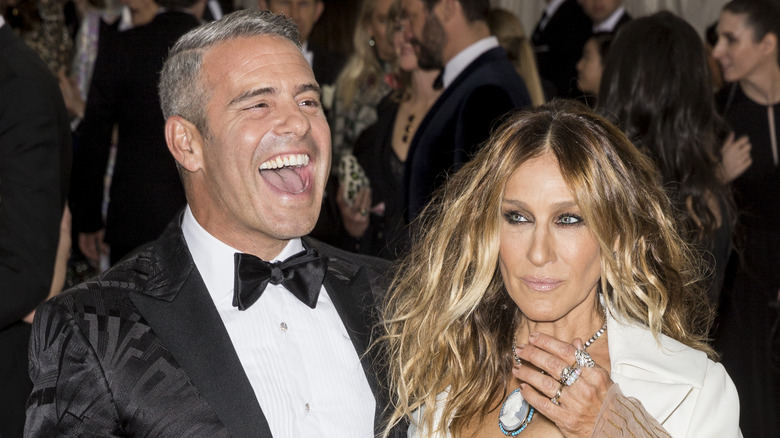 Ovidiu Hrubaru/Shutterstock
Sarah Jessica Parker and Andy Cohen's friendship is as genuine as you can get in Hollywood. Before fame, Cohen told Out that he met Parker while he was still working as a producer at CBS during the early '80s. While Parker had already begun her career as an actress, a young Cohen was still a relatively unknown interviewer. When they were re-introduced over a year later, the "Sex and the City" actor remembered him — thus, their friendship began.
Decades later, Parker and Cohen are still as close as ever. The besties are inseparable and have attended the Met Gala together for years in a row. Parker even named a shoe from her SJP designer line after her dear friend, releasing "The Andy" heel in 2015. Cohen has also shared that being friends with the television icon is an experience in and of itself. Though Parker is far different from Carrie Bradshaw, the celebrity host said (per People) that sometimes, hanging with his BFF feels like being the main character in an episode of "Sex and the City."
Of these moments with his friend, he explained to Bravo: "Walking around New York with her is like walking around with the Empire State Building — everybody can't believe what they're seeing and they all want a picture." This high-profile recognizability could also be attributed to Parker's real-life style obsession, which is strikingly similar to that of Carrie's.