The Truth About Sarah Jessica Parker And Andy Cohen's Friendship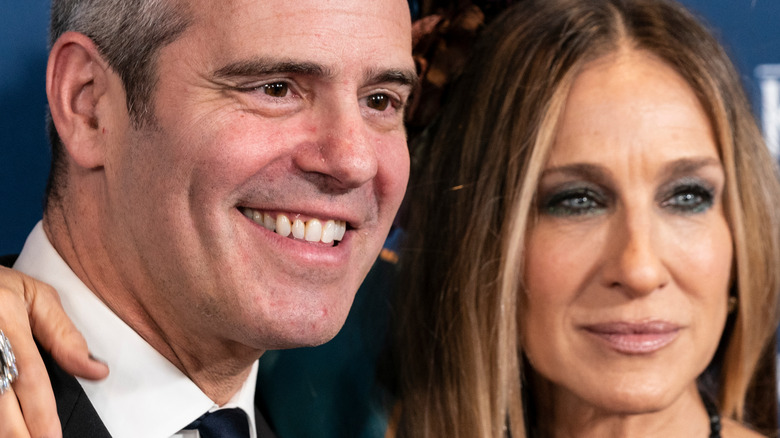 lev radin/Shutterstock
They met before he was a household name. Sarah Jessica Parker, who has been in the public eye since the early 1980s, crossed paths with a then-unknown Andy Cohen while he was working behind the camera for CBS News (via Fame10 and IMDb). "​​I saw her a year later when I was at the first Vanity Fair party, I was behind the rope, interviewing people. And she remembered me from that day," the Bravo host said about how a chance meeting turned into a friendship that has stood the test of time.
In fact, the two celebs are more than just casual acquaintances. They have one another's backs for real, with Cohen defending the "And Just Like That..." star in 2021 over criticism of her gray hair. During an appearance on "The Drew Barrymore Show," the TV host said, "We were at lunch and there was a paparazzi, and she's sitting next to me, white hair. All the articles were 'Sarah Jessica Parker, she's going gray' and 'She looks old,' and it was insanity. Here she is sitting next to me, who's gray, and people just missed the mark totally. It was so misogynistic" (via Page Six).
Andy Cohen is always there for Sarah Jessica Parker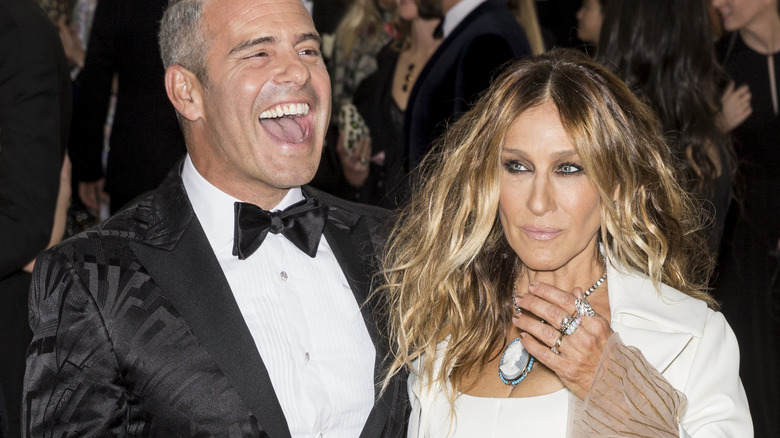 Ovidiu Hrubaru/Shutterstock
From attending the Met Gala together every year, to him being by her side for the premier of "AJLT," to dinners out in New York City, to vacationing in Spain, the two friends are as inseparable as Carrie Bradshaw and her BFFs for life, Miranda Hobbes and Charlotte York-Goldenblatt (via The Things, Bravo TV, Just Jared and Twitter).
Case in point: In addition to chiding the media for focusing on Parker's gray hair and missing that he too has gone silver, Cohen also stepped up when the "Sex and the City" star was being blasted over Kim Cattrall drama. After the actress who played Samantha Jones snapped at Parker for sharing her sympathies on Instagram after her brother's death, Cohen said on his radio show, "She expressed her condolences on the post ... I would not call that exploiting a tragedy. What was she supposed to do? Say something bad? I don't understand" (via Page Six).
Sarah Jessica Parker and Andy Cohen's best Instagram shares of one another
According to Amomama, the two stars have been pals for decades and the proof is in the pudding, er, social media, with Parker and Cohen often posting images of their times together on Instagram. In one throwback photo posted to Instagram, the Bravo host shared a shot of himself sitting with Parker at a Vanity Fair party in 2001. Meanwhile, she documented a day they visited the stoop of her apartment from "SATC" with the friends donning face masks — among other photos of the BFFs.
Fans may have especially loved when she posted a screengrab from an episode of "SATC" when Cohen played a shoe clerk. "I couldn't possibly have known what @bravoandy would come to mean nor how the love for him would grow," Parker captioned the nostalgic image. Meanwhile, Amomama points out Cohen wanted a bigger role on the show, but he didn't have luck in landing a part. He did however also appear as an extra in another episode — this time playing a shirtless guy in a gay bar.