Inside Sandra Bullock's Relationship With Her Sister, Gesine Bullock-Prado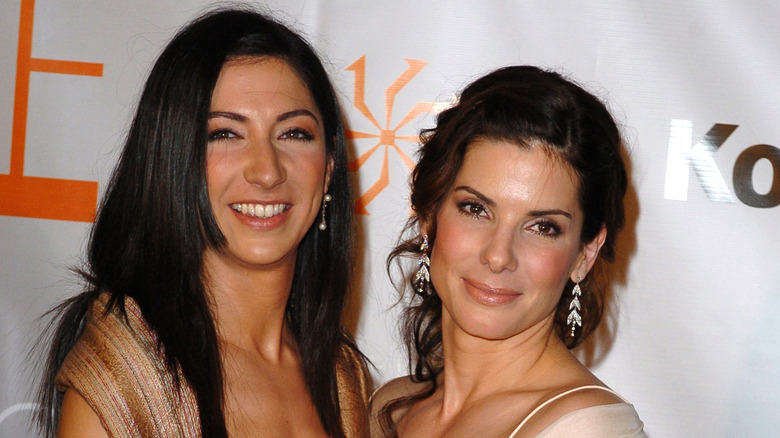 Steve Granitz/Getty Images
Whether you appreciate her work in comedies like "Miss Congeniality" and "The Proposal," '90s classics like "While You Were Sleeping" and "Practical Magic," or action romps like "Speed" and "Demolition Man," you cannot deny that Sandra Bullock is one of America's sweethearts. She's loved by the general public and Hollywood superstars alike, including fellow A-lister George Clooney. "We have a great level of respect and adoration for each other. We're basically [like] siblings," she once said, per the Philippine Daily Inquirer. "That's why we adore each other so much." 
Bullock and Clooney may be like siblings, but their connection certainly can't hold a candle to Bullock's relationship with her actual sibling, Gesine Bullock-Prado. The pair of sisters have been by each other's side through childhood, for major career moves, and throughout personal tragedy. While they have followed entirely different life paths, it is clear that Sandra Bullock and Gesine Bullock-Prado are on the same page when it comes to their bond.
Sandra Bullock and Gesine Bullock-Prado's relationship evolved over time
Sandra Bullock and Gesine Bullock-Prado were both born in Arlington, Virginia, a suburb of Washington, D.C. Bullock was born in 1964, and Bullock-Prado followed six years later. The age difference played a significant role in shaping their early interactions. As Bullock-Prado told The Guardian, she found herself going through the highs and lows that came with being the younger sister — emphasis on the lows. She recalled being a "pest" and an "annoyance" to Bullock for a good chunk of their childhood. "Our age difference made it impossible to be chummy when we were younger... No girl in her tender years, navigating through the trials of puberty, wants her annoying geek of a little sister hanging about," Bullock-Prado said. "It wasn't until I got older that the age gap disintegrated. Once I was in high school, we became genuinely close."
All these years later, the pair of siblings is as unshakable as ever — and the same can be said about their sense of humor. In the aforementioned interview, Bullock-Prado offered a quick retort to anyone who might question her physical resemblance to her sister: "So sorry to disappoint you, you a**."
Gesine Bullock-Prado has worn many hats throughout her career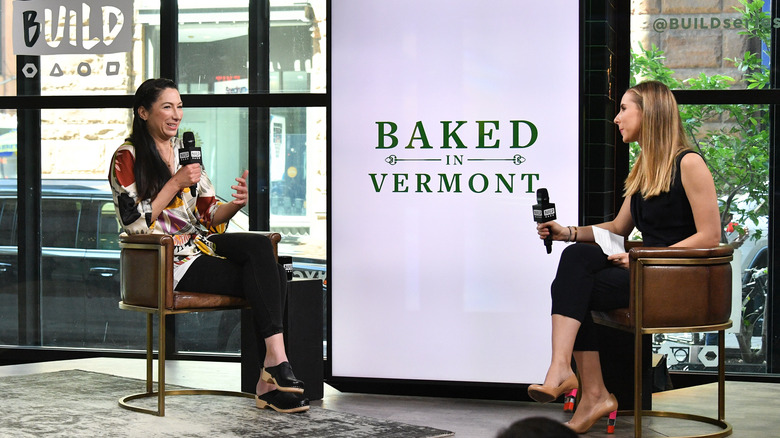 Dia Dipasupil/Getty Images
After graduating from Southwestern Law School in the '90s and obtaining her law degree, Gesine Bullock-Prado joined the California State Bar at the age of 27. In 1995, Bullock-Prado made a significant career pivot when she transitioned from practicing law to the world of film production. She collaborated with her sister, Sandra Bullock, to co-found the production company Fortis Films (more on that later).
In the '00s, Bullock-Prado's journey took yet another turn when she shifted her focus from law and film production to the world of baking. As she told the Milwaukee Journal Sentinel in 2017, "In times of stress, I would bake more and more. That should've been an indication that my passions were elsewhere. When I was supposed to study for the bar, I baked instead." Settling in Vermont with her husband, Bullock-Prado opened Gesine Confectionery, a bakery that allowed her to showcase her baking prowess and connect with her community.
Her talents in baking garnered recognition and scored her a TV show: In 2017, Bullock-Prado began hosting Food Network's "Baked in Vermont." Additionally, she ventured into the realm of cookbook authorship, writing several cookbooks that showcased her creativity and love for baking, as well as penning a memoir.
Sandra Bullock and Gesine Bullock-Prado are all about privacy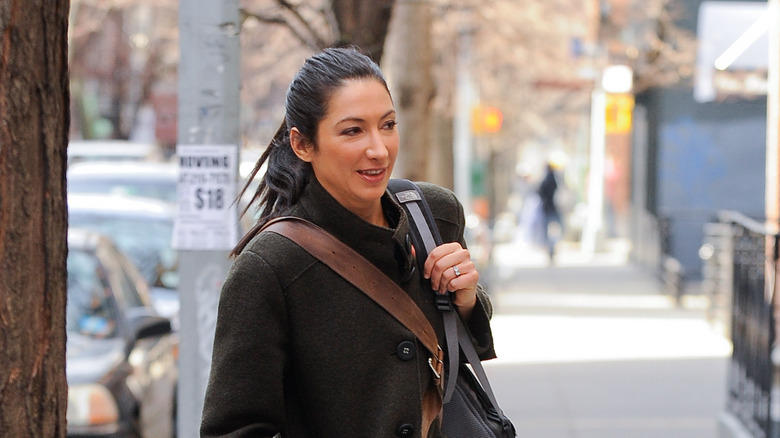 Ray Tamarra/Getty Images
In 2005, Gesine Bullock-Prado and Sandra Bullock attended the Women in Film's Crystal and Lucy Awards. Both were honored there for their work with their production company, Fortis FIlms. Per Variety, Sandra Bullock took a moment in her speech to give her sister a shoutout: "They say you don't have any allies in this business, but I do because there is no one else who would get upset at Howard Stern for saying I had a nose job when I didn't." While it is abundantly clear that the sisters are in each other's corner, it's also clear that they are serious about their privacy. 
In a world where public figures share every bit of their lives on social media and in interviews, the same cannot be said about Bullock. Evidently, Bullock and Bullock-Prado learned at an early age to put their family's privacy first. As Bullock-Prado told The Guardian, "We were raised in such an unusual way that we were taught to be relatively private people. I have friends and we're close. But when you are very private, family becomes more and more important. They are the only ones that you want to share certain things with." The sisters certainly place more value on their relationship than they do the opinions of the general public.
Gesine Bullock-Prado and Sandra Bullock joined forces in the '90s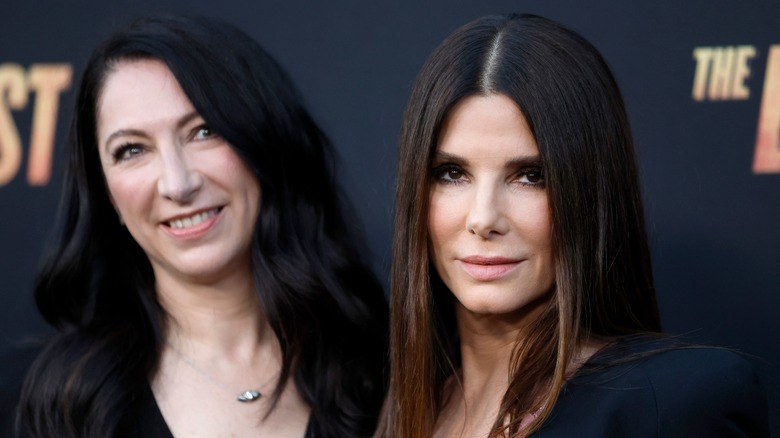 Frazer Harrison/Getty Images
In 1995, Fortis Films was born out of Sandra Bullock's desire to forge her own path in the industry, with the goal being to secure meaningful roles and gain creative influence over project development. The company, which derives its name from the Latin word for "strong," marked a significant shift in her career trajectory, enabling her to become not just a sought-after actor, but also a proactive producer with a distinct voice in shaping cinematic narratives. As Genise Bullock-Prado said in Variety in 2001, "She wanted to find things [that were] not coming her way and develop things that she wants to do — as well as passion projects."
Of course, Fortis Films was not just a vehicle for Bullock's aspirations but also a collaborative venture with Bullock-Prado. The sisters' partnership allowed them to pool their diverse talents and resources, creating a dynamic production company that showcased their shared vision. While Bullock brought her acting prowess and industry insights, Bullock-Prado's contributions extended beyond her role as president, showcasing the sisters' deep connection and ability to excel as a team. "Sandy is so focused on what wants to achieve that she's very clear on how she wants to move forward. She has boundless energy — creative and otherwise — and the sheer will to get things done," Bullock-Prado told Variety.
The sisters found great success with Fortis Films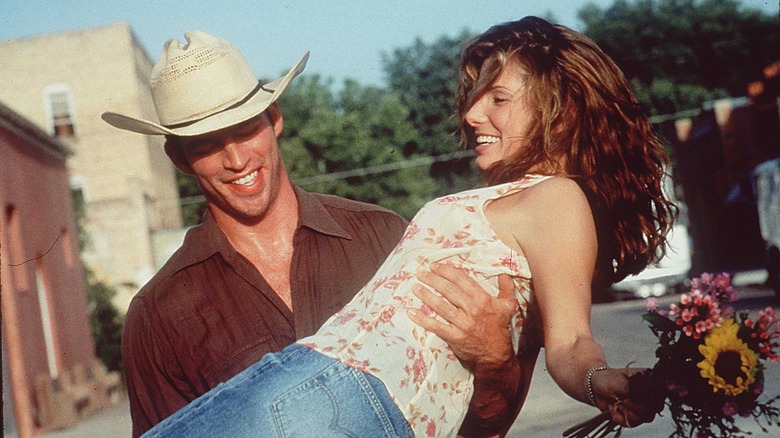 Getty Images/Getty Images
Fortis Films' initial success was seen in the production of "Hope Floats," a project Sandra Bullock was especially passionate about bringing to the big screen. And with that, the company was off to the races. With features like "Practical Magic," "Gun Shy," and "Miss Congeniality," Fortis Films solidified its place in the industry, seamlessly balancing Bullock's acting career with the sisters' shared passion for filmmaking.
Fortis Films' journey was marked by a commitment to fostering relationships with emerging writers and directors, showcasing its dedication to nurturing fresh voices and innovative storytelling. The company also dipped its toe in the world of TV when it took on "The George Lopez Show," which ran for six seasons. 
The creation of Fortis Films encapsulates the sisters' shared journey, highlighting their ability to navigate the ever-evolving landscape of entertainment while preserving their own unique identities. Through their entrepreneurial endeavors, Bullock and Gesine Bullock-Prado demonstrated their determination, collaborative spirit, and commitment to shaping narratives that resonate with audiences around the world.
Gesine Bullock-Prado's love of baking is tied to their mother's legacy
The foundation of Gesine Bullock-Prado's love for baking can be traced back to her mother. Not unlike her daughters, Helga Meyer was a talented person: She was a professional opera singer, a voice coach, and a gifted baker. After her mother's death, Bullock-Prado's journey into the world of baking became a tribute to her legacy. As Bullock-Prado shared with The Guardian, "[My] favorite baker of all time, my mom, she died. In my grief, I baked to soothe my heartbreak. With each pastry grew the revelation that in order to be really happy, I had to build my life from scratch — one cake at a time." In fact, the very first thing she ever baked was for her mother: a Winnie the Pooh cake.
It should come as no surprise that a number of the confections Bullock-Prado creates are inspired by her late mother, including her go-to Christmas cookie. "Butterzeug, it translates literally to 'butter stuff.' It is an incredibly good butter cookie that keeps its shape," she told the Milwaukee Journal Sentinel."She would put them in our screened-in porch. I would steal out there and stupidly grab a lot of cookies, thinking she would never notice."
Sandra Bullock makes a well-baked cameo
In 2005, Sandra Bullock showed her support in a big way when she took a shift at Gesine's Confectionery, Gesine Bullock-Prado's bakery in Vermont. Bullock-Prado maintained that the A-lister was not doing this for the cameras, but because she was excited to lend her little sister a hand. According to the AP (via Today), Bullock was excited to work the crowd, serving macaroons, scones, and other pastries to eager patrons. "OK, we have three chocolate chip cookies," she told one customer. "Big score!" Bullock also told reporters that she had nothing to do with her sister's success as a baker. As she put it, "Their quality speaks for itself."
Bullock has made a point of letting her sister's career stand on its own, but that doesn't mean she won't do something like, say, surprise Bullock-Prado in the middle of a cooking segment on "Today." When Bullock-Prado stopped by the Hoda Kotb and Jenna Bush-Hager hour for a cherry slab pie tutorial, the hosts revealed that a super fan would be joining them. To Bullock-Prado's delight, that super fan was Bullock. The Oscar winner joked, "She promised to teach me for my birthday and she never did because of my children. So, we'll make something today."
Sandra Bullock was beyond 'proud' when her sister wrote a memoir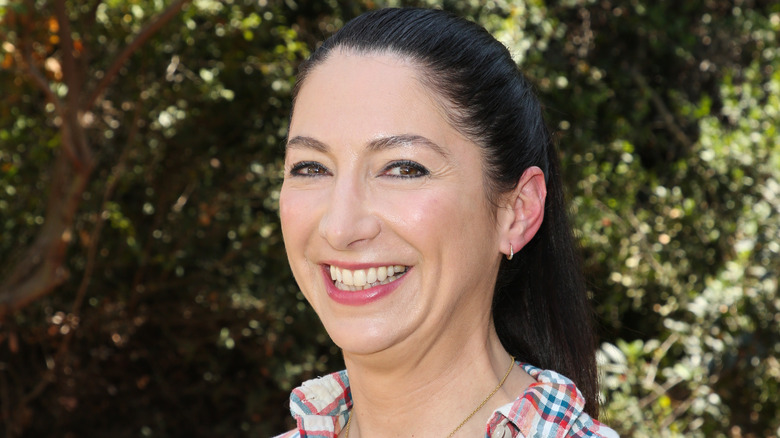 Paul Archuleta/Getty Images
Sandra Bullock's pride in her sister's accomplishments was evident once again when Gesine Bullock-Prado wrote a book. In 2009, Bullock-Prado released "Confections of a Closet Master Baker: One Woman's Sweet Journey from Unhappy Hollywood Executive to Contented Country Baker," a memoir that chronicles her relatively unconventional career path.
Bullock-Prado's storytelling skillfully weaves together her experiences in Hollywood, her deep-rooted family connections, and her culinary aspirations. Through her narrative, readers gain insight into the transformative power of following one's heart, even when it leads to unexpected places. The memoir not only offers a glimpse into Bullock-Prado's culinary adventures but also resonates as a story of self-discovery, determination, and finding joy in pursuing a life's true calling.
Bullock was a little nervous at first, but not because she was worried about what her sister might divulge. "When someone tells you they're going to write a book, especially a family member, you just sort of roll your eyes, and go, how do you kindly tell them it sucks? I was prepared to tell her it sucked in the nicest way I could," Bullock admitted to Entertainment Tonight. However, as she worked her way through her sister's book, Bullock changed her tune, noting that she couldn't have been more "proud" of the accomplishment. "I was bawling and laughing the entire time I read it," she said.
Gesine Bullock-Prado shows her sister support, too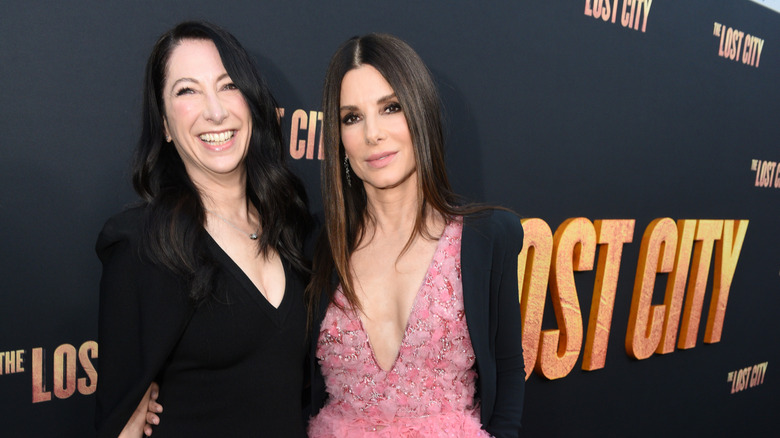 Vivien Killilea/Getty Images
Oscar-winning actor Sandra Bullock certainly made heads turn at the premiere of her 2022 movie, "The Lost City." Striding down the aisle, she donned a ruffled pink ombre gown, a creation by Elie Saab. Of course, she always makes heads turn at premieres, but this was an especially special occasion. She was accompanied by her younger sister, Gesine Bullock-Prado, in a display of sibling solidarity that added a heartwarming touch to the star-studded event. After the premiere, Bullock-Prado took to Instagram to praise Bullock's movie. "So funny. So charming. So proud," she wrote. "Go see #thelostcity and stay through the credits or you'll miss out."
Of course, this is not the first time Bullock-Prado has celebrated her sister's achievements as an actor. While Bullock-Prado certainly was happy for Bullock when she won an Academy Award, she seems to be a bit more impressed with her role in a movie that inspired an unofficial holiday. "Oscar Schmoscar, it's Miss Congeniality Day!!!!! April 25th. The perfect date." she joked on Instagram in 2021.
Gesine Bullock-Prado loves to give her sister a social media shoutout
Unlike her sister, Gesine Bullock-Prado is pretty active on social media, as she uses her Instagram to promote her business and share what she and her husband, Raymond Prado, are up to. While Sandra Bullock doesn't pop up on her grid a ton, Bullock-Prado does make a point of wishing her big sister a happy birthday year after year on Instagram. In 2023, for example, she shared a childhood photo of Bullock and wrote, "Celebrating the best Schwester ever today!" For Bullock's birthday in 2022, Bullock-Prado shared a whole slideshow of baby photos on Instagram. "To the most wonderful Schwester," she wrote. "She's kind to all creatures. She'll do anything to make you laugh. She listens and feels your pain. And she's the brightest light on the darkest days."
Bullock-Prado also gets nostalgic on holidays. On December 24, 2020, she shared a photo she and Bullock took in front of the family's Christmas tree when they were kids. As if that isn't adorable enough, she paired it with a beyond sweet message: "#tbt Christmas Eve with my favorite person ever."
Sandra Bullock returns the social media love in her own way
Sandra Bullock is notably absent from all forms of social media. In 2018, she told InStyle (via Pure Wow) that she doesn't think she'd be a good fit for sites like Instagram or Twitter. "Oh god, I would have one glass of rosé and be spouting off like [slurs voice], 'This is not the truth!'" she quipped. "I'm not ignorant of what's happening out there. I look over people's shoulders, going, 'What is that little vignette of a cat on a fan?' I'm just lazy. But I'm going to get on it and troll my friends." 
While Bullock doesn't make social media content for her own account, she isn't opposed to making special appearances on Gesine Bullock-Prado's Instagram from time to time. When Bullock-Prado's book "My Vermont Table" made The New York Times bestseller list in March 2023, she and her sister recorded an extra special something for IG. In the video, Bullock-Prado holds her book and faces the camera, while Bullock runs back and forth out of frame, exclaiming, "New York Times bestselling author! I can do anything she can!" Bullock-Prado struggles to get any additional words out as she laughs at her sisters' antics.
Gesine Bullock-Prado honored her sister's late partner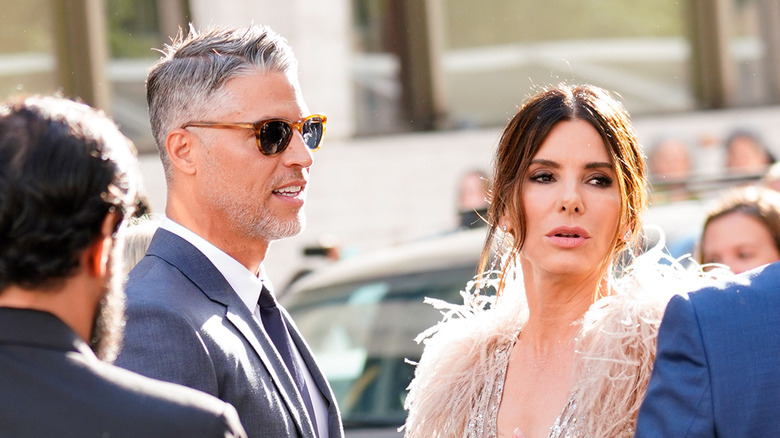 Jackson Lee/Getty Images
On August 5, 2023, Sandra Bullock's longtime partner, Bryan Randall, died at the age of 57 from amyotrophic lateral sclerosis. His diagnosis was not shared until after his death. Randall's family said in a statement to People, "Bryan chose early to keep his journey with ALS private and those of us who cared for him did our best to honor his request."
After the tragic news was made public, Gesine Bullock-Prado took to Instagram to pay tribute. In a touching post, Bullock-Prado shared a smiling photo of Randall and wrote, "I'm convinced that Bry has found the best fishing spot in heaven and is already casting his lure into rushing rivers teeming with salmon."
Randall was diagnosed with ALS in 2020, and Bullock took a step back from her career to be with him. "ALS is a cruel disease but there is some comfort in knowing he had the best of caretakers in my amazing sister and the band of nurses she assembled who helped her look after him in their home," Bullock-Prado wrote. Thankfully, Bullock has someone like Bullock-Prado to lean on during this devastating time.