Gwen Stefani Twins With 15-Year-Old Son Zuma In Adorable Birthday Photo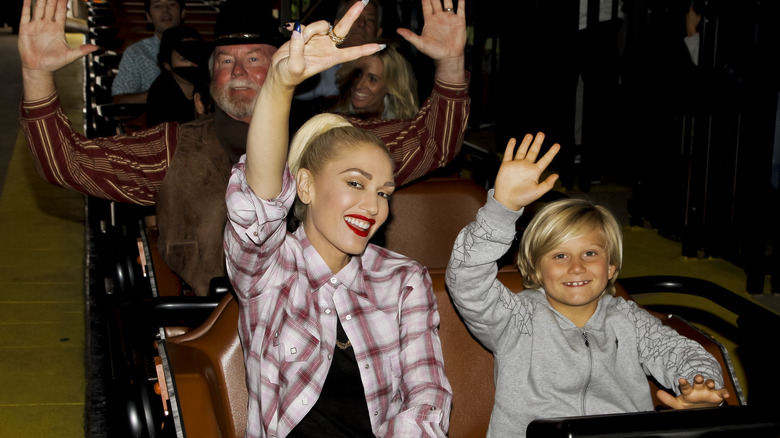 Tibrina Hobson/Getty Images
It took a while for Gwen Stefani to achieve the happy family life she wanted, but the pop star finally has it. After a nearly 13-year marriage to Gavin Rossdale, with whom Stefani shares three sons, the "Don't Speak" singer has been blissfully re-wed since 2021 to Blake Shelton, whom she met when both were judges on "The Voice." Happily for Kingston, Zuma, and Apollo, their parents and stepdad are all fully involved and determined to give them the best lives possible.
This includes celebrating special moments. August 21, 2023, marked the 15th birthday of middle son Zuma, and Stefani commemorated it with a touching photo montage on Instagram. "Happy 15th birthday Zuma!!!" she wrote. "We love u more than anything." Stefani topped it off with emojis of a blue heart, a party horn, and a birthday cake. The pics include several of Zuma with Stefani, looking almost identical with their long blond hair and wide smiles. 
There's also a shot of Zuma and Shelton together, displaying a drawing Zuma created. Shelton once told country station KFROG that he aspires to be like the role model he had growing up: "I love my stepfather and he's like a father to me, so I have a good inspiration in my life on how to do this and the kind of stepdad I want to be." And, in another interview with Entertainment Tonight, Shelton confirmed his work was "[taking] a backseat to Gwen and the kids."  
Zuma is growing up so fast
The slideshow that No Doubt's Gwen Stefani put together for Zuma's 15th birthday also included photos of the teen sporting a name tag at school, holding a tiny turtle, cuddling a baby (possibly his little brother, Apollo), and celebrating a First Communion (Stefani is a practicing Catholic who obtained an annulment of her marriage to Gavin Rossdale so her union with Blake Shelton would be honored by the church). Thousands of fans joined the congratulations. One joked, "How can he be 15 when I am still 23?"
This isn't the first time Stefani has gone public with birthday greetings. She's offered similar online messages to her oldest son, Kingston, and to her youngest boy, Apollo. In August 2016, the singer was performing in Austin, Texas, when she stopped the show to bring out all three of her sons — plus a birthday cake for Zuma. Per ET, Stefani had the crowd sing "Happy Birthday" to her middle son, who then blew out his candles to cheers. 
While there have been (unconfirmed) rumors that Gwen Stefani and Blake Shelton's marriage may be on the rocks, they just released a duet cover of The Judds' song "Love Is Alive." Hopefully, the only rocky part of their relationship right now is Zuma himself — his full name is Zuma Nesta Rock Rossdale. Baby-naming experts have suggested to People that Stefani chose that third name as a nod to No Doubt's album "Rock Steady."