The Real Meaning Behind Ariana Grande's 7 Rings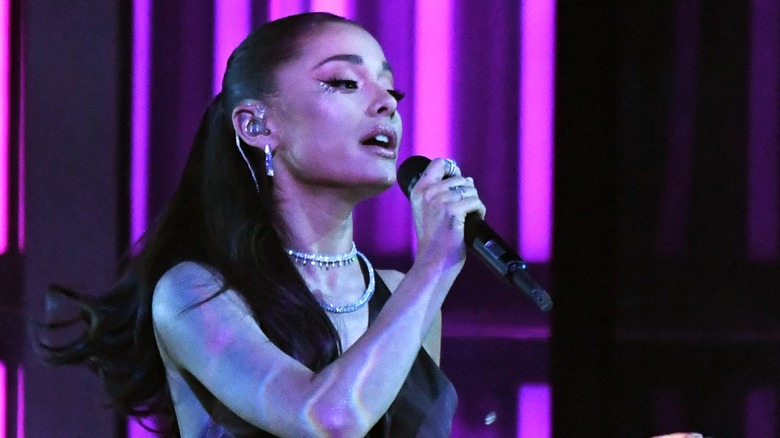 Kevin Mazur/Getty
You can find the actual lip color Ariana Grande wore in her "7 Rings" music video for a little less than $30. But if you want to recreate the purchases that Grande outlines in the lyrics of the song, you'll need a lot of money to throw around. The "7 Rings" lyrics describe a lavish, expensive lifestyle that Grande is more than equipped to fund. It also alludes to the power of female friendships.
The titular "seven rings" are friendship rings that Ariana Grande and six of her friends own. Grande told Billboard that on a difficult day (seemingly after her break-up with ex-boyfriend Pete Davidson), she and some of her friends went to the iconic jewelry store Tiffany's and were served Champagne.
"They got us very tipsy," Grande said, "So we bought seven engagement rings, and when I got back to the studio, I gave everybody a friendship ring." This trip is alluded to in the song's opening lyrics and mentioned outright in the second verse when Grande sings, "Wearing a ring but ain't gon' be no 'Mrs.' Bought matching diamonds for six of my b***hes." In addition to the references to Grande's friendships, the lyrics also reference her personal hardships. Grande does not dwell on her struggles in this song, instead remarking that they made her, "a savage."
How does Ariana Grande assert her independence with this track?
In "7 Rings," Ariana Grande also sings: "Write my own checks like I write what I sing, yeah, yeah." Grande is making it clear that she can support herself while also claiming ownership over her music. However, she does not write songs alone, and Harry Styles even helped write a song for Grande once. 
The chorus reinforces Grande's feelings of independence when she repeats, "I want it, I got it," and ends the chorus with, "I see it, I like it, I want it, I got it, yep." She does not need permission to treat herself — or her friends — to fancy things, such as hair extensions, jewelry, Christian Louboutin red-bottomed shoes, or expensive apartments, like the one she bought for herself and Pete Davidson when they were together.
Grande even makes the claim that money can buy happiness when she sings, "Whoever said money can't solve your problems must not have had enough money to solve 'em. ... Happiness is the same price as red-bottoms." According to an annotation on the Genius page for "7 Rings," while singing the song live, Grande added "Just kidding" to this line. That gives the lyric (and perhaps the whole song) a different interpretation. Are the exorbitant "retail therapy" purchases that have Grande's "receipts be lookin' like phone numbers" a sign of escapism? Or is Grande merely asserting herself as a powerful, self-reliant woman by treating herself and her friends to nice things? 
Who was annoyed by the interpolations of '7 Rings'?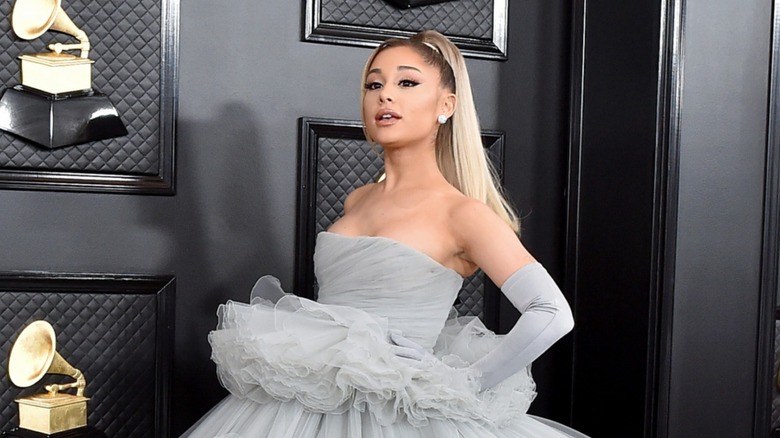 Axelle/bauer-griffin/Getty
Two of the "7 Rings" songwriters, Tayla Parx and Victoria Monét, were recipients of the iconic diamond rings when Ariana Grande showed up to the studio and surprised them with the gifts. They spoke about the track's hip-hop-inspired sound. "[Parx] and I obviously had a lot of fun giving her the idea to just, like, not sing, to kind of rap and, you know, just kind of brag a little bit," Monét told E! News. "Be braggadocious without her vocals, but still add beautiful harmonies and everything underneath."
However, the hip-hop influences have caused controversy. The song "7 Rings" very obviously interpolates the melody of "My Favorite Things," sung by Julie Andrews in "The Sound of Music," and a variety of hip-hop tracks, including The Notorious B.I.G.'s  "Gimme the Loot." Rapper Princess Nokia took to social media around the song's release to claim Grande stole from her song "Mine," which has a similar chorus: "It's mine, I bought it." However, Bossip reported claims that Princess Nokia's producers may have stolen that melody from another producer, and both "Mine" and "7 Rings" resemble Soulja Boy's "Pretty Boy Swag." According to Vulture, Soulja Boy noticed the similarities in "7 Rings," and even tweeted Grande after her song was released, saying, "Lol stop stealing my swag. Word," and, "You're a thief."
Despite the drama, "7 Rings" earned two nominations at the 62nd Grammy Awards and, as of August 2023, has over 2 billion streams on Spotify.