5 Perfect Luke Macfarlane Hallmark Movies For A Girls' Night In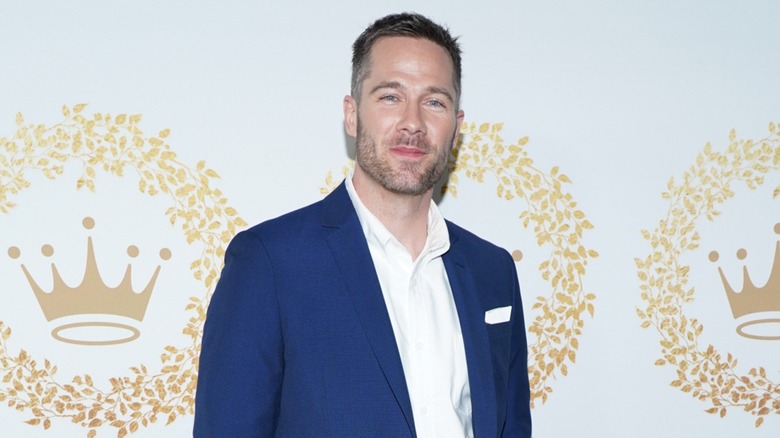 Rachel Luna/Getty Images
Luke Macfarlane is a Hallmark star that we love to love, but that's not where he started his acting career. He initially gained prominence for his role as Scotty Wandell in the popular television series "Brothers & Sisters," which ran from 2006 to 2011 on ABC. The show explored the personal and professional relationships of adult siblings, which seems like a great introduction to the world of Hallmark's drama and romance.
Macfarlane has starred in 13 Hallmark movies so far, with his first venture with the network being "The Memory Book" in 2014. While he's rumored to be the next star to leave Hallmark, the channel's projects that the actor has been in so far are too good to pass on, especially for a girls' night in.
The Hallmark Channel is the master of feel-good, nostalgia-inducing flicks we can't get enough of, and Macfarlane's performances offer a variety of storylines to choose from. Whether you're in the mood for a predictable holiday romance or an international love story, the flawless Hallmark-Macfarlane pairing has got you (and your girls) covered.
Moriah's Lighthouse
A romantic comedy from Hallmark is the perfect type of movie to kick off a girls' night. Lasting less than an hour and a half, "Moriah's Lighthouse" with Luke Macfarlane and Rachelle Lefevre will light a European spark in you and your friends. The storyline is based on a homonymous novel written by Serena B. Miller.
Set in an island town in France, this Hallmark flick is filled with magical visuals and gorgeous sites (note: you may feel an overwhelming urge to book a flight to coastal France as soon as the movie's over). Lefevre plays Moriah, a French woodworking artisan whose family used to operate the town's lighthouse before it became nonfunctional. Her dream is to purchase the old lighthouse keeper's residence in order to restore it, but somebody else beats her to the punch. She meets Ben, played by Macfarlane, an American architect who was brought in to revamp the residence for the new owner.
The undeniable chemistry between Macfarlane and Lefevre not only justifies their captivating performances, but also enhances the depth and authenticity of the romance portrayed on screen. "This movie is a chance to go on a little journey to France," Macfarlane shared when speaking to Digital Journal about the project. "You get to see some real authentic landscapes, buildings, [and] seashores, as well as some French actors and new faces." Visually striking, romantic, and starring Macfarlane; "Moriah's Lighthouse" has everything a girl could want.
A Shoe Addict's Christmas
What's a list of Hallmark movies without Christmas? What's a list of girls' movies without fashion? "A Shoe Addict's Christmas" has both, and it stars Luke Macfarlane. Candace Cameron Bure is his co-lead, and the two complement each other perfectly in this humorous holiday romp. A delightful addition to the main cast is Jean Smart, who ultimately has the most impactful role.
Noelle, Bure's character, is an avid shoe lover who's dealing with the loss of her mother and a tough breakup. One snowy Christmas Eve, she gets locked in at the department store she works in and gets a surprise drop-in from her guardian angel (Smart). With the help of magical footwear, Noelle revisits her past, present, and future Christmases (very "A Christmas Carol," but with fancy shoes) to remember the true meaning of the holiday season. This is when Macfarlane, who plays the handsome firefighter Jake, comes in at full speed and makes Noelle feel all the feels (and you too, most likely).
While we may be tuning into this one to get a peek at Macfarlane as a fireman, the actor's favorite scenes are actually the ones he wasn't even in. "I really love the conversation with Candace and Jean on the bench about the parable that you have to listen to what the universe is telling you," he revealed in a conversation with TV Goodness. Right now, the universe is telling you to add "A Shoe Addict's Christmas" to your girls' night watch list.
The Mistletoe Promise
This one is another holiday-themed movie from Hallmark, but we can't help it. "The Mistletoe Promise" is the ultimate romantic movie to see on a night in, Christmas or not. Based on a novel of the same name by Richard Paul Evans, the film stars Luke Macfarlane as the holiday-hating Nick, and Jaime King as the equally scrooge-minded Elise.
Upon meeting, the two recognize each other's hatred for holiday functions and form a pact to pretend to be in a relationship to make the season easier on themselves. This is when things start to get interesting, as Nick and Elise start to develop real feelings for one another, leading to something more than they initially signed up for. Macfarlane and King work very well together with their characters' witty banter as well as their emotional connection.
"[The movie is] about two people [who] really have terrible memories of the holidays and Christmas," King said when discussing the project with People. "I think that so many people experience that, and not everybody has a 'Holly Jolly Christmas,'" the actor noted, adding, "[That's why] it's really important to tell stories from that point of view." Despite the plot being a bit predictable for a Hallmark holiday romance, the heartwarming moments and the overall dreamy settings kept us mesmerized throughout, with Macfarlane's presence being a cherry on top.
A Valentine's Match
"A Valentine's Match" and a girls' movie night are a match made in heaven. Starring Bethany Joy Lenz and Luke Macfarlane, this Hallmark love story focuses on firsts, and there's no greater first than first love. It changes your life, and sometimes it comes back after it's ended.
Natalie (played by Lenz) comes back home in the midst of her life falling apart, just in time for the town's annual Valentine's Day festival. Conveniently, her ex-fiancé, Zach (Macfarlane), still lives there. The two were each other's first true love but ultimately called it quits, which is what both of their mothers are set on changing this time around as they play matchmakers.
According to TV Goodness, Macfarlane loved playing the reserved woodworking artist Zach. "In the Hallmark universe, you either play the verbal guy or the less verbal guy. And I have to say, I really enjoyed being the less verbal [one]," the actor admitted. If you're in search of a feel-good movie to tune into on your night in with the girls, look no further. Lenz and Macfarlane have such good energy between them that you may not even believe their characters could have ever broken up in the first place. As Natalie and Zach reconnect, you may catch yourself reminiscing about your first love, so tread lightly.
Christmas in My Heart
For a more vocal Luke Macfarlane character in a holiday setting, Hallmark's "Christmas in My Heart" is the perfect choice. The overall movie has a warm feeling, and while it is set during the Christmas season, the sweet storyline can be enjoyed year-round.
Sean, Macfarlane's character, is a country star who moves away from the spotlight after losing his wife. He meets Beth (played by Heather Hemmens) when searching for a violin tutor for his only daughter, who's about to perform at a holiday concert. Hemmens and Macfarlane have such great chemistry that we're starting to think there's no person on Earth Macfarlane couldn't vibe with on screen. Also, other than romance, "Christmas in My Heart" offers discussions of loss, single parenting, and racial identity.
If you're still not sold, it's time to mention that Macfarlane actually sings here (we told you his character was vocal). While the guitar playing was fake, the rest of Sean's musical performance was all Macfarlane, as the actor revealed in a talk with TV Goodness. "I'm not a professional singer, so I had to figure out how to sing that song the best I possibly could," he shared. Macfarlane explained that the songwriter adjusted the tunes for his vocal range and that the performance used in the movie is the one he actually recorded on set. It's time to get cozy and be all ears for this one.