Ron DeSantis' Forced Smile At 2023 GOP Debate Amplifies Trump's Personality Transplant Diss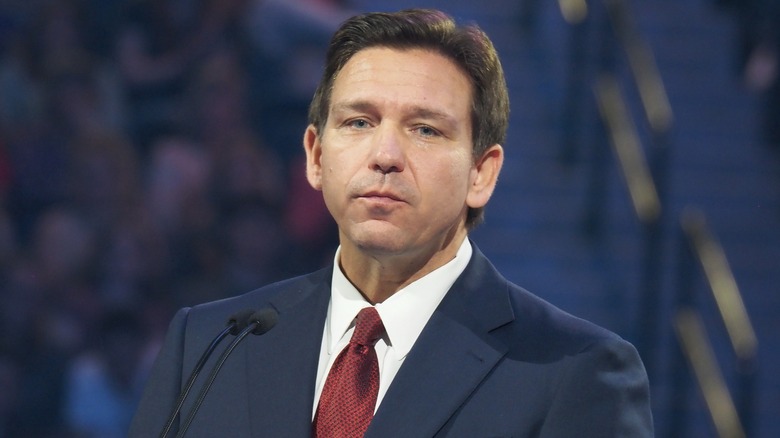 The Old Major/Shutterstock
With 439 days to go until the 2024 presidential election and 145 days until the Iowa Republican Caucus, Republican presidential hopefuls gathered in Milwaukee on Aug. 23, 2023, for the first Republican presidential debate. Or at least most of them had made the trip to Wisconsin — former president Donald Trump decided to skip the event and instead sat down for an interview with former Fox News host Tucker Carlson, which dropped on Twitter five minutes before the debate started. Some Republicans, including Meghan McCain, have called out Trump for skipping the debate.
While Trump isn't taking the time to debate any of his competitors, citing the polling numbers that put him way ahead, that hasn't stopped him from having a lot to say about his Republican rivals. One popular Trump target is Florida Governor Ron DeSantis. In one ad back in May 2023, Trump said that DeSantis needs a "personality transplant" — and DeSantis's forced smiles during the Aug. 23 debate aren't doing anything to make him seem more personable.
Ron DeSantis can't seem to genuinely smile at the Republican debate
One Twitter user tweeted a slowed-down closeup of Ron DeSantis seemingly forcing a lackluster smile during the Republican primary presidential debate, calling him "one of the most awkward, stiff, and unlikeable candidates for president I've ever seen." They weren't alone in thinking DeSantis's smile was off-putting. Another tweeted what it seemed like DeSantis must be thinking as he attempted to smile after answering a question: "alright ronnie boy, you can do it, give 'em the ole razzle dazzle." It's definitely all a bit cringeworthy, and it seems to inadvertently play into some truth behind Donald Trump's insult about DeSantis needing a "personality transplant."
Trump's comments about DeSantis's lack of personality weren't the first nor have they been the last. DeSantis has been noted as having a likability problem while on the campaign trail. Former Florida congressman David Jolly, a Republican, went on MSNBC and referred to DeSantis as being "a uniquely unlikeable person. As you get to know him, you discover it's this odd mix of vanity and paranoia and kind of the smartest-person-in-the-room complex."
The "personality transplant" comment isn't the only insult that Trump has hurled DeSantis's way. Other insults include "Meatball Ron," "DeSaster," and the one he seems to like best: "Ron DeSanctimonious."