Who Is Former Trump Lawyer Sidney Powell? Here's What To Know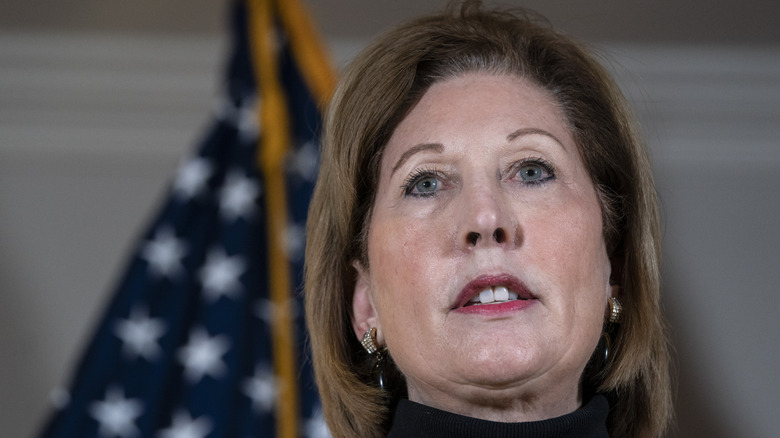 Drew Angerer/Getty Images
We may receive a commission on purchases made from links.
Suffice it to say, it hasn't been a relaxing summer for former President Donald Trump and 18 of his alleged co-conspirators. According to the official indictment released to the public on August 14, 2023, all 19 defendants "refused to accept that Trump lost [the 2020 election], and they knowingly and willfully joined a conspiracy to unlawfully change the outcome of the election in favor of Trump." In other words, most of them aren't finishing out August lounging by the pool — they're posing for mugshots in Georgia's Fulton County Jail and discussing bond agreements.
Sidney Powell, who worked as a Trump campaign lawyer, is one of the 19 defendants in question. She faces seven charges, including violating the Georgia RICO Act, conspiracy to commit election fraud, conspiracy to commit computer theft, conspiracy to commit computer trespass, conspiracy to commit computer invasion of privacy, and (last but not least) conspiracy to defraud the state. She allegedly paid the forensic data firm SullivanStrickler LLC to steal data from (and ​tamper with) electronic ballots in Coffee County, Georgia. On August 23, 2023, Powell surrendered alongside other key players, like Rudy Giuliani — who looked worried in his mugshot — and Jenna Ellis, paying a $100,000 bond. However, outside of her infamous dealings with the former president, who is Sidney Powell? How did she get to where she is today? That is, embroiled in a high-stakes indictment and a billion-dollar Dominion lawsuit. 
Sidney Powell studied law in North Carolina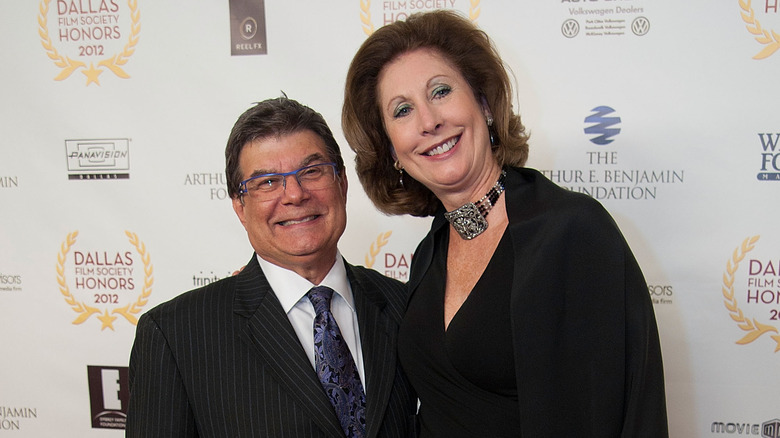 Cooper Neill/Getty Images
Sidney Powell has deep ties to North Carolina. She was born in Durham in 1955, grew up in Raleigh, watched her fair share of the legal drama "Perry Mason" as a kid, and attended the University of North Carolina for both undergrad and law school. Impressively, she was able to graduate from college in under two years. After earning her law degree, she moved to Texas. It was her first time away from her home state. Beginning in 1978, she worked as an Assistant U.S. Attorney (and eventually, Appellate Section Chief) for the state's Western and Northern Districts.
According to her firm, which she founded in 1993, Powell "practices the art" of appellate advocacy and has worked on over 500 cases as lead counsel, mainly operating within the Fifth Federal Circuit Court of Appeals. Powell's specialties include white-collar criminal defense and commercial litigation. One of her most notable claims to fame? She worked as a prosecutor in the trial of Jimmy Chagra, a drug trafficker accused of orchestrating the murder of U.S. District Court Judge John Wood in 1979.
Eventually, Powell became interested in exposing "the Deep State" and wrote a self-published book, "Licensed to Lie" in 2014. The since-defamed lawyer was first linked to President Donald Trump in 2019 when she was hired to represent his adviser, Michael Flynn.
Sidney Powell's conspiracy theories landed her in hot water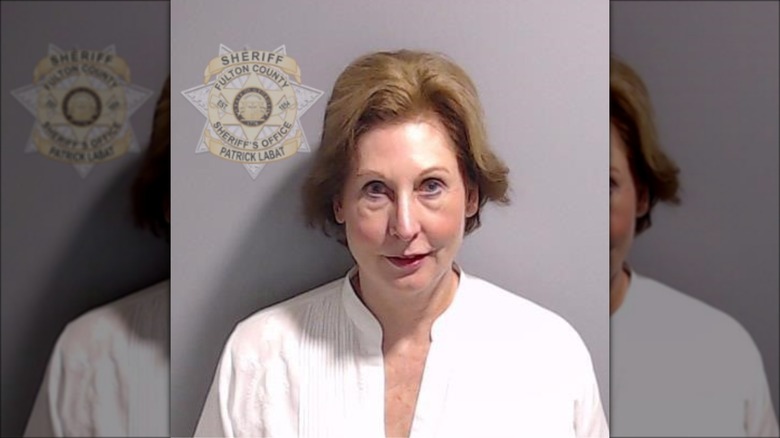 Handout/Getty Images
Sidney Powell became infamous for her far-reaching conspiracy theories, some of which proved to be "too conspiratorial even for [Trump]," according to an anonymous adviser, per The New York Times' Maggie Haberman. Considering his ties to QAnon, that's really saying something ... "What we are really dealing with here and uncovering more by the day is the massive influence of communist money through Venezuela, Cuba, and likely China in the interference with our elections here in the United States," she famously claimed in a November 2020 post-election news conference (via The Washington Post).
Eventually, Rudy Giuliani made it clear his former colleague took things too far. "Sidney Powell is practicing law on her own," he said in an official statement, per New York Magazine. "She is not a member of the Trump Legal Team. She is also not a lawyer for the President in his personal capacity." Former Fox News darling (and "Dancing with the Stars" alum) Tucker Carlson criticized her for not being able to back up her extreme claims with evidence. 
As for where she got her election fraud information? The story gets wilder. According to Dominion, Powell was going off of an email she got from an anonymous source claiming to be a headless, time-traveling entity. All in all, Political scientist Chris Cooper doesn't see much of a future for Powell, telling CBS 17, "She is going to be relegated, if she's free, to the fringes of our society."