Adam Sandler Supports BFF Jennifer Aniston With A Simple Annual Gesture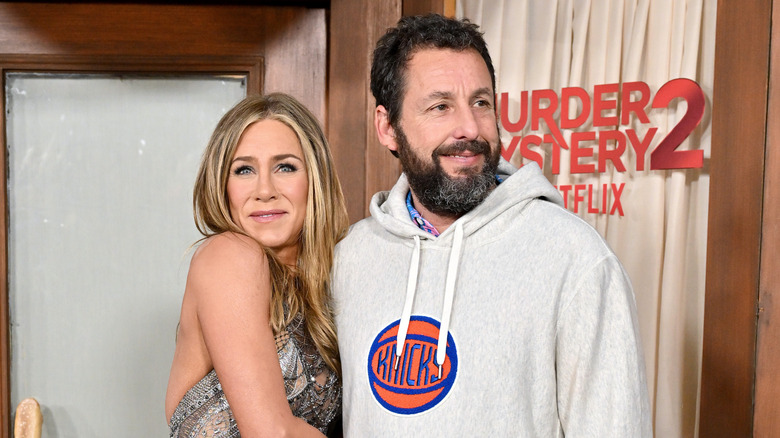 Axelle/bauer-griffin/Getty Images
Adam Sandler has a few long-running friendships with some of Hollywood's leading ladies. While Drew Barrymore may instantly come to mind, Sandler is also close with another one of his frequent costars: Jennifer Aniston. The two have teamed up for rom-coms like "Murder Mystery" (1 and 2) as well as "Just Go With It." Though their relationship might be much more platonic offscreen than it is in their films, it's still super heartwarming.
Adam Sandler and Jennifer Aniston first met when they were in their 20s at a delicatessen, as the "Happy Gilmore" star shared on "The Tonight Show Starring Jimmy Fallon." "She had eggs. I was eating French toast," he said. In another interview on "Jimmy Kimmel Live," Aniston clarified that it was at Jerry's Deli in the '90s when Aniston was dating one of his friends. After sharing breakfast together, the rest was history. When Kimmel asked if it was fair to say the duo loves one another, Sandler responded, "Absolutely." At the same time, Aniston remarked, "For sure."
Having only made three movies together, their friendship has sometimes flown under the radar, especially because their relationships with their significant others throughout the years have drawn much of the spotlight. Nevertheless, the pair are pretty involved in one another's lives. So involved, in fact, that Adam and his wife, Jackie Sandler, started a meaningful Mother's Day tradition with the "Rumor Has It" star — sending her flowers.
Adam Sandler makes sure to support Jennifer Aniston
Each Mother's Day, Adam Sandler and his wife Jackie Sandler send Jennifer Aniston flowers. While it may not seem overly thoughtful (many women get bouquets on the holiday), it's actually very touching. The "Friends" star doesn't have children of her own and has previously opened up about her difficult journey with fertility treatments. Receiving flowers from her BFF is a sweet way of lifting her up on what can probably be a difficult day.
The Wall Street Journal story that describes this gesture states, "Aniston, who does not have children and has spoken openly about her struggles with fertility treatment, says Sandler and his wife send her flowers every Mother's Day" (via InStyle). Since the Sandlers' sentimental gesture has come to light, people applaud the support and call their and Aniston's relationship "friendship goals." But we've long known that Sandler and Aniston's decade-long friendship is something to be treasured.
As their family and friend groups have grown, they all regularly hang out together. In an interview with ScreenSlam, Sandler joked, "We go to Aniston's house a lot. She makes pizzas, gives us M&Ms, and she has a lot of nice TVs." They've been there for one another during life's big moments, too. Aniston was at Sandler's wedding, and when she was awarded a Hollywood Walk of Fame star, he gave a (comedic, but still cute) speech about his deserving BFF.
Jennifer Aniston is definitely deserving of support on Mother's Day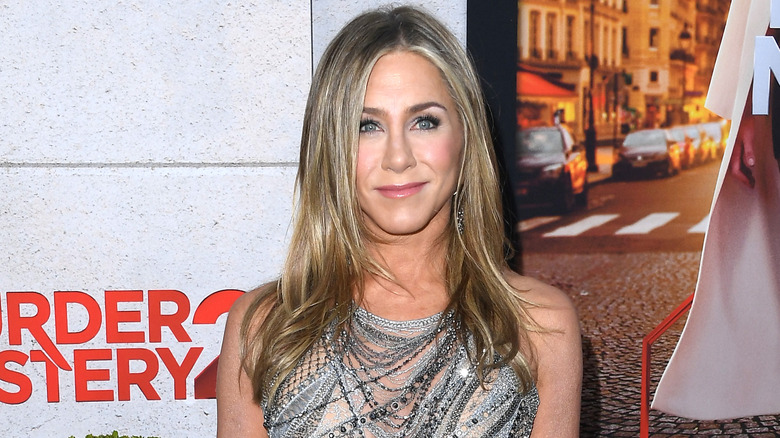 Steve Granitz/Getty Images
Adam and Jackie Sandler likely chose Mother's Day versus Jennifer Aniston's birthday or another holiday because the "Love Happens" actor has publicly revealed she had struggled with getting pregnant. Speaking to Allure, the celeb revealed that she had previously undergone IVF treatments in an attempt to start a family, but wasn't successful.
Aniston has been married twice before, to Brad Pitt from 2000 to 2005 and to Justin Theroux from 2015 to 2017. And yet, kids never entered the picture. But it wasn't for lack of want or trying, as some might have guessed. Aniston revealed, "It was a challenging road for me, the baby-making road. My late 30s, 40s, I'd gone through really hard s***, and if it wasn't for going through that, I would've never become who I was meant to be," clarifying, "I was trying to get pregnant."
As if the fertility struggles weren't hard enough, Aniston also faced intense media speculation and scrutiny, including when some speculated her divorce from Brad Pitt was due to her not wanting to have a child with him. Though she admits, "The ship has sailed. I have zero regrets," Mother's Day can still be a trying time for anyone trying or having previously tried to conceive, likely making the Sandlers' thoughtful floral support a welcome gesture.