Don Lemon's CNN Ousting Didn't Stop Him From Having Fun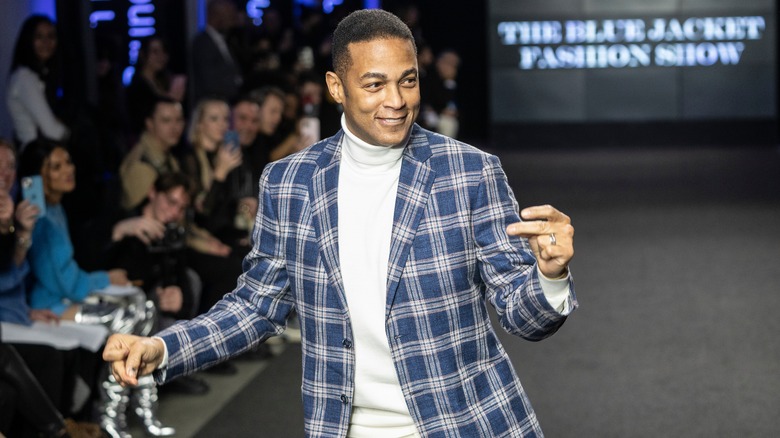 lev radin/Shutterstock
When Don Lemon was let go from CNN in April 2023, it shocked the longtime anchor. His version of the termination significantly differed from that of the network. According to Lemon, he was blindsided by the move. In a Twitter statement, he explained, "At no time was I ever given any indication that I would not be able to continue to do the work I have loved at the network." However, CNN shot back, claiming that Lemon was extended a meeting with management to discuss the matter. Shortly after, there were reports that sexist comments from a February 2023 episode of "CNN This Morning" contributed to the decision. During the program, Lemon said presidential candidate Nikki Haley "isn't in her prime," alluding to her being too old to seek the White House seat. Following his exit, a pattern of unfavorable behavior was unearthed. In one accusation, Lemon reportedly tore up documents on a desk belonging to "Live From" co-host Kyra Phillips after being looked over for an Iraq assignment that was given to Phillips instead.
In a June 2023 interview with ABC24, Lemon confirmed that he was taking some time off to enjoy his family and was not eager to return to the workforce. "I'm not rushing into anything," he told the outlet. No matter what actually took place behind the scenes at CNN, Lemon has admitted that he is not perfect but is also not letting the firing keep him down.
Don Lemon has had some summer fun in the Hamptons
Days after his firing in April 2023, Don Lemon told Page Six of his intentions to spend his free time outdoors on the water, and he has done just that. Lemon has enjoyed hanging out with friends and vacationing in the wake of his CNN fallout. Towards the beginning of June 2023, he was spotted boating in the Hamptons. Ironically, Lemon posted pictures of himself kicking back on the water the same day that Chris Licht, his former employer who gave him his walking papers, was axed from the network.
As June 2023 came to a close, Lemon was once again spotted in the Hamptons, this time frolicking on the beach with his fiancé, Tim Malone, and two of their three fur babies. In addition to the sands, Lemon attended a screening of National Geographic's series, "A Small Light." While there were rumblings of the former anchor possibly suing CNN, he doesn't appear to be letting that interfere with his relaxation.
Don Lemon was spotted in Italy with ex-CNN boss Jeff Zucker
In addition to spending some quality time with his partner, Tim Malone, and their puppies, Don Lemon has also caught up with several of his former CNN affiliates. This includes ex-CNN President Jeff Zucker, who resigned in February 2022 after his romantic relationship with Chief Marketing Officer Allison Gollust was uncovered. She also departed the network over the affair and was present during his and Lemon's July 2023 Italy trip. The group, which includes Malone, was in the country to attend the wedding of celebrity agent Jay Sures and wellness expert Linda Nyvltova. Lemon and Malone shared images from the trip, showing the friends exploring the caves of Ponza and the Amalfi Coast before the ceremony on July 4, 2023. An insider even speculated that the vacation may have also been a business outing to discuss possible new deals.
Even if there are new opportunities on the table for Lemon, he has made it clear that merriment is at the forefront, at least for now. There have been several offers, such as the one in May 2023 from Elon Musk, who invited Lemon to launch a show on Twitter. However, it doesn't appear that he accepted the invitation. On June 16, 2023, he did fulfill a small gig as the host of the Native Son Awards, which honors queer men of color. Though there are no reports of any permanent employment, this doesn't appear to bother Lemon one bit.