Here's Why Donald Trump Surrendered At Fulton County Jail So Late In The Day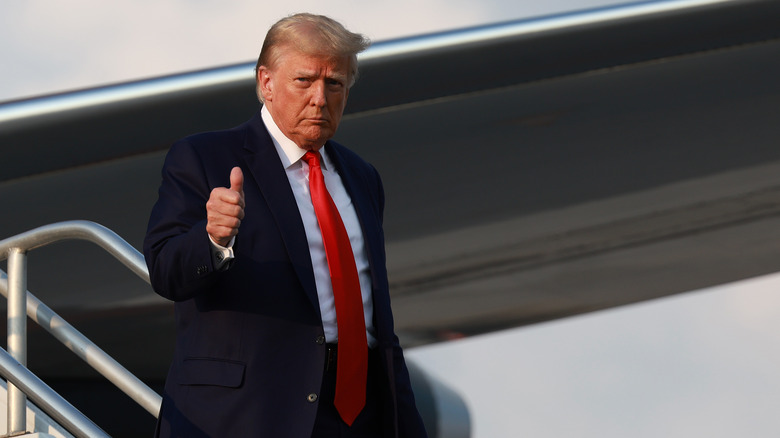 Joe Raedle/Getty Images
Donald Trump's legal troubles just keep piling up. In fewer than five months, the former president has been named in four criminal cases involving a whopping 91 felony counts. One of the cases is embarrassingly personal — Trump has been accused of falsifying records related to payments made to porn star Stormy Daniels in exchange for her silence about her claims of an affair. The other three are related to misconduct he allegedly committed as president (or shortly after leaving office), such as keeping classified documents in his Mar-a-Lago home. Most recently, Trump surrendered himself in Atlanta's Fulton County Jail on August 24 and was booked on conspiracy and racketeering charges related to his alleged attempts to overturn Georgia's 2020 presidential election results. Trump and the other 18 players in the election-meddling scandal face up to 20 years in prison if convicted, though experts think it's unlikely he'd get the maximum.
What set this appearance apart from the others, however, was its timing. Rather than turning himself in during daytime hours, as he did with his previous indictments, Trump opted to jet from Florida to Georgia early in the evening, arriving shortly after 8:00 PM EST. At least one outlet, the Guardian, says this was no casual coincidence. They cite experts who say the timing of the jail appearance was planned to coincide with the prime-time schedules of cable networks like Fox News, CNN, and MSNBC. 
In other words, Trump wanted to be front and center when most viewers would be tuning in — and he got his wish.
Donald Trump wants to turn his booking into bucks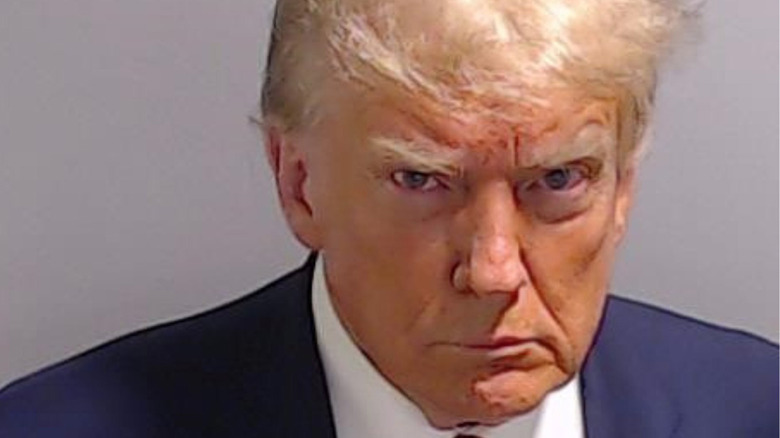 Handout/Getty Images
Far from humbled or contrite, Donald Trump faced his arrest at the Fulton County Jail defiantly. Just as other co-defendants had previously done, the former president underwent the standard processing routine, including being fingerprinted, recording his physical appearance (he reports being 6'3", 215 pounds, and having "blond or strawberry" hair), and photographed. A body language expert told The List that Trump's mugshot pose was calculated to project an unflinching, determined image that would appeal to his supporters.
The evening timing of the brief booking process worked according to plan. Dropping all analysis of the previous night's Republican debate, the major news outlets followed Trump's every move, from his landing at the airport to his departure from the jail. Just in time for prime news-viewing hours, the story was front and center. The mugshot, a first for any U.S. president, was immediately destined to be slapped on the front page of morning newspapers worldwide.
Trump clearly had timed plans of his own, which he set into motion immediately after being released from prison on a $200,000 bond. He had barely re-boarded his plane when he went back onto social media. He posted his mugshot to Twitter with the caption "ELECTION INTERFERENCE/NEVER SURRENDER!" and a link to his website, which requested donations "to evict Crooked Joe Biden from the White House and SAVE AMERICA during this dark chapter in our nation's history." Naturally, "#TrumpMugShot" trended through the roof on Twitter.