Body Language Expert Tells Us Donald Trump Came In With A Calculated Plan For His Mugshot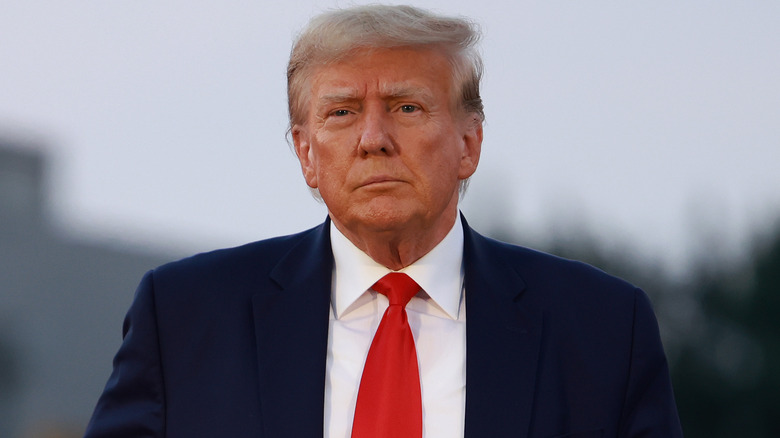 Joe Raedle/Getty Images
Former President Donald Trump has officially been booked and released after surrendering himself at the Fulton County jail in Atlanta, Georgia. Trump faced his fourth indictment as the state arrested the former commander-in-chief on felony charges for his role in trying to overturn the 2020 election results, according to NBC News. However, this was the first time Trump had his mugshot taken — and he used the unfortunate photo-op to his advantage.
After paying the $200,000 bond, Trump spoke to reporters upon his release, repeating his claims that these charges are "a travesty of justice" and that he "did nothing wrong," according to CNN. And, as Jess Ponce III, body language expert, communication coach, and author of "A.W.E.S.O.M.E." told The List, Trump "continues to remain in control of his image and the narrative he wants to assert," especially as the 2024 presidential race heats up. "For example, there are no pictures or video of him walking in or out of the Georgia courthouse. Instead, you see his motorcade, and therefore he looks presidential. Also, when he spoke to the press after appearing in court, he was in front of his plane and SUV, again portraying an in image of importance and success. He came across like a president going to and from a formal event."
Ponce added that optics are important to the former president and that his message — both verbal and physical — conveys that he's not backing down. Even his mugshot demonstrates his defiance.
Donald Trump will not back down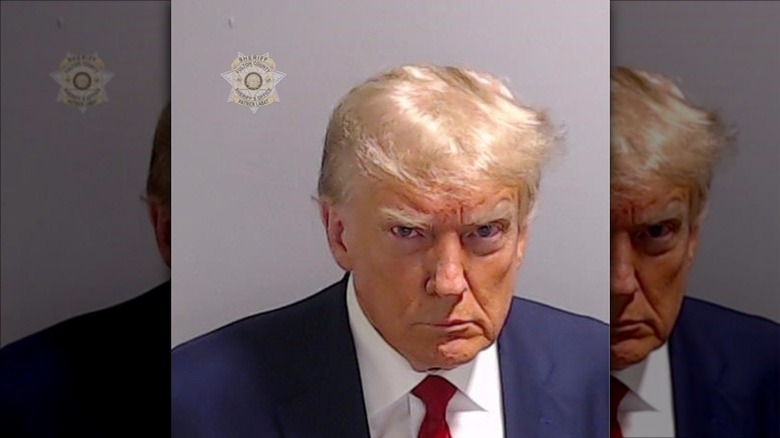 Handout/Getty Images
Although former President Donald Trump faced three indictments prior to that in Georgia, he did not get his mugshot taken until he turned himself in at the Fulton County jail on Thursday, August 24. And as someone who's not known for being subtle, he used said mugshot to make a statement as he faces a slew of charges. 
Body language expert Jess Ponce III exclusively told The List that Trump physically conveys the fact that he's not going down without a fight. "His eye contact is directly at camera, as if he is looking through the lens directly to both his opponents and fans saying, 'I will not back down' or something similar," Ponce told us. "He is leaning forward in an active pose, as if he is getting 'ready to launch' or move forward forcefully. He is determined, as if he posed purposefully this way. All signs indicate he planned this to become a campaign-style image."
After all, according to The Guardian, Trump specifically asked his lawyers to negotiate his booking so he could arrive late in the day, transforming the entire ordeal into an event ripe for the cable news networks' primetime broadcasts. "His message at the airport was very clear and self-righteous. He asserted his right to contest the results of the election, and that he did nothing wrong in this effort," Ponce added. The former president clearly approached this day with a strategy in mind — one he will surely continue along the campaign trail.
Trump's campaign is using the mugshot to gain more traction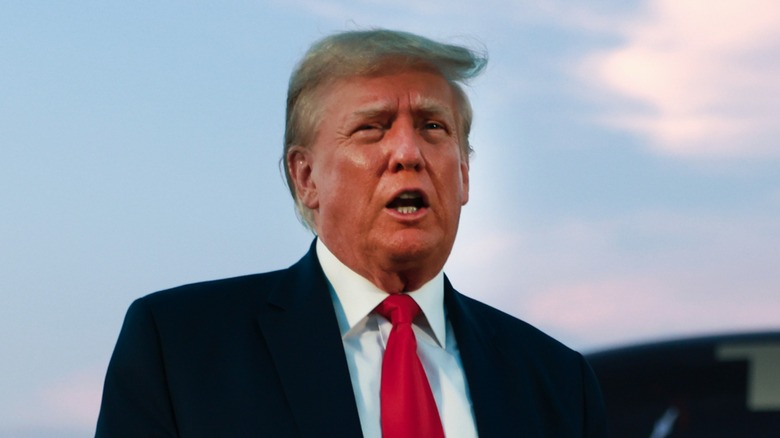 Joe Raedle/Getty
To Donald Trump's campaign, the defiant Fulton County Jail mugshot is a way to spin the narrative and make Trump look like a victim wrongfully accused for seeking justice. They're doubling down on the never-back-down attitude by selling merchandise at their online store with the mugshot. The collection features the caption "Never Surrender!" and includes shirts, mugs, koozies, and bumper stickers. Even before his Fulton County appearance, Trump's campaign used a fake mugshot captioned "Not Guilty" on merchandise after his first indictment.
A message on Trump's campaign website proves the stance he's taking with the mugshot. In the note paired with the already infamous pic, he claims he's committed no crime — despite his four indictments. He attempts to divide the country by saying, "The Left wants to intimidate YOU out of voting for a political outsider who puts the American people FIRST. ... I WILL NEVER SURRENDER OUR MISSION TO SAVE AMERICA."
No matter how Trump's campaign tries to use the mugshot to change the narrative surrounding his actions, some see this as a moment of defeat for the former president. Communication and journalism professor Marty Kaplan from the University of Southern California Annenberg told AP News how images carry more weight than the word "indictment." Kaplan added, "A mug shot is a genre. Its frame is, 'This is a deer caught in the headlights. This is the crook being nailed.' It's the walk of shame moment."