How Archie And Lilibet's Education Will Be Different From Their Cousins'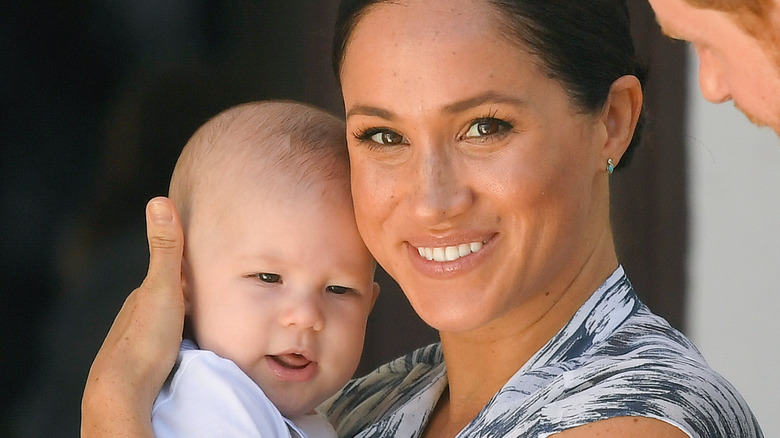 Pool/Samir Hussein/Getty Images
When it comes to royal living, Prince Harry and Meghan, Duchess of Sussex, have ripped up the rule book and proven time and time again that they're going to do things their way. After announcing their step back from royal duties in 2020, the couple forged their own path overseas, choosing to settle in California. Not only did this have a big impact on their position in the House of Windsor, but this choice altered the course of their children's lives, too. 
Prince Archie and Princess Lilibet may be sixth and seventh in line to the throne as the grandchildren of current monarch King Charles III, but their future looks vastly different from that of their cousins. Prince William's oldest son Prince George will one day be king, while his siblings, Princess Charlotte and Prince Louis, will take on senior royal roles to support him. Their upbringings will be shaped around their royal destiny, starting with the most important thing of all: their education. 
In stark contrast, Archie and Lilibet's time at school could be vastly removed from their cousins' experience across the water. Everything from what they're taught to what schools they go to will be impacted by their parents' choice to live in the United States, miles away from royal tradition. Will they receive any of the same lessons as their British cousins, or will the difference be apparent from day one? Let's find out. 
Archie and Lilbet won't get good old-fashioned British schooling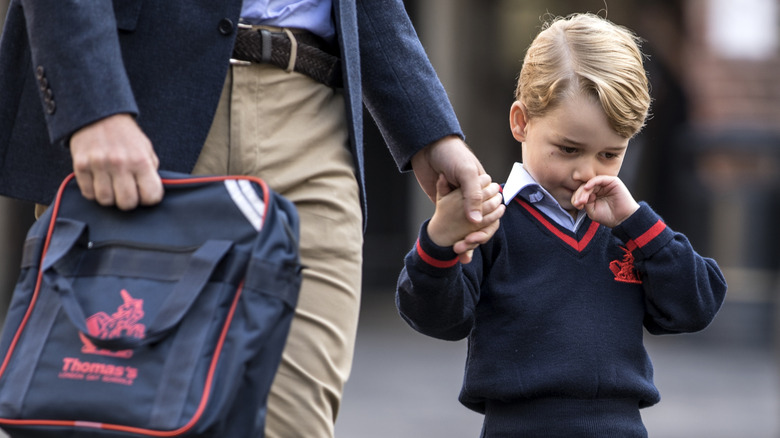 Wpa Pool/Getty Images
For centuries, the education of the British royal family has been undertaken on home turf, with future kings and queens attending some of the best schools in the country. As such, they typically get taught the good, old-fashioned British curriculum. 
Location really does make a huge difference when it comes to knowledge, as countries always have slightly different ways of doing things. While Prince Archie and Princess Lilibet will learn some of the same things that their cousins do, the foundations may be polar opposites. 
For a start, Archie and Lilibet will be taught to use American English, so their spelling of some words will vary. Then, they will also grow up using the imperial measuring system instead of the metric system, which may seem like a relatively small thing — until it comes to baking a cake or filling up a jug. On the back of this, Archie and Lilibet will also use Fahrenheit for temperature, while Brits use Celsius. It may seem like a small change, but if the pair ever spend any significant time in Blighty as they grow up, it won't go unnoticed. 
Archie and Lilibet may start formal school later than their cousins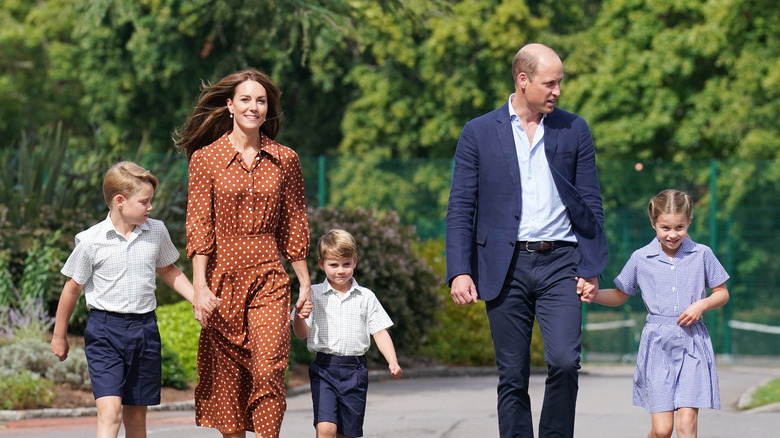 Pool/Getty Images
Getting a solid, well-rounded education is part of any young royal's life, but it looks like Prince Archie and Princess Lilibet may undertake their school journey a little bit later than their cousins. This isn't down to Prince Harry and Meghan, Duchess of Sussex's preference, as such; it has more to do with how things are done in America. Typically, children in the United States will start preschool at around 3 years old, moving on to begin their formal education in kindergarten when they are 5 years old. 
While there are nursery establishments, kids in England will start their first "real" school year between the ages of 4 and 5. Interestingly, the legal age for a child to enroll in school can vary from state to state in the U.S. California, where Archie and Lilibet currently live, requires kids to attend from the age of 6, meaning that Meghan and Harry are under no obligation to send their children to school right now. 
However, the infamous couple decided there is no such thing as too early when it comes to shaping young minds. According to an interview Meghan gave to The Cut at the end of 2022, her son (now 4) was already attending preschool in Montecito. 
Prince Harry and Meghan Markle's kids could go to public school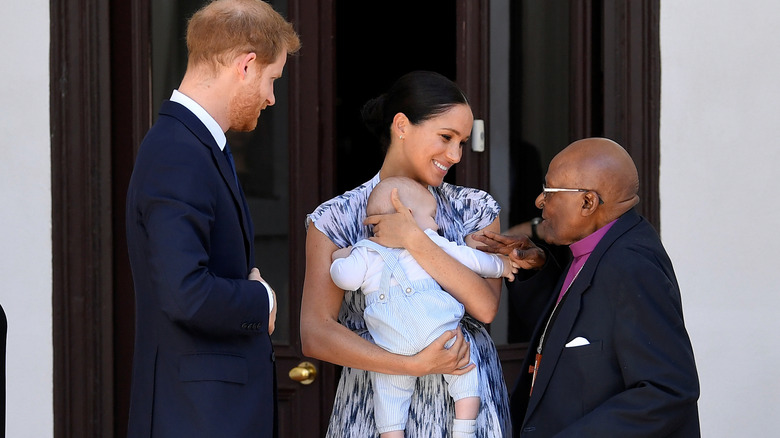 Pool/Getty Images
You don't have to be a die-hard royalist to know that the royal family favors elite (and often expensive) private schools. After all, it does make sense that The Firm would want the best education money could buy for these future world leaders. Prince Harry and Prince William both went to Eton College, which costs over £40,000 per year per student. It's expected that William's children will follow in their father's footsteps, but what about Prince Archie and Princess Lilibet? 
As it turns out, there's every possibility that the siblings could go to public school instead of private. Hello got the inside scoop from a local Montecito resident. Richard Mineards explained that it wouldn't be unusual: "If Archie then follows through getting a state education, the next stop after this ... is going to be some sort of junior school. We have a very good junior school here called Montecito Union School which is very, very good, has a lot of Tony names attending, children of the rich and famous. Then, as I say, he could go to Cold Springs or maybe they'll say that, 'Hey, we want to follow a private education.'"
At the moment, Archie and Lilibet are both so young that it could go either way. One thing is almost certain, though — they won't follow in their father's footsteps and go to Eton.
They won't have extra lessons to prepare them for royal life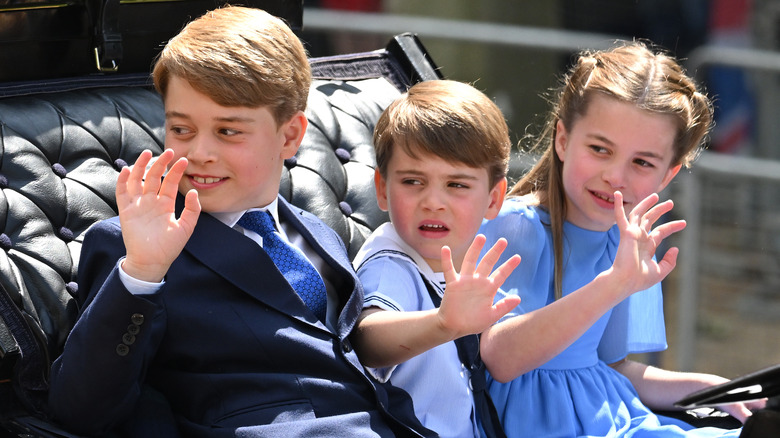 Karwai Tang/Getty Images
From the outside, it's easy to forget just how much of a responsibility being a member of the royal family really is. Being the king or queen of England isn't a position that is undertaken lightly, even by those born into the role. As such, heirs to the throne receive extra lessons in order to prepare them for their legacy. Prince William was guided by his grandmother, Queen Elizabeth II, according to People, who spoke to a consultant for "The Crown."
"She would have him at Windsor Castle and would open the state boxes and guide him through the papers. It was William's constitutional education," explained Robert Lacey. It makes sense, then, that Prince George would also have the same private training lessons, a theory Lacey backed in his book "Battle of Brothers": "Sometime around the boy's 7th birthday in the summer of 2020 it is thought that his parents went into more detail about what the little prince's life of future royal 'service and duty' would particularly involve."
His siblings, Princess Charlotte and Prince Louis, will be expected to support their brother as senior royals and will likely be educated on that. As for Prince Archie and Princess Lilibet, their parents have made it abundantly clear they will not be part of the royal workforce, and therefore, far less emphasis will be placed on any formal training in that regard. 
There will be less attention on big days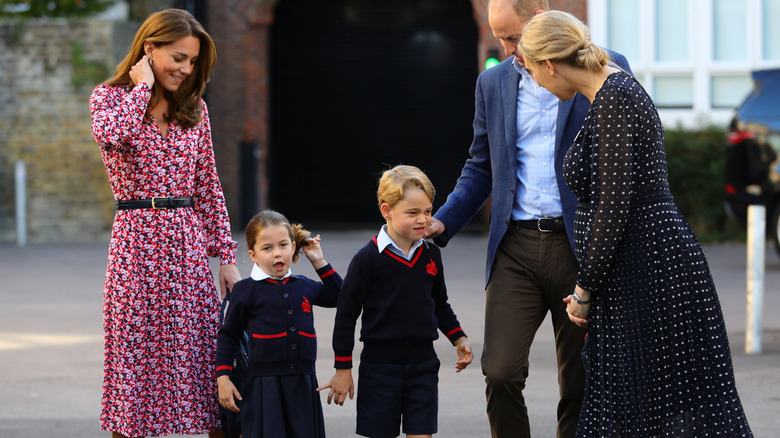 Wpa Pool/Getty Images
Over the course of their relationship, Prince Harry and Meghan, Duchess of Sussex, endured a media storm that was arguably relentless. It was this constant spotlight that caused them to step down as senior royals and move to the U.S., in the hope of finding steadier ground and being able to raise their kids in an environment that wasn't under so much scrutiny. The move has certainly afforded them some sense of privacy, even if they are still two of the biggest names in the world. 
As a result of their move to Montecito, Meghan is able to pick Archie up from school. In the story she wrote after interviewing Meghan for The Cut, Allison P. Davis explained: "Earlier in our conversation about her goals for the life she's creating here, [Meghan] remarked upon how, if Archie were in school in the U.K., she'd never be able to do school pickup and drop-off without it being a royal photo call with a press pen of 40 people snapping pictures."
On the flip side, photographers are present on big school days for Prince George, Princess Charlotte, and Prince Louis. A TV camera is often there to record special first days, as well — although according to The Daily Mail, there are strict laws in place that prevent tons of unauthorized photographers from attending. This is one glaring difference the Sussexes seem to appreciate.
Archie and Lilibet may have armed guards at their schools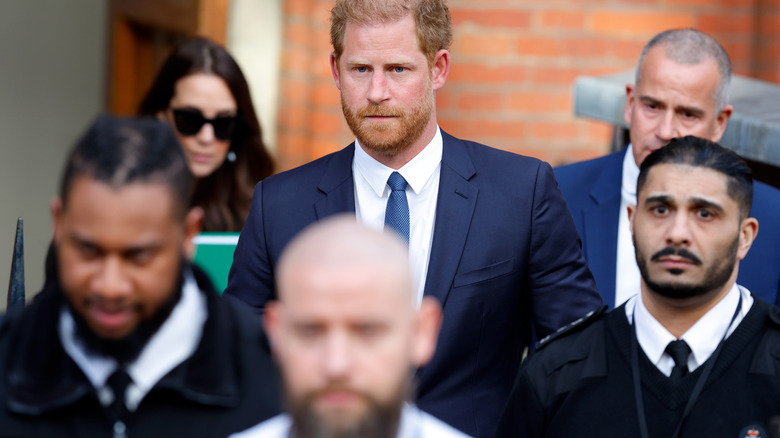 Max Mumby/indigo/Getty Images
The House of Windsor is one of the most heavily guarded families in the world. When King Charles III goes on public engagements, or any senior royal for that matter, security is always a top priority. After all, catastrophic things can and do happen to public figures. While we know how adult royals are protected, what about when royal children are at school? 
Prince George and Princess Charlotte have bodyguards to escort them to and from school, though it's unclear as to whether they stay for the duration of the lessons. As for Prince Archie and Princess Lilibet, their mother, Meghan, Duchess of Sussex, expressed concerns for their safety during her now infamous interview with Oprah Winfrey in 2021. She explained that as Archie wasn't given a title when he was born, he wasn't automatically entitled to security. 
Even though he does have a title now since King Charles III became monarch, the Sussexes pay for their own security detail. Whether that extends to Archie's time at school is unknown, but armed guards are becoming more and more commonplace in U.S. schools to combat shootings, meaning this type of protection could become simply part of the background for the Sussex kids. As guns aren't legal in the U.K., there is no current need for armed guards in the school system. 
Cost could make a huge difference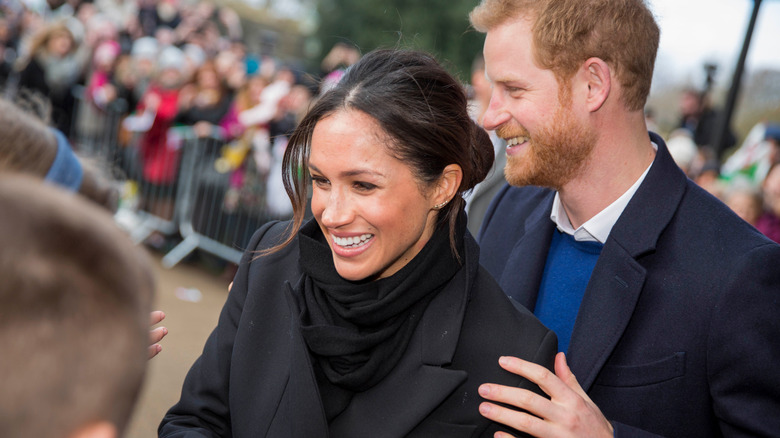 ComposedPix/Shutterstock
As we've previously touched upon, private education both in the U.S. and in Britain is an expensive business. It's reported that Princess Charlotte's primary school education alone is currently costing Prince William and Princess Catherine around £20,000 a year, with this figure set to increase as she progresses. Needless to say, the bill goes up when you take Prince George and Prince Louis into account. 
When Prince George started school in 2017, it was reported that King Charles III (then still the Prince of Wales) would likely be paying the fees. Whether this is still the case remains to be seen, but William isn't exactly short of cash. When his father became king, William inherited the Duchy of Cornwall, worth an estimated £1 billion. In a nutshell, William and Catherine can afford to give their children the best education money can buy without giving it a second thought.
If Prince Harry and Meghan, Duchess of Sussex, decide to take the private route, then they aren't exactly in the same position. According to Harry, he was cut off from the crown's purse strings when he stepped down as a senior royal. Their lucrative Spotify deal was canceled, and there are reports that their $100 million Netflix deal is also on the rocks. While they may not be in dire straits, their much less steady financial situation could have an impact on whether they choose private or public schools for their children. 
They may not have a gap year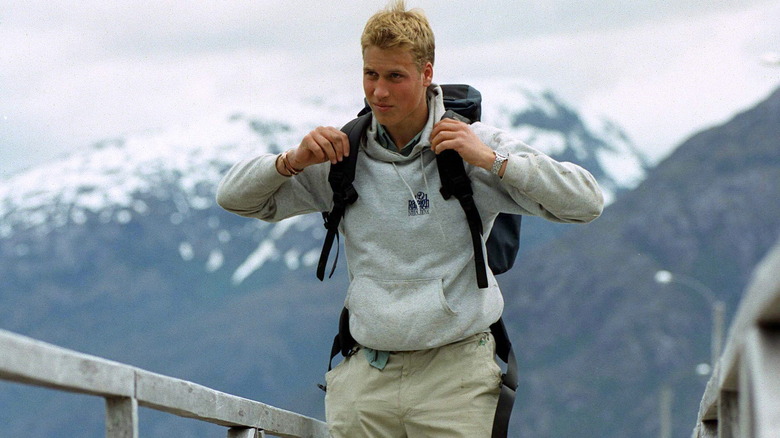 Pool/Tim Graham Picture Library/Getty Images
Though it's often said that our school days are the best days of our lives, there's no denying that they can be hard, strenuous, and draining at times. Gap years have become common in the U.K. and beyond, with students opting to take a year off after finishing high school and before starting college (or university, as it's called in England). While taking a gap year isn't exclusive to being royal, Prince William certainly made the most out of his. The future king spent it traveling to places like Belize, Chile, Kenya, Tanzania, and more. 
Prince Harry also took a year out of his studies, opting to travel to Africa to help those in need, telling ABC News: "I've always wanted to do this. It's completely, it's what [my mother] was doing. A lot of me that wants to say 'Right, it's now time to follow on well as much as I can to try and keep my mother's legacy going.'" 
William's children may well follow in their father's footsteps, but what about Harry's kids? Gap years are far less common in America, with around only 3% of students taking one, according to research conducted by Inside Higher Ed. Although it's not set in stone that Archie and Lilibet won't have a gap year, it seems far less likely. 
Prince William and Princess Catherine's kids have an extra teacher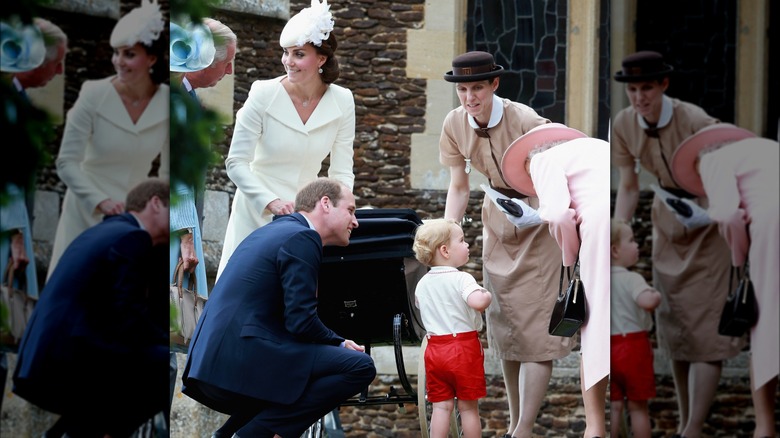 Chris Jackson/Getty Images
As two of the busiest members of the royal family, it's only natural that Prince William and Princess Catherine have some extra help with their children. Their nanny, Maria Teresa Turrion Borrallo, has an impeccable background. She was trained at Norland College, one of the most prestigious child care schools in Britain. Originally hired in 2014, Borrallo has stayed with the couple and helped to raise all three of their children. 
Not only does Borrallo help with child care, but she has reportedly been teaching Prince George Spanish, too. This extra bit of learning will be incredibly beneficial to the royal trio, but Prince Archie and Princess Lilibet may not get the same level of expertise at their disposal. It's known that Doria Ragland, the mother of Meghan, Duchess of Sussex, helps out from time to time, but the only known nanny of the pair is Lorren Khumalo, who no longer works for the family. 
Whether the Sussexes have any hired help at all remains somewhat of a mystery, so much so that the Irish Mirror even speculated that if Prince Harry and Meghan had wanted to attend the coronation in 2023 they would have needed to find a babysitter first. Whether having a highly educated, consistent nanny will give William and Kate's kids a head start over their cousins remains to be seen ... but it certainly can't hurt.