The Moment Between Princess Charlotte And Prince Louis That Royal Fans Can't Get Over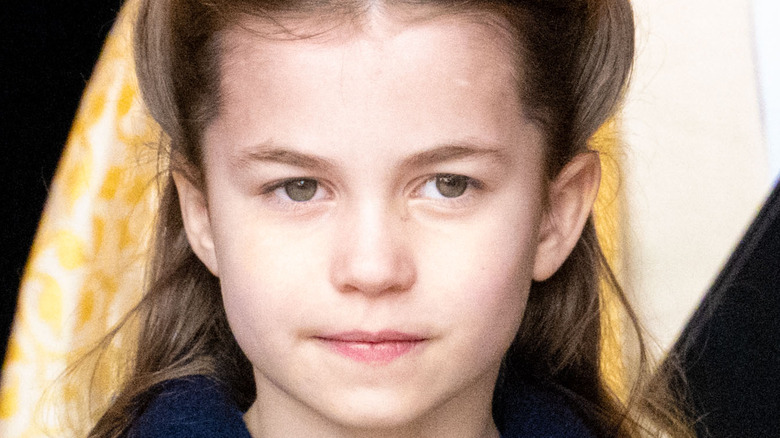 Patrick Van Katwijk/Getty Images
We may receive a commission on purchases made from links.
Although the Platinum Jubilee is all about Queen Elizabeth II, royal watchers are looking forward to seeing more of the youngest members of the British monarchy — particularly Prince William and Kate Middleton's three children. 
While Prince George, Princess Charlotte, and Prince Louis are growing up in the limelight, their parents have worked hard to give the kids a normal childhood. In fact, the Duke and Duchess of Cambridge have stolen some parenting tricks from William's mother, the late Princess Diana. They've done this to ensure their children remain humble despite their privileged lifestyle.
In terms of the children's stricter duties, "[William and Kate] have developed this brilliant knack of letting as much as they can seem spontaneous and that's how the children see it," royal author Andrew Morton revealed in the British documentary "Diana: Queen of Hearts?" (per Yahoo Movies). "Table manners, thank-you letters, and little courtesies are being drilled into the children so they become automatic."
As the children get older, they will have royal duties to fulfill. In fact, the Cambridge kids enjoyed a front-and-center role during the queen's Jubilee, riding in their first carriage procession in the parade during Trooping the Colour. The children — all wearing blue — rode in the same carriage as their mother and step-grandmother, Camilla Parker Bowles, per Harper's Bazaar. George, Charlotte, and Louis all waved enthusiastically to the crowds lining the streets, and cameras even caught a cute moment between Charlotte and her younger brother that had everyone talking.
Princess Charlotte gently encouraged her brother to stop waving
Fans enjoyed watching Prince George, Princess Charlotte, and Prince Louis participate in their first carriage procession during the start of Queen Elizabeth's Platinum Jubilee celebrations on June 2. As the children of Prince William and Kate Middleton waved to the crowds, cameras caught Charlotte stopping her younger brother's overzealous waving at one point. A video posted on Twitter showed the princess gently pushing Louis' hand down onto his lap to stop him from waving to the crowd after she and their older brother, George, had decided to take a break. 
Social media users were understandably delighted by the interaction between the siblings. "A perfect lady. She was gentle and pretended to be noticing something else. Well done Kate and Wills," wrote one Twitter user. Another person posted that Charlotte was giving off "Hermione Granger vibes." As Kinsey Schofield, the author of "R is for Revenge Dress: A Princess Diana–Inspired Alphabet Book for Grown-Ups," exclusively told The List, there was actually another sweet interaction that took place between Louis and Charlotte. Though it wasn't capture on camera, Schofield, who attended the Platinum Jubilee events, said there was an unexpected moment between the two siblings during the day's procession.
Apparently, Princess Charlotte and Prince Louis held hands throughout the length of the carriage ride, according to Schofield. "I thought was a beautiful and sincere representation of how tight the Cambridge family truly is," she said. Charlotte has always been a doting older sister — who can forget the loving portrait shared by William and Kate of Charlotte kissing Louis' forehead on her third birthday? (via Twitter).
The Cambridge kids may share more sweet moments over the Platinum Jubilee weekend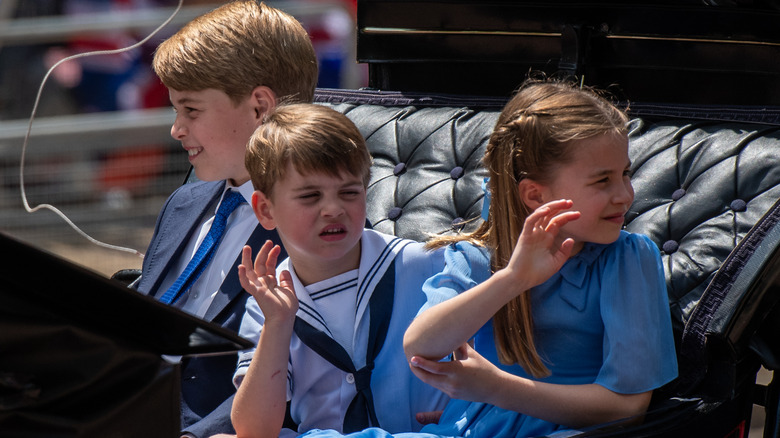 Chris J Ratcliffe/Getty Images
Prince George, Princess Charlotte, and Prince Louis were also on the royal balcony at Buckingham Palace with Queen Elizabeth, as well as Prince Charles, Camilla Parker Bowles, Prince William, and Kate Middleton, to watch Royal Air Force planes fly overhead for Trooping the Colour on June 2 (per the New York Post). Though Louis largely stole the show with his expressive reaction to the events, Charlotte and George were also seen waving and enjoying the ceremony. As People pointed out, the Cambridge siblings made previous appearances on the Buckingham Palace balcony for Trooping the Colour. Prince George attended for the first time in 2015, and Princess Charlotte in 2016. Prince Louis made his debut in 2019, and delighted his parents (and crowds) then as well with his adorable antics (via Harper's Bazaar). 
Next, the Cambridge children are expected to accompany their mother, Kate Middleton, at the Superbloom flower show at the Tower of London (via Telegraph). The kids are sure to have a ball at this unexpected attraction, where visitors can enter via a massive slide to check out the expansive floral displays (per People). Though it remains to be seen how extensively the children will participate in the event, royal watchers are hopeful that there will be even more memorable moments from the trio throughout the Platinum Jubilee Central Weekend.