Are Taylor Swift And Nicki Minaj Friends? What We Know About The Once-Feuding Hitmakers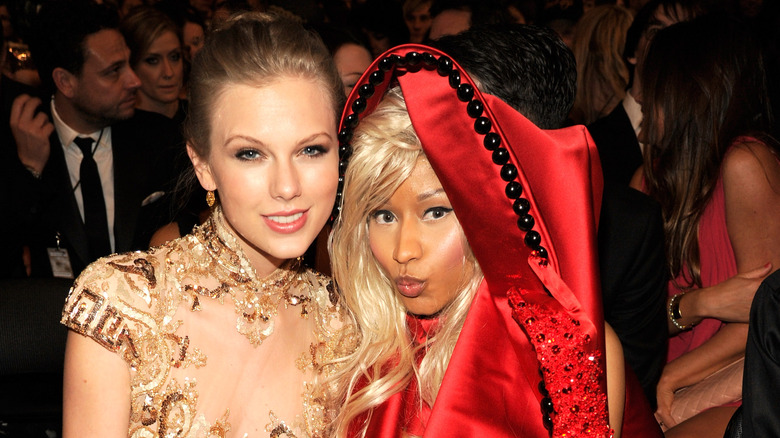 Kevin Mazur/Getty Images
Taylor Swift doesn't have any patience for "haters." When Tina Fey and Amy Poehler poked fun at the artist during the 2013 Golden Globes, she responded with a Madeleine Albright quote: "There's a special place in hell for women who don't help other women," per Vanity Fair. Nicki Minaj also isn't afraid to speak her mind on social media — or on stage at the Video Music Awards. Over the years, she's clapped back at Miley Cyrus, Cardi B, and even Mariah Carey. However, in 2015, Swift and Minaj got mixed up in a messy situation of their own.
Swift was in the midst of her leather-clad Reputation era, and "Bad Blood" was nominated for (and won) "Best Music Video of the Year" at the MTV VMAs. Other artists under consideration included Beyoncé, Ed Sheeran, Mark Ronson, Bruno Mars ("Uptown Funk" was virtually inescapable that year), and Kendrick Lamar. Strangely, Nicki Minaj's "Anaconda," which has since received over one billion — yes, billion! — views on YouTube, didn't get a mention in the top-billed category. Instead, it was up for "Best Hip Hop Video." Understandably frustrated, the rapper called out the situation on Twitter, writing, "If I was a different 'kind' of artist, 'Anaconda' would be nominated for best choreo and vid of the year as well," and later adding, "When the 'other' girls drop a video that breaks records and impacts culture they get that nomination." She also noted that women with "slim bodies" are celebrated in the industry. Taylor Swift, who saw this as a direct call-out, got offended.
Taylor Swift apologized to Nicki Minaj for the misunderstanding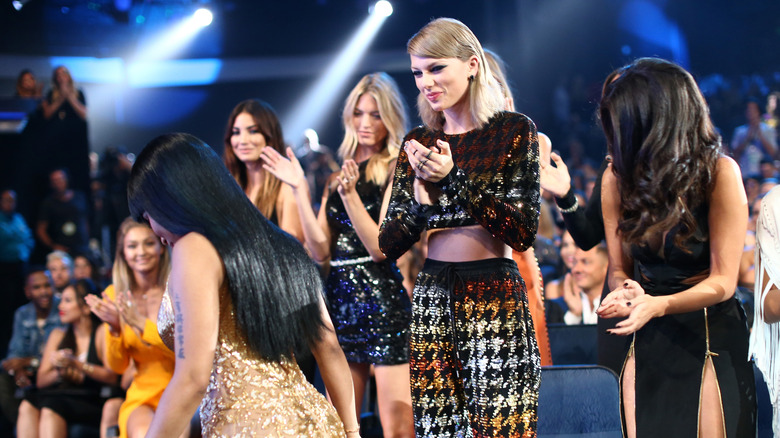 Christopher Polk/mtv1415/Getty Images
Reading Nicki Minaj's series of tweets in the lead-up to the 2015 VMAs, Taylor Swift felt targeted, assuming she was the "other girls" in question. "I've done nothing but love & support you," she publicly wrote to the "Starships" artist, per The Atlantic. "It's unlike you to pit women against each other. Maybe one of the men took your slot." Minaj, who never mentioned Swift by name, was confused. "Huh? U must not be reading my tweets. Didn't say a word about u. I love u just as much," she responded. Swift later apologized for the misunderstanding (via The Los Angeles Times). "I thought I was being called out. I missed the point, I misunderstood, then misspoke. I'm sorry, Nicki," she wrote, also adding that the "Anaconda" rapper was welcome to join her on stage if "Bad Blood" won. 
Some felt Swift had missed the larger point, arguing that Minaj was referring to the racial biases within the music industry, biases which have directly benefited the "Blank Space" singer. Katy Perry also seemed to weigh in on the situation, writing, "Finding it ironic to parade the pit women against other women argument about as one unmeasurably capitalizes on the [takedown] of a woman..." Fair point. By all accounts, Swift's award-winning song, "Bad Blood," refers to her famous feud with Perry.
That being said, Minaj thanked Swift for the apology, and it seems the two have officially buried the hatchet.
They partied together after the 2022 VMAs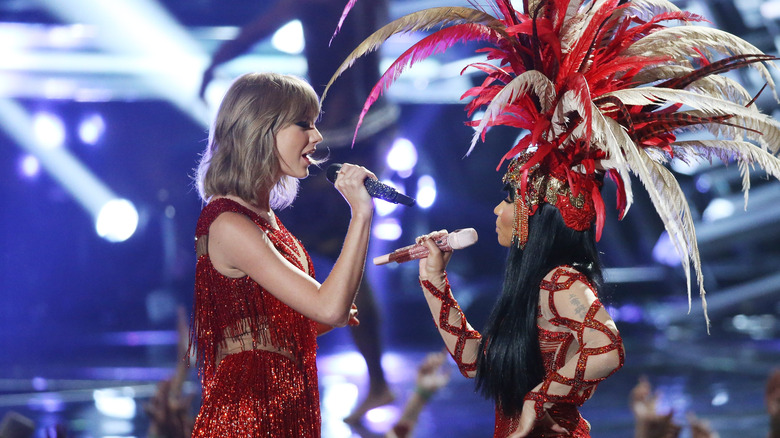 Michael Tran/Getty Images
Nicki Minaj made it clear that there's no longer "bad blood" between her and Taylor Swift. In a 2015 interview with Good Morning America, Minaj explained that Swift apologized during a private phone call as well as publicly. "It takes a big person to do what Taylor did," said the "Super Bass" rapper, adding that they were "cracking up" on the call. In fact, the two went on to perform together at the 2015 MTV VMAs, proving once again they were on good terms.
Years later, this time at the 2022 VMAs, they proved their friendship was still going strong. It was Minaj who excitedly announced Swift's "All Too Well" win, giving her a hug as she got up to claim her award. The two were also seen living it up together at an afterparty later that night. In one Instagram video, Minaj calls Swift the evening's "big winner," adding, "Barbs, I know you love her; we all love her." After Minaj performed that night, Swift was seen encouraging the crowd to give her friend a standing ovation. Here's to hoping for more Minaj-Swift collaborations... maybe a new single?