Behind-The-Scenes Scandals That Rocked The Law & Order Franchise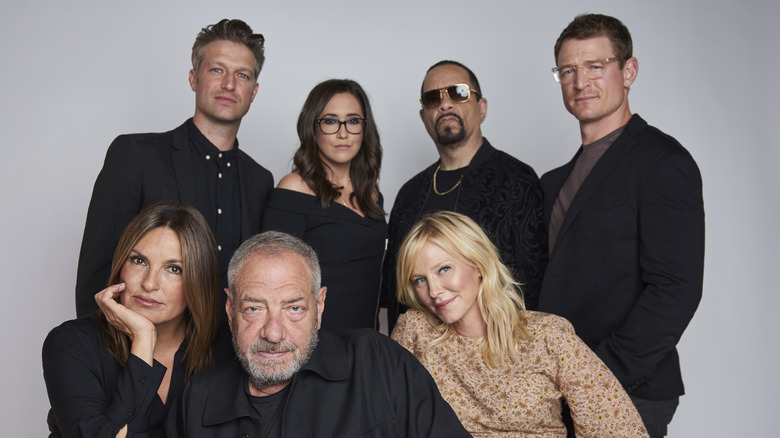 Matt Doyle/Getty Images
Before the true-crime craze, "Law & Order" ruled television for decades. The series has boasted several spin-offs since its original inception in 1990. Despite calls for the cancellation of crime procedurals due to changing social climates, the franchise is beloved by audiences. While "Law & Order" hasn't had trouble expanding, some serious drama behind the scenes could have further harmed the series' reputation.
In 2016, a former director for the original series was found guilty of child pornography possession (per Associated Press). Jason Alexander was sentenced to 10 years probation for the disturbing crime, after originally facing seven years of prison time. He was also registered as a sex offender. Alexander directed over thirty episodes of "Law & Order."
The troubles didn't stop there for the franchise. Its newest installment, "Law & Order: Organized Crime," was faced with controversy after one of its main writers posted alarming messages to social media, and the showrunner for "Law & Order: SVU" was accused of bullying and harassment. While many "Law & Order" episodes are based on true stories, who would have imagined these scandals would hit so close to home?
A series writer posted violent messages online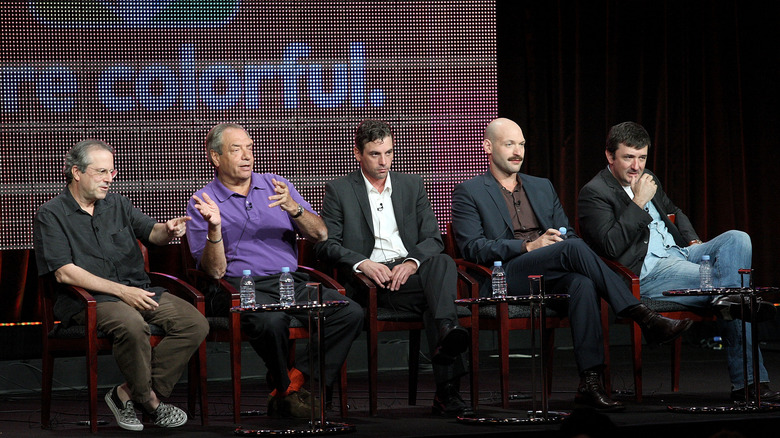 Frederick M. Brown/Getty Images
Jason Alexander's unsettling crimes did not go unpunished by the New York courts, but they did go relatively unnoticed by "Law & Order" fans. However, in 2020, TV writer Craig Gore shared content on Facebook that alluded to violence against looters and protesters in Los Angeles (per Variety). These posts came in light of the Black Lives Matter protests that arose after the death of George Floyd. His comments instantly made their way to the main stage, as social and political tensions were high.
In the menacing post, Gore, who was to work on "Law & Order: Organized Crime," shared photos of himself holding an automatic weapon, which he captioned "Curfew..." In the comments, he continued on his rant: "You think I won't light motherf***ers up who are trying to f*** with my property I worked all my life for? Think again..." (via The Mirror). Once loyal watchers of the crime drama got wind of Gore's behavior, they immediately called for action. One tweet directed towards series' star Christopher Meloni read: "Ayy @Chris_Meloni your new showrunner is a proud boy" (per Deadline).
In response to this, franchise creator and producer Dick Wolf acted swiftly. "I will not tolerate this conduct, especially during our hour of national grief," Wolf told Variety. "I am terminating Craig Gore immediately." Gore was also slated to step up as co-executive producer on the new spin-off. In addition to his firing from the series, Paradigm Talent Agency also severed all ties with the network writer.
Law & Order: SVU's showrunner was called out for bullying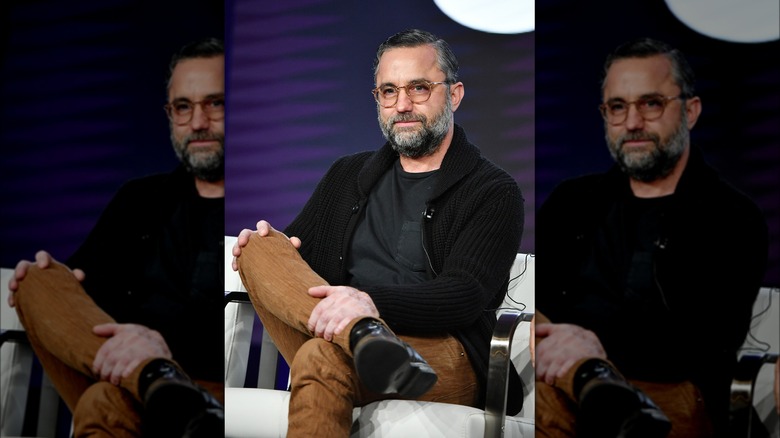 Amy Sussman/Getty Images
While the original "Law & Order" series was canceled in 2010, the true-crime drama has cemented its place in network television history. Its successor, "Law & Order: SVU," is now the longest-running primetime series in history. Despite being a fan favorite, the series' new showrunner made headlines that shed a negative light on the series. Appointed as showrunner in 2022, David Graziano came under fire after past crew members accused him of harassment, especially against lower-level staff who identified as women and/or nonwhite (per Entertainment Weekly). 
The Los Angeles Times reported that Graziano made inappropriate comments and fostered a tense work environment, which ultimately ran writers away. These statements came from staff members who worked with him on various projects, from CBS All Access' "Coyote" to "Law & Order: SVU" itself. "Every day I was in fight or flight," said Amy Hartman, who worked under Graziano on "Coyote." (via New York Post) "I was completely floored that he was working again and working on [SVU]." Former "SVU" script coordinator Haley Cameron actually left the series shortly after the producer was appointed. 
Despite this scandal, Graziano is still credited on season 24 of "SVU," and even stepped in to oversee "Law & Order: Organized Crime" in 2023 (via Deadline). While a representative for the showrunner denied these claims of toxic behavior, Graziano apologized for his actions in his own statement to Entertainment Weekly.